Wander is powered by Vocal creators. You support
Diani Guyton
by reading, sharing and tipping stories...
more
Wander is powered by Vocal.
Vocal is a platform that provides storytelling tools and engaged communities for writers, musicians, filmmakers, podcasters, and other creators to get discovered and fund their creativity.
How does Vocal work?
Creators share their stories on Vocal's communities. In return, creators earn money when they are tipped and when their stories are read.
How do I join Vocal?
Vocal welcomes creators of all shapes and sizes. Join for free and start creating.
To learn more about Vocal, visit our resources.
Show less
7 Cheap Things to Do in Antigua, Guatemala!
Tourist Trap Free!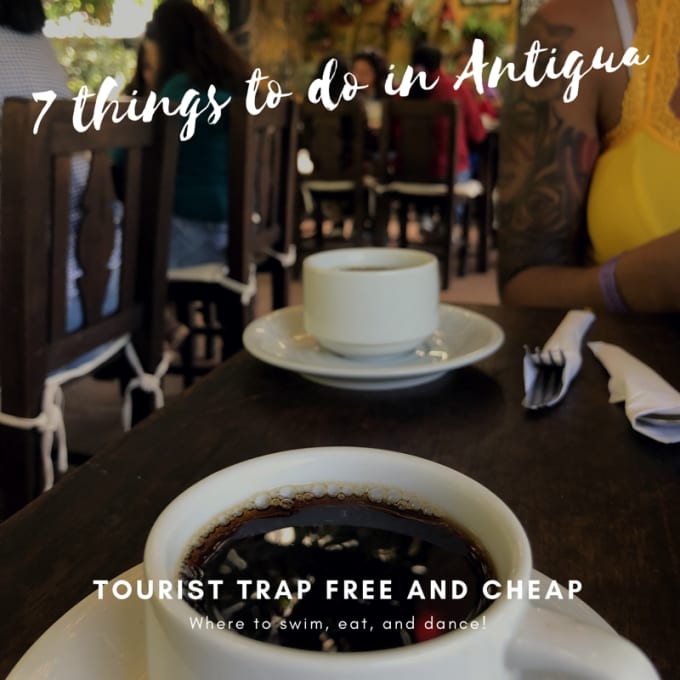 1. Take Free Salsa Dancing Classes
We literally stumbled upon Salsa & Stylo. Tucked away in the upstairs of a tiny blue building is this vibrant dance studio with a very lively instructor. Classes are free Monday & Tuesday 5 to 6 PM. Worry not, if you do not dance or have never tried salsa before; the instructor was extremely patient and kind. Also, you do not need a partner. The class is completely free, however, there is a tip jar. Wear comfortable shoes and a smile!

Salsa & Stylo.
Address: 1 Avenida Norte # 9 (blue house second floor) Antigua Guatemala, Sacatepequez.
2. Party at Other People's Hostels (Especially If They Have a Pool)
Guatemala has my favorite kind of weather; hot in the sun but not humid and cool in the shade or at night but not freezing. As we walked around in the toasty heat, we regretted not finding accommodations with a pool. Disappointed by our shortcomings, we asked the hostel front desk where in Antigua we could go for a swim without a three-hour bus ride to Lake Atitlan. Her advice was; "go to another hostel, buy a drink, and use their pool." This is universal travel advice but if you are in Antigua, you are in luck, because of the two pretty sick hostels that we suggest; Selina Antigua & Zoola.
Selina Antigua is located in the northern part of Antigua (for us, it was about a 15Q/USD Uber ride). Hidden on an unsuspecting street, this hostel has a very animated vibe. With lots of art, murals, and hammocks, you may end up reconsidering your choice in accommodations. The pool is above ground and has a slide you can only access from on top of their swagged out yellow school bus- yes, I said school bus! The cool water is perfect for a hot day. Grab a drink, tacos, and lounge!
Address: 6a Avenida Norte 43A, Antigua Guatemala, Guatemala.
Zoola is an Israeli hostel, bar, and restaurant with a color changing hot tub upstairs. The ambiance is far from dull with their middle-eastern set-up and their friendly staff. They also have a very cost-friendly happy hour until about eight at night depending on the day. You will go for the hot tub but inevitably end up at the restaurant downstairs because of its picturesque vibe and fun seating. If you looking for something unexpected in Antigua this is the place to check out! Antigua is hot during the day but can get a bit breezy during the night; my suggestion is to visit in the afternoon being that it is a hot tub.
Address: 7a Calle Poniente #15, Antigua Guatemala, Sacatepequez 03001.
Note: We always suggest you use your manners and ask permission before using any hostel's pool.
3. Try Some Exotic Ice Cream!
Ever had spicy ice cream or tobacco and fig flavored ice cream? At Sobremesa Helados Exoticos you can try a wide variety of flavors you have never heard of for around 3USD. Sobremesa is located near the central park and is an exciting stop for tourists and locals. The shop is constantly trying new flavors and even offers some breakfast ice creams! Grab an ice cream and go people watch at the park.
Address: 4ta Avenida Norte 5A 00000-Antigua Guatemala, Sacatepequez.
4. Try Antigua's Natural Teas!
Off of a busy street is a tiny little shop with light and clean aroma. Pachamama is a natural tea shop that offers medicinal and health-focused teas for specific needs. My travel buddy was suffering from terrible allergies. We asked if they had any remedies and the worker mixed up a bowl of herbs specifically for her ailments. The women in the shop was extremely kind and patient. The tea was picked and brewed directly in front of us and only cost about 3USD. My friend left feeling better and a bit warmer. Pachamama also sells coffees and chocolates.
Address: 5a Calle Poniente #13D, Antigua Guatemala 03001, Guatemala.
5. Eat in a Garden
One of my favorite things about traveling is meeting other travelers. La Escalonia was suggested to us by another traveler we met. He said there was a beautiful place to eat among plants. This cafe is situated in a nursery. You can enjoy a yummy and affordable breakfast in this very detail cautious space. After you eat you are encouraged to walk the property and look at their wide variety of plants and trees. Warning: you may end your visit trying to figure out the ways to bring plants back with you, because of their low cost and aesthetic.
Address: 5ª Avenida Sur Final # 36 "C", Antigua Guatemala.
6. Cerra de la Cruz
Three words: lots of stairs! Although this was one of my favorite activities, it was also one of the more physically demanding. If you are looking for a workout with a great payoff this viewpoint is your best bet. Cerra de la Cruz is one of the best viewpoints of Antigua you will find. Located on at the end of a steep walk up on the corner of the town. This breath-taking view makes for great pictures and is a free and easier alternative to hiking one of the volcanoes. If you are like me not crazy about the idea of taking the stairs you can also take a tuk-tuk (taxi) up!

7. Go to the Local Market
The local market is located near Cerra de la Cruz. Here we found clothes, food carts, and an almost overwhelming produce section. From the outside, the market looks small, but take the wrong turn inside and you may get lost. This is a fun way to experience what local life is like. Even if your main goal is not to shop this market is an exciting adventure. You will see everything from butcher shops to wedding gown shops. Make sure to never take the first price offered.