7 Cruise Ship Hacks You Need to Know Before Your Vacation
These hacks will make your vacation amazing!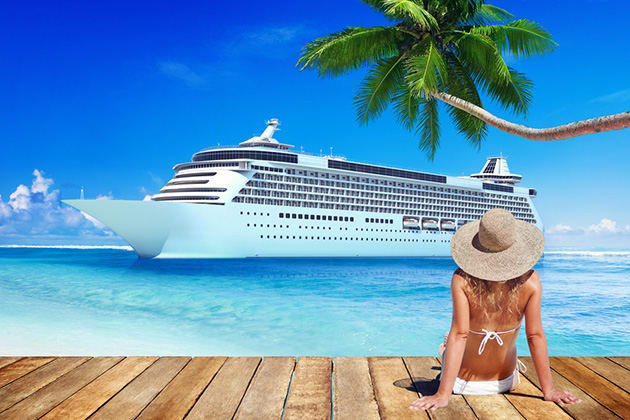 I travel a huge chunk out of the year, and out of everything I've gotten to experience, I'd have to say that cruising is my absolute favorite method of vacationing! It's worry free, inexpensive, and completely relaxing! After going on several cruises, I've picked up a few tips and tricks along the way! Read on to learn how you can make your next cruise sail even more smooth!
1.) Pack a Cruise Carry-On
After boarding a cruise ship, your luggage will be taken and put in your stateroom while you go and explore. There will be a certain amount of time where you will not be able to access your luggage. Make sure to pack meds, electronics, sunscreen, etc. in a separate purse or small bag that you can carry around with you until you are able to go to your stateroom.

2.) Be Cautious When Tanning
My mom and I are both mixed, so we tan very easily and "never burn." Or so we thought. The first day of our most recent cruise, we both got sun poisoning which ruined our whole trip! We didn't wear sun screen, but instead wore tanning lotion/accelerator. Keep in mind the sun is much different where your cruise is probably traveling to, and even if you never burn at home, you can totally burn there. Wear sunscreen and leave the tanning lotion at home!

3.) You don't need as many clothes as you think you might.
On a cruise, everyone usually is always wearing their bathing suit underneath a cover up or big tee shirt. Ninety-five percent of your trip will be lounging out in the sun on sea days. Leave behind the tight shorts or uncomfortable tank tops. You won't need them.

4.) Dinners are usually fancy.
Dinners on a cruise ship are very fancy, and people usually get pretty dressed up. Most ships even have dress codes which usually include no bathing suits or casual wear. Bring a couple of sundresses or button ups for your scheduled dinners.

5.) Check the itinerary.
Cruise ships constantly have planned activities for people of all ages. There's so much to do like bingo, live shows, games, and more! These are always free and you're not going to want to miss any of them! There will always be a full itinerary for the week of your stay in your stateroom for you to look at so you can plan your trip accordingly!

6.) Order Two Entrees
Can't decide between the lobster or the steak for dinner? No problem, order both! Every meal on cruises are included! Get as many appetizers, entrees, or desserts as your hungry heart desires.

7.) Room service is free.
Feel like eating lunch in your room, but don't wanna get out of bed? No problem! Room service on cruise ships is totally free, and you can get as much food as you want! It's always nice to tip your server, though.

8.) Don't be late back to the ship on destination days.
When the captain says the ship leaves the port at 4:00 PM, he's not messin' around. If you're not back on the ship by the time it departures, it will not wait for you. It happens all to often; people get confused on the difference between port time and ship time, or they take too long getting back from an excursion, and they arrive at the dock only to see the cruise ship sailing off in the distance. YouTube it if you want!

9.) Always have your passport and cash with you.
This one is mainly for the previous reason. If you happen to miss your cruise, which totally could happen, it's not gonna be fun trying to travel back home from wherever you are without your passport or cash.

10.) Don't book excursions through the cruise ship.
We have never booked an excursion through the cruise ships we vacation on because they're so expensive! Instead, we book ahead of time through companies near the port that we dock on that have inexpensive excursion options just for tourists. They'll make sure you get back to your dock on time!