Wander is powered by Vocal creators. You support
Eleanor Good
by reading, sharing and tipping stories...
more
Wander is powered by Vocal.
Vocal is a platform that provides storytelling tools and engaged communities for writers, musicians, filmmakers, podcasters, and other creators to get discovered and fund their creativity.
How does Vocal work?
Creators share their stories on Vocal's communities. In return, creators earn money when they are tipped and when their stories are read.
How do I join Vocal?
Vocal welcomes creators of all shapes and sizes. Join for free and start creating.
To learn more about Vocal, visit our resources.
Show less
A Day Trip to Franklin, Indiana
There's more than just corn in Indiana.
Really, traveling to Indiana? Are you sure? Isn't it just all corn?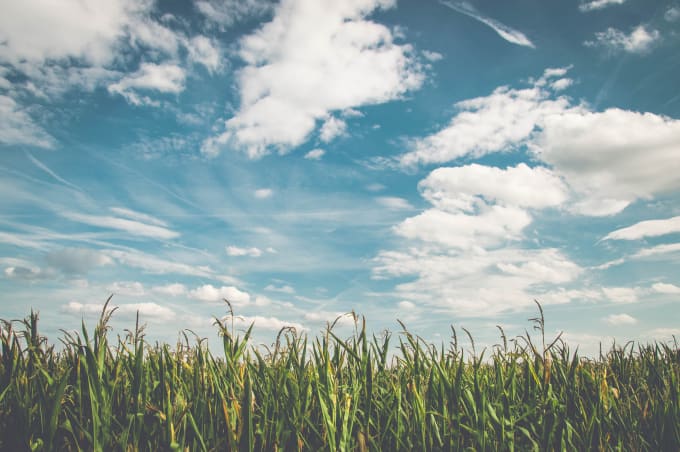 Let's be honest: Indiana does not sound like the greatest place for a vacation, or really any kind of travel. Pretty much whenever you see a picture of Indiana, it looks something like the photo above.

And yes, while we do produce A LOT of corn and soybeans, there is so much more to this beautiful state. Gorgeous small towns, amazing natural beauty, friendly people, and some of the best food are what make my home state so spectacular.
For this article, I'm detailing all of my favorite stops in Franklin, Indiana, my hometown. Growing up here, I always found my town a bit unexciting but, now that I'm older, I can appreciate some of the things that make Franklin such a great place to be!
The Town of Franklin
Franklin, Indiana, the county seat of Johnson County, was named after Benjamin Franklin, and established in 1823. I consider it to be a typical Indiana town, and its proximity to Indianapolis makes it very easy to visit. While I was growing up, Franklin grew up a bit too, but it still has that small-town feeling, especially around the courthouse square.
Driving Directions: To get to Franklin, take I-65 South to the Franklin exit, turn right once you get off the interstate, then follow the signs to go directly into the town center. There is no public transportation to Franklin, so you will need to have a car.
Below I've provided an itinerary for a whole day trip, so you can get the absolute best of Franklin. While there is definitely more to the town than just these selections, these are my personal favorite stops!

Breakfast: Ann's Restaurant
Ann's is a fixture of Franklin, having been around since the 1950s. With a great diner-style breakfast, you can't go wrong with anything you order here. The Spicy Breakfast Wrap is my favorite, but if you want a true taste of down-home Indiana cooking, go for the Biscuits and Gravy. Today, Ann's is run in partnership with Tara, an addiction-treatment center just south of Franklin. All profits from the restaurant go to assist people who otherwise would not be able to afford treatment for addiction.
Ann's Restaurant
7 West Monroe Street Franklin, IN 46131
317-736-5421

Morning Shopping: Madison Street Salvage
Madison Street Salvage is a really fun place to go antiquing. Run by Franklin Heritage Inc., this retail outlet helps the nonprofit restore historic homes in downtown Franklin. When I was a kid, a number of these homes were falling apart, simply because people had trouble affording the expensive restoration. Franklin Heritage Inc. buys historic homes and renovates them to their previous glory. Sometimes a home itself is beyond repair, but many of the original lighting fixtures, railings, fireplaces, etc. can be reused. If so, they go here! Everything is original, and has been carefully curated, so you can really find some interesting pieces. Opening hours are listed on their website.
Madison Street Salvage
350 East Madison Street
Franklin, IN 46131
317-739-0601

Lunch: Benjamins
If you need a great place for lunch, a snack, or just to grab a quick coffee, look no further than Benjamins! This coffee shop has been around for decades, and it's a great place to grab a quick bite. My personal favorite: a large iced tea, and their delicious chicken salad on a croissant. Trust me, it sounds very common and standard, but everything there is delicious and out of this world! They are happy to do takeout as well. My recommendation: order takeout and walk over to Providence Park to have a great lunch with a beautiful view! Menu and opening hours are located on their FB page.
Benjamin's Coffeehouse
49 E Court St
Franklin, IN 46131
317-736-0048

Afternoon Relaxation: Province Park
A great place to bring a packed lunch (or the Chicken Salad from Benjamins, hint hint). As a kid, this was my park! A huge area right in the heart of Downtown Franklin with multiple playgrounds, beautiful flowers, trees, and plenty of spots to relax. Great for a lazy afternoon out, and a good place to decompress.

Ivy League Beauty with a Small-Town Feel: Franklin College
Franklin College is the local higher ed institution in Franklin, and it looks exactly like someone took a small liberal arts college in Massachusetts and plopped it right down in the Midwest. Beautiful, stately brick buildings surrounded by gorgeous homes from the 19th and early 20th century make this a must-see!

Bike or Walk Your Heart Out!; Historic Greenway Trail
Feeling a bit more adventurous than just a simple stroll in the park? Try the Historic Greenway Trail. This trail will take you through the best of Franklin's natural beauty. It begins at Blue Heron Park, a restored wetland and runs all the way through town completely to the other side of the city. The trail runs alongside Youngs Creek (the local waterway) goes through Province Park, next to Franklin College, and ends at Needham and Webb Elementary Schools. It is fairly long though completely flat and paved, so bicycles are recommended, but you could walk it and back in a single day as well.

Evening Movie: The Historic Artcraft Theatre
The Artcraft is the shining gem of Franklin, IN. An art-deco style movie theatre, the Artcraft still has all of its original furnishings. As a kid growing up, this was the only movie theatre in Franklin, and I still remember going there to see Twister and Muppet Treasure Island. However, once a larger multiscreen theatre came into town, the Artcraft was closed down and abandoned for a short time. Today, the Artcraft has been restored, and is run by Franklin Heritage Inc. (the same group that runs Madison Street Salvage). Throughout the year, the Artcraft now shows all kinds of historic and/or older movies. You won't be able to see the latest Avengers, but you can go to see Back to the Future in a movie theatre with the original posters on the walls! Prices are very reasonable, and the popcorn is highly recommended. They even have a ghost tour during Halloween (which is really cool). For more info, check out their website for a list of upcoming screenings and even to purchase tickets.
The Historic Artcraft Theatre
57 N Main St
Franklin, IN 46131
317-736-6823

Dinner: The Willard
Next door to the Artcraft is one of Franklin's other institutions, The Willard. The Willard was originally a hotel, but was eventually turned into a restaurant/bar. It has some of the best outdoor seating, and (dare I say it?) probably the best pizza in Franklin. For another cool slice of Franklin's history, try eating here. Daily specials, menu, and history are located on their website.
The Willard
99 N Main St
Franklin, IN 46131
317-738-9991

Honorable Mention: Taxman Brewing Company
Ok, so this place is technically not in Franklin, but it's right next door in the small town of Bargersville (about a 10 minute drive away). Taxman is an amazing microbrewery with Belgian-inspired beers, and a huge rotating tap selection. The food is quite good as well, although the menu changes regularly as everything is farm-to-table. Check out their website for more info on their menus, beers on tap, as well as to make reservations (not needed but helpful on busy nights).
Taxman Brewing Company
13 S Baldwin St
Bargersville, IN 46106

So, are you convinced?
Franklin, IN is a lovely small town with a ton of great things to do. See below for a full map of all the locations I mention in this article. While I highlighted my favorites, I didn't even mention Mallow Run Winery, the city pool (complete with waterslide overlooking Province Park), the local toy store, my favorite Greek restaurant, or many of the other excellent shopping opportunities around the courthouse. Hopefully, you'll now consider Franklin, IN for your next day (or even weekend trip). Hope to see you there!
Day Trip to Franklin, Indiana Map