Wander is powered by Vocal creators. You support
Jonathan Reed
by reading, sharing and tipping stories...
more
Wander is powered by Vocal.
Vocal is a platform that provides storytelling tools and engaged communities for writers, musicians, filmmakers, podcasters, and other creators to get discovered and fund their creativity.
How does Vocal work?
Creators share their stories on Vocal's communities. In return, creators earn money when they are tipped and when their stories are read.
How do I join Vocal?
Vocal welcomes creators of all shapes and sizes. Join for free and start creating.
To learn more about Vocal, visit our resources.
Show less
A Heart in Ruin
Notre Dame is more than just a building, a symbol of Holy sacrament, or the magnificence of a higher power. At its heart it is all of us, and though fires may destroy its physical presence, no flame will tarnish its spirit, its emblem of hope, or its ability to unite us all.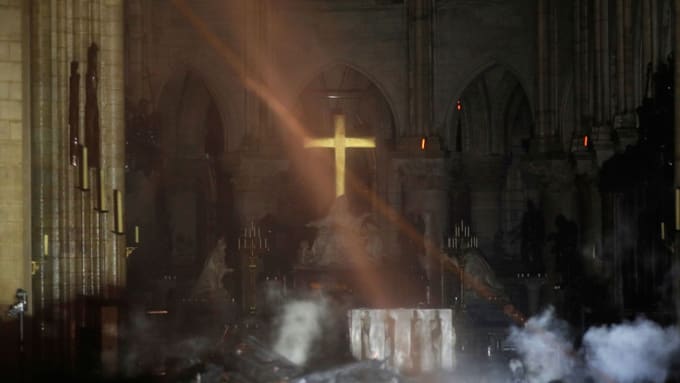 "Walking at random through the streets, we came by chance upon the Cathedral of Notre Dame. I shall long remember my first impression of the scene within. The lofty gothic ceiling arched far above my head,, and through the stained windows the light came, but dimly–it was all still, solemn and religious."
These are the words by American poet Bayard Taylor, and in them he describes what many feel and think when they stand before the holy majesty of the Notre Dame de Paris. This formidable building, which has stood for over 850 years, has become a symbol of community, unity, hope, and sanctity. It is an emblem of which all of humanity aim to live by; peace.
So the horror, which contorted the many Parisian faces as they watched their beloved Notre Dame consumed in flames, spoke more powerfully than any written or spoken word. Starting out as a small plume of smoke, quickly and ferociously the flames spread across the entire Cathedral's ancient roof. Enveloping the iconic wooden spire, the fire grew in strength until, amongst a gasp of horror from onlookers, it collapsed into the inferno below.
For fifteen hours the French Fire Brigade battled the blaze, firing water cannons into the building's structure. The expectation was that nothing would be left. And as the announcement that the flames had entered the northern side of the infamous bell towers, that prediction looked to be true.
General Jean-Claude Gallet in a statement announced: "We are not sure of being able to stop the spread at the north belfry. If this one collapses, I'll let you imagine the extent of the damage." These words were left ringing in the smoke-filled air, as the topaz glow of the fire burned on. And as Paris turned to sleep, many questioned, just what would be left of "Our Lady of Paris"?
Now beneath the peaceful daytime, the full damage to Notre Dame can be assessed. Almost all of the roof and wooden rafters are gone. Dating back to the 13th century, their historic significance is indefinable, and their loss is indescribable. But whilst the damages of the Cathedral are deeply hurtful, there has been some relief that the destruction isn't as extensive as first thought.
Most of the priceless and holy artefacts have been saved, including Christ's "Crown of Thornes," and the Tunic of Saint Louis. Astonishingly all three of the iconic Rose Windows, which originally were thought to have been lost, have too survived. Yet amongst the relief, there is still concern as many other artefacts are still unaccounted for. And perhaps the most famous and holy is the True Cross and Holy Nails.
It is not surprising at how shattering the news would be if this priceless symbol of Christ's death is discovered to be lost. Its religious and historic significance is unrivaled.
But as Paris and the wider world come to terms with the reality of the damage of so much of Notre Dame, the future is where attention is now focused. So far, over £400 million has been raised to repair Paris's crown jewel, and until the full extent of the damage, France must now mourn their Notre Dame.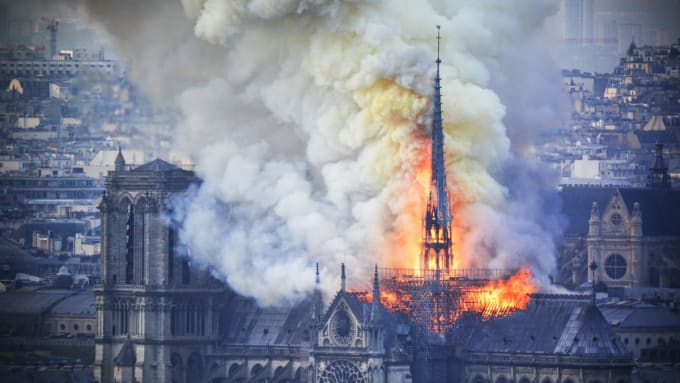 And throughout this period of grief that the people of Paris now feel, it is the words of arguably the Cathedral's most famous of devotees, Victor Hugo; who in his novel 'The Hunchback of Notre Dame', wrote:
"Love is like a tree: it grows by itself, roots itself deeply in our being and continues to flourish over a heart in ruin."
Love is what has nurtured France over the hours since the fire. From religious figures, world leaders, royalty and celebrities, Paris has been held in the arms of support and tribute. And, as the days go by, and France begins to look back on the day Notre Dame was almost lost, there is one image that will stand out above all.
Shining, as if dowsed by the golden glory of God, Notre Dame's crucifix glimmered against the blackened ashes of destruction. And in that image it reminds you that Notre Dame is more than just a building, a symbol of Holy sacrament, or the magnificence of a higher power. At its heart it is all of us, and though fires may destroy its physical presence, no flame will tarnish its spirit, its emblem of hope or its ability to unite us all.
The History and Heritage of Britain - The Rumble Series
We've been visiting some of Britain's most iconic places of history and heritage, and after the fire at Notre Dame, take a look at why these iconic buildings are vitally important.