A Quick Guide to Peru on a Budget
A solo traveler's guide to Machu Picchu and around for under $1000.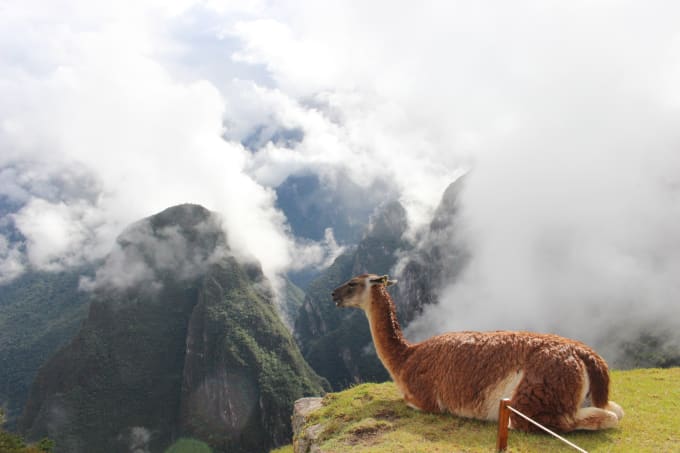 I traveled alone to Peru in October for two weeks. My only requirement was that I not spend more than $1000 and that I see Machu Picchu. I accomplished both and I've created a guide to show you how I did it.
What to Wear/Pack
Pack lots of layers! Weather in Lima, but especially Cusco, is super unpredictable. It starts out really cold then gets really hot in the afternoon and gets cold again around sunset. On my trip up to Machu Picchu, I started out wearing two sweaters, a rain jacket, a scarf, a hat, and a rain poncho. By midday, I had stripped down to a tank top. It's insane. Your best bet is to bring one light sweater, a heavy sweater, a warm jacket/ rain jacket, a hat and scarf, as well as short sleeve t-shirts.

**Also make sure to wear insect repellent in Cusco, especially going to Machu Picchu, but just to be safe, wear it all over Cusco. I got a lot of bites during my visit. Not even sure which bug bit me.
**Travel with your own tissues and hand sanitizer or wipes. Some places don't have paper in the bathroom or soap to wash your hands.
Plan of Action
I traveled in October, which is the beginning of the low season in Peru as the weather transitions to the rainy season. I think this was a good time, because travel was super easy, prices were low and tickets/ lodging weren't sold out or booked up. The weather wasn't so bad either.

I flew into Lima roundtrip and then booked a roundtrip ticket from Lima to Cusco. I would recommend this route. My international ticket I booked through onetravel for $448 on AeroMexico. I like this airline. Plus I had a long enough layover in Mexico City, I was able to leave the airport and have lunch. Will share that mini-itinerary as well! My roundtrip Lima-Cusco flight with Peruvian air, which I booked through atrapalo.pe was $93. I booked this ticket two nights before. I don't think it's something you have to do with anticipation and it's probably cheaper purchasing from within Peru. The USD to Soles (Peruvian currency) exchange is roughly 3.25 soles to the dollar.
Start out in Lima. I would spend about a week here and stay in Miraflores or Barranco. Other areas will be less expensive, especially for shopping, but these two neighborhoods are the safest, most walkable and easiest to get around, due to lots of public transportation options. There is also so much to do in the area. I stayed in Miraflores for free by volunteering at a hostel, which I arranged through workaway. It's not only a great way to save money, but also a great way to meet people and do something different during your travels. If you're not interested in working on your holiday, just stay at a cool and inexpensive hostel. I book all of mine on booking.com and always find something good for a great price. I stayed at Chaski Lodge, but it has since undergone some major changes in management and I cannot speak to the current quality. It was a great place when I was there though!
Save all your souvenir shopping for Cusco where prices are much lower and there are tons of options at the San Pedro market. Tipping is not expected, haggling is.
There are so many delicious restaurant options in Miraflores alone!
For ceviche, try Punto Azul, El Veridico de Fidel, Barra Maretazo, or Popular in Larcomar (this place also has yummy cocktails! I had a strawberry ginger pisco sour that was amazing).
Wallqa — I treated myself and a friend from the hostel on my last night in Peru. For the most delicious high end luxurious meal, it was only 90 USD for two entrees and an appetizer including wine and two desserts! You should definitely take advantage of the exchange rate here by going out to fancy dinners that would cost you 3x as much in the states. Order the chocolate cake. It is better than sex.
Have a butifarra de pavo with a chicha morado in Parque Kennedy! These local favorites were tasty and filling and only came out to s/14. Also, at another stand in the park you can get arroz con leche with mazamorra morada for s/6
Across from the park you can try a sanguiche at La Lucha.
Churros con chocolate at Manolos for s/15 are a decadent treat.
As far as what to do in Lima, if you're not just looking to fill your belly, there are free walking tours of Lima downtown and Barranco, which take you to a few key spots. This is a good idea if, like me, you have no idea what to check out. After the tour, you can go back to areas you found interesting to explore further. On my free tour, we sampled some different types of pisco. These tour guides work for tips, so be generous. A walk or bike ride by the malecon is really lovely, from el faro to rocky Playa Makaha. There is a beautiful park called Parque de amor with cool statues and mosaic benches.
Barranco
I walked around the Puente de Suspiros area and towards the water. This area is cool to walk around. There is definitely a lot to see. I would have liked to spend an entire day or two exploring this neighborhood. There is also a really hip artisan market where I found these amazing embroidered denim jackets by Keromi Alpaca, which uses local ethically sourced and labored textiles to revamp distressed denim. Very clever and very cute.

Day Trips from Lima
My friend from the hostel and headed to Huacachina desert on our day off. We took an early bus to Ica with the company Flores for s/20. From the bus station, we took a cab to Huacachina for s/6. Once there, we booked a sunset buggy ride with sand boarding with any old company. People will approach you as you walk around the small town. We paid s/35 each for the tour. The ride was bumpy and exhilarating. Sand boarding was an adrenaline rush. We had an amazing time and left covered entirely in sand. Our day trip with round trip transportation to Huacachina and the excursion came out to s/87, which is roughly $27, way less than the package deals sold to tourists.

Paracas and Islas Ballestas — I didn't get to do this one, but it seemed cool! From what I gather, it may be best to stay overnight in Huacachina, where there is rumored to be some good backpacker nightlife, and take a bus to Paracas from there. You can then easily get a boat tour of the islas Ballestas and head back to Lima from Paracas in the evening.
Getting Around Lima
Getting to Miraflores from the airport is super easy! There is an airport express bus that costs s/25 and it has WiFi and USB outlets, so you can charge your phone. You tell them exactly where you're going and they call your name when it's your stop. Super comfortable, safe, and convenient. Highly recommend!

There are local buses, which cost s/1.5 and take you pretty far. They usually have the route written on the bus and leave from the oval just north of Parque Kennedy. You can ask anyone in a yellow vest. They have a bunch of city workers around to answer questions. People are also generally helpful and not shady.
There are also smaller buses or collectivos that take you around but I didn't ride one in Lima.
Then there is the metro bus, which costs s/2.5 and runs on an express track, so they are faster, go further, and get super crowded. South Americans have a different sense of boundaries/ personal space. Taxis and Ubers are another option. I feel they are only necessary when traveling super late or super early.
Cusco
**Make sure to stay hydrated and get yourself some coca tea, leaves, or candies. The altitude will make you feel a loss of appetite, fatigue, maybe even nausea. Whenever I read these warnings, I always think to myself yea, yea, I'll be fine, but you definitely should take care of yourself. There is nothing worse than getting sick on a trip.

Cusco is higher altitude than Machu Picchu. It's up to you how you decide to lay out your trip, but I went straight from the Cusco airport to Ollantaytambo by bus then headed to Aguas Calientes/Machu Picchu town and stayed in Cusco afterwards. I definitely wish I had spent more time in Cusco. Cusco is cool and you should stay for at least a week, if you can. Check out the ruins in the area (you can get an all access pass for maybe s/50. I didn't do it, so I'm not sure, but you definitely should!), walk around the city, go out at night (there is supposed to be excellent nightlife here, but I am more into early morning hikes so I didn't go out), and take trips out from here.
There is a small blue public bus you can catch right outside the airport to your right for 80 centimos to the center. Pretty amazing. A taxi will cost you s/30.
Where to eat in Cusco: Kion for Peruvian Chinese food, Chi Cha for high-end Peruvian. I didn't get to explore this city much, but there are a lot of great options!
Lodging: I stayed at kind of a party/ backpacker hostel called Kokopelli, but it was really nice and clean and private for a shared room because each bed has a curtain, a shelf inside your little pod, a lamp, and a charger. The showers are hot and they have a restaurant and bar inside, which I appreciate as a solo traveler, because I sometimes don't want to explore the city at night, but still want to do something fun, socialize, or have a drink. For two nights and dinner in the hostel, I spend s/133.
Buy souvenirs and eat lunch at the San Pedro Market! I snagged an adorable and fluffy little alpaca toy wearing a colorful Peruvian hat for my niece and an alpaca wool scarf for only s/16.
I suggest going on the Rainbow Mountain hike if you're up for something physically challenging. Rainbow Mountain, aka Montana Siete Colores, was discovered only about four years ago due to climate change, which melted the layers of ice and snow, which has covered the mountains. While global warming is a serious issue that affects the communities and animals in the area, it also revealed an amazing natural phenomena of layered minerals and created a profitable tourist business for locals. At my hostel, Kokopelli, I booked a tour for 100 soles. You can probably find something cheaper in an agency in the city center. Different agencies have connections with different restaurants. My tour with Rasgos had pretty good food and the guides were cool and prepared with an oxygen tank and blankets for the long bus ride, but our car did break down on the way back.
This hike kicked my ass. The altitude had an insane effect on my lungs. At this point, however, I had gotten the flu, so I was probably extra out of it because of that. Every 10 feet I had to stop and catch my breath. My heart was pounding and I felt like I would throw up. But I would totally do it again! The beautiful views at the end make the challenge worthwhile.
I would not do this before Machu Picchu. I recommend you save your energy for MP. If you have any left afterwards then hike up to Rainbow Mountain.
And finally...Machu Picchu!
From Cusco take the Ollantaytambo bound collectivo on calle Pavitos for s/10. It's a nice drive, about 2 hrs, with lots of cool views.

I recommend a stay in Ollantaytambo for its quaint traditional architecture, accessible ruins, and irrigation system, which has you listening to the tranquil sound of running water everywhere you turn. It also offers you two options for getting to Aguas Calientes/ Machu Picchu town. From Ollantaytambo, you can either take the train with Peru rail or Inca rail, which can cost anywhere from $40-500 depending on the train you take. I took Peru rail vistadome for $104 on the way back from MP, because I was sick and exhausted by that point. It was a nice experience too. It was the nicest train I have ever been on, complete with table cloths, a complimentary meal, a performance and fashion show, and a proper bathroom.
I went to MP a different route. I took a collective from Ollantaytambo plaza up to Hidroelectrica, where I then walked along the train tracks (not as dangerous as it sounds) two hours to Aguas Calientes. The walk is really pretty and peaceful, lots of birds chirping, and butterflies flitting around. This is a longer bus ride with many more winding roads. I don't get car sick, thankfully, but someone on my bus did and threw up the entire time. If you haggle, you can ride up for s/20. I paid s/35, but the people sitting next to me only paid s/25. If you take this route, make sure to leave your luggage back in Ollantaytambo and take only what you need for your time in Machu Picchu. Pack light and wear good walking shoes. I did not heed this advice and had a backbreaking, callus forming, 2.5 hour walk with a full backpack, laptop included, and my vans. I love my vans, but they are not meant for such long walks over rocks.
Ollantaytambo is beautiful and smells of Palo Santo. It was chilly and foggy, just magical. They have these little canals all over the city so everywhere you go you can hear running water. It's really calming and lovely. I stayed at El Tambo. I had the cute little cave-looking room to myself. I enjoyed a lovely included breakfast of fluffy scrambled eggs, delicious bread with jam and butter and a good strong cup of coffee. The only downside was having the bathroom down the hall and the showers downstairs, since it was so cold outside. There were a lot of other lodging options, including one place right in front of the entrance to Pinkuylluna, an Inca ruin with no entry fee. I had a peaceful early morning hike up there and enjoyed the beautiful views alone.
Machu Picchu (Aguas Calientes)
After my long walk from Hidroelectrica to Aguas Calientes, which ended in a heavy downpour, I found my hostel at the very end of the town. I stayed in Casa Machu Picchu. I do not recommend this place due to its proximity to the train tracks and noise level, as well as the subpar breakfast served. The best part about the hostel was the hot shower and that I lucked out and got a shared room all to myself, because it was low season.
I ate a delicious alpaca burger at a restaurant called Mapacho, paired with a local beer. I highly recommend the restaurant. There are a lot of options, but most places are very touristy. This restaurant was not the least expensive, but it offered the best quality food with the chillest environment. It is pretty touristy in the sense that all the servers speak English, but there are no special tourist menus, which are a total turn off.
I bought my tickets for the bus to MP ruins and entrance ticket to MP on avenida Pachacuteq the night before. The round trip bus costs $24 (USD) and entrance to MP without either of the mountains was s/152. I personally didn't have the energy to climb up to MP nor climb up to either of the mountains. If you're up for it, DO IT.
You can book your MP ticket online in advance and potentially pay less. But, if like me, you have some flexibility and don't plan everything ahead of time, you will be just fine purchasing your entry ticket the night before in town.
The line for the bus up to MP is crazy long! People start lining up at 4 AM. Buses don't start running until 6. I got online at 5:30 and arrived to MP at around 6:30-7. I didn't check the time, I was too excited to have finally arrived.
When I got there, it was raining, but the misty cloudy mountain views were quite gorgeous and enchanting actually. I spent 3-4 hours walking around the Inca city. By afternoon, the clouds had completely parted and the sun was blazing. There is so much to see. You can book a tour guide, but honestly it's not really worth it. I read some stuff online before getting there and then just eavesdropped on other people's tours once I got there.
It was also cool getting over my shyness of 1) taking selfies and 2) asking people to take my picture. I couldn't not get photos of myself in Machu Picchu, so in parts of the trails where there weren't other people walking by, I set up the timer on my Canon and did a little photo shoot. Otherwise I asked passerby to take some shots. They were always happy to do so. One guy even acted as professional photographer, taking photos from different angles and giving me motivations. He was hilarious and wore those vibram toe sneakers. Thanks dude!
I saw everything that I could with my basic entry ticket. I also went back to areas I had already been in the morning to see them in the sunshine. It is so impressive and so beautiful. It isn't just the architecture, it's the location up in the middle of the mountains surrounded by lush greenery, llamas, hummingbirds, butterflies. It's often about the journey, rather than the destination, but in this case, it is all about the destination. Soak it up. And stamp your passport with the Machu Picchu stamp on your way out!