A Weekend Trip to Experience While Traveling Canada
The Stunning Arrowhead Provincial Park
I have been living in Canada since November 2016, and I thought I should share my first hand experiences from here while I move from place to place.
In the month of March my boyfriend, Dan, and myself went on a road trip away to Arrowhead Provincial Park in Ontario. The first step was to rent our car for the trip, we used Enterprise as it was the nearest car rental service to where we were living in the Blue Mountains. They were extremely helpful, fast and got us on our way smoothly and without any problems, would definitely recommend them if you're looking to rent a car!
Essentials
As we were staying in one of the park's log cabins, we had to provide our bedding and pillows (which we ironically forgot, so made a makeshift pillow out various clothing items) and there wasn't much in the way of cooking appliances either as we were provided only with a microwave and a fridge. So I have created a list of 7 essentials to take with you:
Linen - Sheets, duvets, blankets and pillows. The basics to make a bed and keep you warm.

Bottled water - There was no running water so we took our own to ensure we stayed hydrated.

Snacks - Things that can be microwaved or refrigerated. We found that taking fruit and crisps (chips) were a must, as they lasted for the weekend and kept us energized.

Warm clothing - Even though we went in March, it was still snowing and freezing cold. This means gloves, hats and scarves galore.

First aid kit - This is important for any kind of trip you go on as you never know when you'll need a band aid or painkiller.

Toilet paper - There were toilets near our cabin, however it was your basic hole in the ground scenario so we waited till we could use the nicer ones near the ice skating rink. But like at festivals, having your own toilet paper is handy.

Lighting - As there was no lighting outside, it was great to have a torch to see yourself back to your cabin after being out in the town for dinner.

Always check beforehand what the log cabins provide, as they are all different. As for the cabin itself, it was very homely. It had a double bed and a bunk bed (double at the bottom and single bed on top) which could fit up to five people in there. There was also a pit just outside where you could make your own fire.
On the Road
It took about two hours, from Blue Mountains, to get to get to the park. Now, being someone who drives on the other side of the road (which is the left) I was very nervous as a passenger feeling like we were doing everything wrong and don't even get me started on the roundabouts! But apart from that, it was an easy enough drive, with some amazing views along the way.
When we arrived we were a few hours too early for check in, so we decided to go on the ice trail while we waited.
Ice Skating Time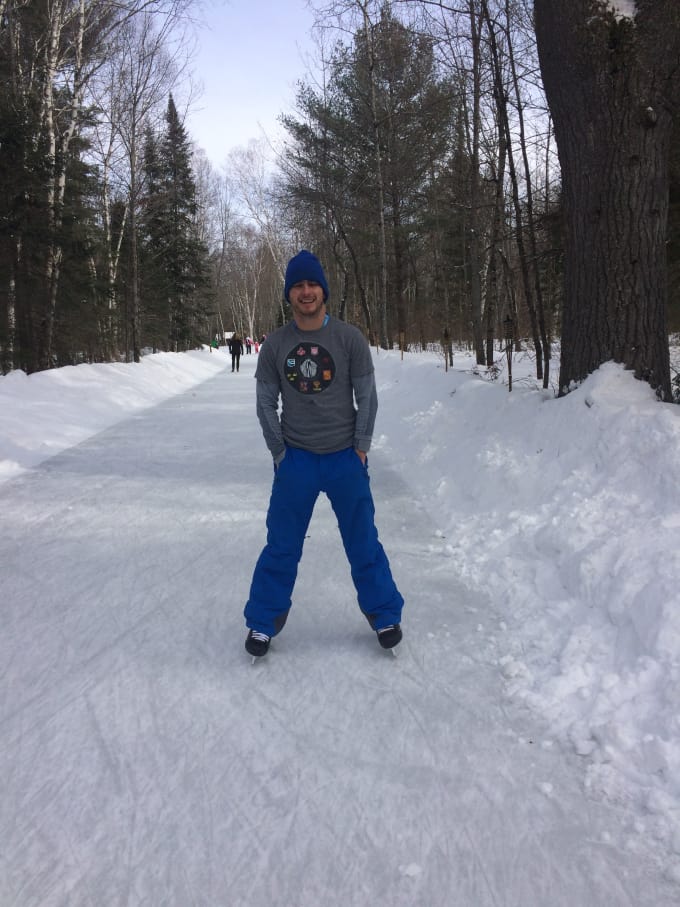 With our skates on and feeling like Bambi on ice, we hit the trail. We were on to a shaky start, as neither of us had gone skating in a good few months/years. We were out of practice and simply needed a boost. The trail was very scenic, surrounded by trees and torches that would be lit during night time skating! Unfortunately, we were not able to do that as we had run out of time.
We were able to go around the trail 4/5 times which took us about 2 hours, picking up the pace each time we went round the trail. Being someone who has never ice skated on anything besides an ice rink which was usually made out of fake ice, this was a lot harder than I thought it would be with only snow banks to slow me down and no sides that I could hold on to. However, with every push of my skate, I grew more confident even with little kids skating circles round me. I felt even better when I saw Dan fall head over heels.
With one near fall and very sore ankles, we retreated to our log cabin. As I have already explained about our cabin under 'Essentials' I won't go into anymore details.
The scenic route
As well as the ice skating, there are also different hiking trails that you could take. Because it was still winter season we had the option of taking these routes via snowshoe, however we opted not to as there hadn't been a prediction for much snowfall and the snow around the park was already compact and pretty flat.
We took the Mayflower Lake Trail and the Stubb's Falls Trail. These took altogether a couple of hours to do with some beautiful sites to see (pictures are attached at bottom of post).
As the lake was frozen over, Dan dared to venture out to try and take pictures of the bridge, which I was standing on, from the lake. Unfortunately and also hilariously he didn't realise the ice was too thin and fell through! Luckily, it was only one leg and so he managed to save face and we headed back to dry out his soaked leg.

Nearby Town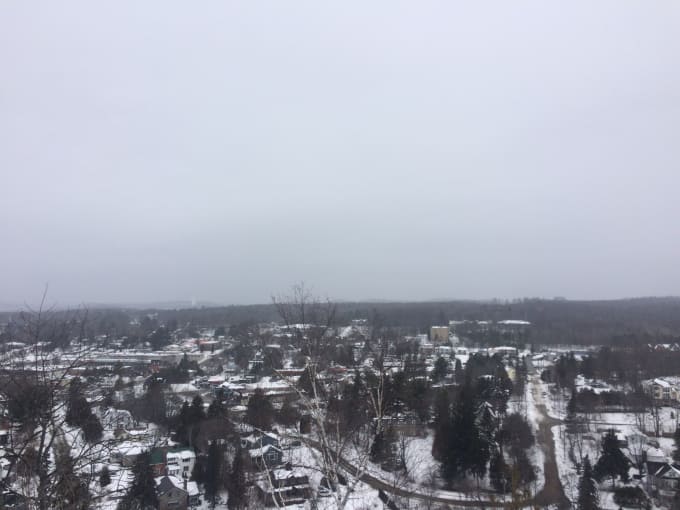 As well as the trails that were in the park itself, there was also a nearby town that we visited. Huntsville, although a small town, it was the closest to us where we could go for meals out and do a bit of shopping. It also had a lot more to offer than we thought. Full of quaint shops and lots of pubs and restaurants there is a lot to choose from.
Two restaurants that we tried were Mill on Main and On the Docks. Both lovely little pub/restaurants that offer similar but different ranges of food. We tried Mill on Main first, and although the staff were friendly and the food was also delicious, it lacked a certain atmosphere. It was a bit too quiet for our liking. Whereas, on our second night, we tried On the Docks pub and it was full of a lively atmosphere packed with locals and the obvious usual crowd. The food was also delicious, however we ordered too much so we had to take some home. This was by far my favourite place that we ate at, especially as you get to see a view of the river while you eat.
There was also one more trail that you could walk in Huntsville which was the Lion's Lookout. You climb up a hill and when you reach the top you get a spectacular view of the town. The climb was easy enough but coming back down was the tricky part as there were some icy patches that you did not want to slip on.
All in all, this was definitely a weekend trip to be experienced if you are traveling Canada or if you live in Ontario, especially in the winter as there are so many different activities for you to try. Hopefully this post has helped give you a few tips if you plan to visit Arrowhead Provincial Park.

Mayflower Lake Trail and the Stubb's Falls Trail