Conquering Walt Disney World
Some Tips for Your Next Trip to WDW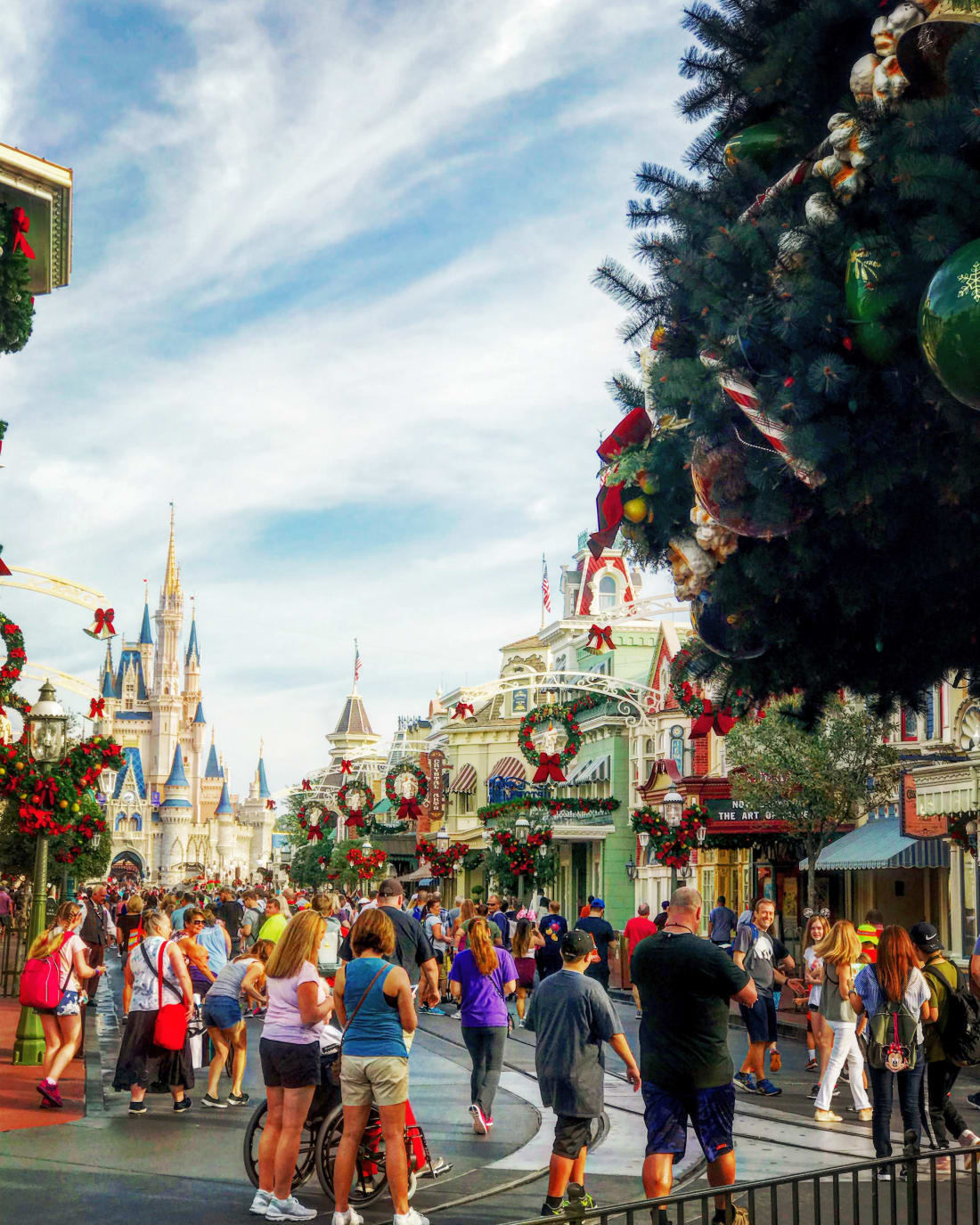 1. Hidden Mickeys
I am sure you've heard about the hidden Mickeys, because well, who hasn't? If you are unfamiliar with the hidden Mickeys, then this will definitely be a treat for your next trip to Walt Disney World. There are actually a few published books/pamphlets that you can purchase online that will tell you where all of them are located. However, I like a challenge. (Of course, you could also just read a few articles online to get an idea of what/where they are.) The last two times I visited Walt Disney World, I have actually found a few of them. When you are on rides, pay attention. I know there is so much going on and there is so much to look at. I found a super tiny hidden Mickey on the Splash Mountain ride. This ride in particular has so many things to see and take in. To be honest, I wasn't looking for one at that time. I just came across it. The hidden Mickey I saw was a fishing lure, hidden along with a few other lures. I immediately got excited.

I also found a hidden Mickey just the other day. I was in Epcot. I was on a ride inside of "The Land" building. This little boat ride takes you through a greenhouse, and there it was hiding with all of the crops being grown in there. Next time you're at Walt Disney World, make sure to take a second look around; you'll be surprised by what you may find.
2. VIP Access to the Parks
Now, this is something new that has come to my attention. There is actually a VIP entrance into the parks. Crazy, right? Well, you have to pay for this luxury. I was riding a bus to Hollywood Studios when the bus driver blew my mind with this information. Guests can actually pay a set price for a week; (if you're not staying for an entire week, I wouldn't recommend it) you can bypass the lines and entrances to each park.

Pros: I want to talk about the pros of this feature, because let's admit—it's pretty neat. Who wants to wait in long lines in the sun to get into each park? Nobody. However, is the price worth it?
*Visit the site for more information or call the number that is provided on their website to contact a cast member for further information.*
3. Photo Opportunities
Photos are always a must at Walt Disney World. Unless you have a gold tier or higher annual pass, then you have to pay for the digital photo downloads. Let's be honest, the downloads are pretty pricey ($15 for just saving a photo to your phone or computer). I can't say much, I pay for a lot of downloads. There are tons of photo opportunities at WDW, as you can imagine. When you enter the park, there are maps of whatever park you're in, and inside of the map it actually tells you where photographers will be. Sometimes they are other random places as well. Something that I am not ashamed of doing is when I spot a character (and the line is short), I will go to have my photo taken with them. Of course, they take your photo with the professional Disney camera, but beforehand I ask them if they will take a few with my phone as well. They have never told me no...can they even tell a guest no? I prefer to do that so I don't have to pay for the digital downloads. Once you're done with the photos, the photographer will either load them onto a little photo pass or will load them directly to your MagicBand. So you'll have the ones they took professionally as well as the ones on your phone. I have to admit, some of the ones they take with their camera are just too good not to pay for. Something else to consider is they also put little characters in your photo. That would be a good digital download to purchase, if any. At Animal Kingdom, your photo is taken in front of the Tree of Life, and they instruct you to hold your hands out and when you look at the photo online, it has a few characters from The Lion King at your feet. Magic Kingdom does this as well, but instead you're holding Tinker Bell in your hands. One more cool photo opportunity that I came across—I was at Hollywood Studios and I saw a cast member selling balloons. I am a basic girl, I suppose. I wanted to take a photo of me holding the balloons. But I would never just go ask a cast member if I could do that. But you can. I saw two people in a row do it. The cast member will allow you to hold the bundle of balloons and have whoever you are with snap a picture of you. Every girl's Instagram dream, right?

4. Which is the best day for each park?
Practice makes perfect. You win some, you lose some. Both of those sayings are very true. However, there isn't a perfect science of when it is the best possible time to visit WDW. It is always busy—FACT. Some days are just (usually/sometimes/do not hold me to it) less busy than others. If you go about this logically, you'd say that Magic Kingdom is the busiest park. I believe that to be true. All of the kids love that park the best. So I'm going to try to break it down park by park throughout the days of the week for which is the best day/time to visit.

Magic Kingdom: In the morning, it is super busy. That is where all the families start their day. In the evening, it is also super busy; people gather around to watch the nightly fireworks around the castle. So I would say the afternoon would be your best bet. Now as for days of the week— Monday and Tuesday aways seem to be the best days in my opinion. The beginning of the week always proves to be the best days to go. Wednesday and Thursday are also good days too, just not as great as Monday and Tuesday. Friday–Sunday are obviously going to be the busiest days to go to any of the parks. Choose wisely.
Epcot: This park has a lot to offer. I would say that this park is appealing to the adults or older children. They have a few attractions such as Mission Space and Soarin'. Those the kids will love, but then there is the World Showcase that features 11 different countries. Now, if you're going to see the World Showcase, I would suggest going during the day—so you can see everything. But the ultimate best time to visit Epcot would be in the evening. Again, keep in mind the days of the week—that "rule" applies to all of the parks.
Animal Kingdom: Everyone is usually visiting this park during the middle of the day. This park is a bit busy during this time. Animal Kingdom has attractions for every age group. Guests should attend this park in the morning, for a couple of reasons: the temperature is a tad bit cooler, of course (slightly) less busy...but also, if you're planning on going on the Kilimanjaro Safari, you'll be likely to see more animals. However, at night they do have a nightly firework spectacular as well.
Hollywood Studios: This is one of my favorite parks. I have had the best luck going on a Tuesday afternoon. It's a lot less busy in the afternoon. Hollywood Studios has a wide variety of things to do. From entering the twilight zone, catching a super stretch limo to the Aerosmith concert, and if you like Star Wars, you can even meet stormtroopers as well as the man himself—Darth Vader. Just like the other parks, Hollywood Studios has a firework show at the end of the night.
5. Save money by sharing.
Most of the meals that are offered at the quick service (or even the fancy sit down restaurants) are big enough for at least two or three people to share. This is super great is you have kids. They can share the chicken breast basket (it's just chicken tenders and waffle fries) while the parents can possibly get something a little more "luxurious." In the France pavilion in Epcot they serve giant donuts. To be honest, I shared it with my significant other, but you could feed four people with one of them. They're delicious too, and the price wasn't too bad for the size of the donut. It was around $3.99 (don't hold me to it). That is a great option to tie over everyone's sweet tooth without breaking the bank.

6. The Best Rides for When You Need a Break
Let's be honest—everyone needs a break sometime during the day. Whether you need a break from the hot sun, or your feet are just not wanting to go any further—check these out.

Epcot: The Land—this ride is located in the building called "The Land." It is a boat ride (you don't get wet) that lasts around 15 minutes. This is ideal for cooling off. This ride takes you through the different types of ecosystems around the world and even through Disney's greenhouses. It's very cool. Temperature wise as well as it's actually really interesting. Another in Epcot would be The Sea with Nemo & Friends. This would be more ideal if you had kids with you. You jump into a clam shell and travel across the ocean with Nemo and other characters such as Dory and Crush the turtle.
Magic Kingdom: There are a couple of options in this park to beat the heat for a bit. There is Ariel's Undersea Adventure. This ride takes you (in a another clam shell) through the story of The Little Mermaid. It's a little on the short side but it's very entertaining. If you just want to sit for a minute, then The Enchanted Tiki Room is just for you. It's just a little show that comes to life right in front of your eyes. You sit in a room, and well—I don't want to give it away, but the whole family will fall in love. It's a great option for cooling off.
Animal Kingdom: It's tough to be a bug from The Bug's Life is great for all ages. It's interactive and it's a 4D show. It's located by the Tree of Life. I don't suggest infants—just because the majority of the time they usually end up upset. But hey, it's for all ages and it's definitely something you should do at WDW.
Hollywood Studios: OK, if you love movies, then this is for you. The Great American Movie Ride is for everyone to enjoy. On this ride, your tour guide takes you through each of the great classics, and you have a lot of fun on the way. It's very interactive.
7. Meet & Greets
It's important for you to grab a map when you enter the park. Like I mentioned earlier, these maps will let you know where all of the photographers will be for photo opportunities. Well, these maps will also let you know when and where you can meet some of your favorite characters. Characters are just about everywhere in all four of the parks. Keep your eyes peeled, and if the line is super short then jump right in and meet them! It's something that everyone should do while visiting WDW. It's great for the kids and the whole family. Definitely something fun that I hope everyone gets to experience.

8. Good Outfit Choices
Good outfits are essential for WDW. You don't want to be super hot and uncomfortable. Proper footwear is a MUST. There is a lot of walking. If you have bags, keep them to a minimum. There is limited space on most rides to store your bags—so if you have a giant backpack, it isn't going to fit in the provided space. Also, if you don't even take any bags, then you can go through the no bag check line, and that's always quicker than the line with bags. Light material pants or shorts would be the best suggestion, as well as T-shirts along with the best accessory: sunscreen.

9. Keys to the Kingdom Tour
This is a five-hour tour around Magic Kingdom. This costs $99 per person (as well as your ticket into the park). The tour takes guests to explore all parts of Magic Kingdom—even the parts some of us might have not known about. Guests are given access to the tunnels the cast members use under the park. There are four different times to choose from in the morning. If you are interested in this tour you can visit the website to read more about it. You can also call for reservations: (407) 939-8687.

10. Fireworks
The fireworks shows at each park are equally magical. Fireworks are a wonderful way to end your day at the happiest place on Earth. If you are on Main Street USA in Magic Kingdom, then stay right there. You can see all of the beautiful lights on the castle and all of the magic in the air.

At Hollywood Studios they offer something a little different. There is Star Wars: A Galactic Spectacular. It's a show as well as fireworks. At Epcot they offer the Illuminations: Reflections of Earth show, located in the lagoon that surrounds the World Showcase.
And finally, in Animal Kingdom there is the Rivers of Light show. It takes place along Discovery River. It includes live performances as well as animal imagery. Whichever park you're at when the day is at its end, enjoy the magic and time with loved ones. I hope your WDW experience was truly magical.