Crisps, Chips, or Fries?
An extraordinary economy class journey across Australia & New Zealand.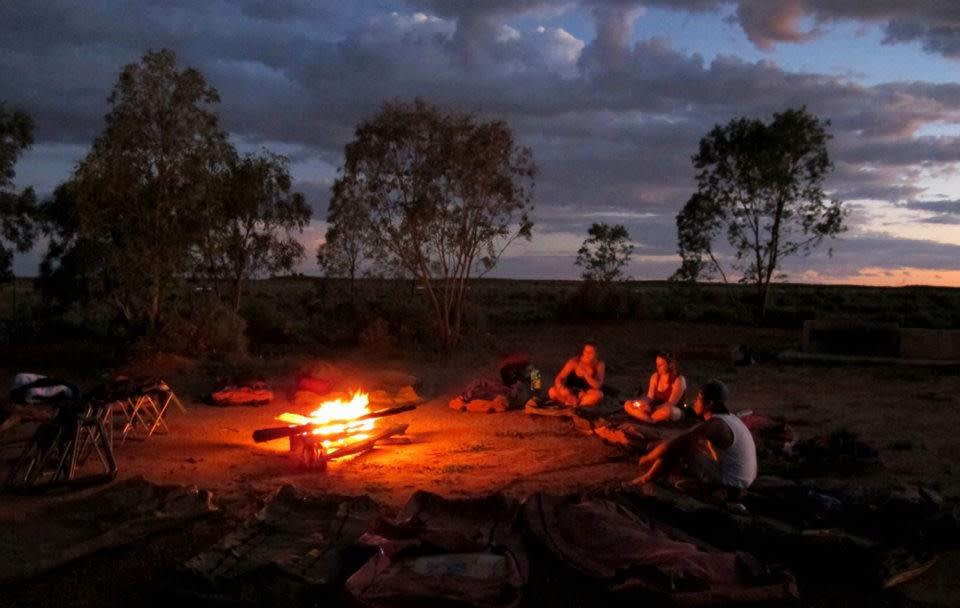 Prologue:
This is my story, my tale of a trip of a lifetime! Not a hyped up, over glamorous version of what you could see and do if you had oh, let's say, £50,000 and a year off work. If like me, you're from a normal working class family, this is all about the fun and adventure you can have on as little as a box of goon and a handful of adrenalin filled young individuals like yourself!
This is no Bill Byson's Great Adventure. For me, this was something even better! This trip was a once in a lifetime opportunity, where freedom and independence came alive and drinking on a weekday was acceptable.
This was honestly the best thing I have ever done in my entire life! And I wanted to share my journey with you, in hope that one day you too will take up the voyage and live the dream.
I had just turned 21 when I decided to embark upon the great unknown, and I am living proof that it can be done! With the help and support from my entire family and friends, a plane ticket to Australia and £4000 in my pocket; I was all set for whatever was waiting for me on the other side; or was I?
I started by writing a diary, a week or so before I left the UK, So you can grasp the excitement, the nerves and the preparation endured before I left. Enjoy!
Before Take-Off!
Date: Sunday 5th February 2012
(10 days to go!)
I woke up this morning to a blanket of white snow, covering everything in sight. Never in my life have I wished for snow to disappear, apart from 2 years ago when I was snowed in at work, or the year before that when it was my birthday and I was worried no one was going to be able to make it to my dinner! Okay, never in my life have I wished for snow to disappear within a 5 mile radius of Heathrow Airport. Because in 10 days time this is where I'll be taking off from for Australia.
Snow usually meant a day off from school, or a duvet day off work, as "apparently" the car was too snowed in to move or the road where I lived wasn't clear and far too dangerous to drive down. (I'm sure you've used them all!) But not this time, snow only bought bad news! Still frantically trying to organise travel insurance and work out what a bloody Medicare card was, I assigned myself to the first task of the day. Popping all of my hay fever tablets (yes 7 months' worth) out of their packets and putting them all into a clear plastic bottle. Which spent the night drying in the airing cupboard after I had the genius idea of space saving and emptied its contents of coconut body lotion down the sink. (I hadn't thought how this may have looked to customs, if found, a clear plastic bottle filled with tiny white pills!)
Next task, travel insurance, saving myself at least £60 by going with 24/7 Gap Insurance. A company I had never heard of before, after money supermarket highly suggested them, but mainly as it would give me an additional £60 to spend on getting a bag which I had longed for in Matalan, for £8! Yes, this is what my life has come too! And after spending roughly an hour reading the policy, the deciding factor was the £5000 I would get for the loss of a limb. Which had an excess of 'nil'. How appealing this seemed, spend 7 months in Australia, have a slight accident, lose a limb and come back £5000 richer. A whole £1000 up on what I went there with in the first place! A step closer to buying the Volkswagen Beetle I had dreamed of for the last 3 years, while driving around in a 15 year old KA; with the door hanging on by a thin strip of rust!
Even though the loss of a limb was a ridiculous money making idea, this didn't stop me seriously considering it over my Shepard's pie Sunday dinner. (Although people would argue that it was indeed cottage pie, as it was made with beef.) Before I knew it, I had pressed the 'pay' button on the website and now committed to the 24/7 Gap travel insurance. Although looking at the bright side it did have a 14 day money back guarantee!
Now £78 lighter in the bank, time to pay a little visit to Matalan. Which I would do if it hadn't been snowing and I actually had my car still, which I sold the previous week to make extra money for my Oz fund. As much as the £4.10 return bus ticket to town did look appealing, they were, however, not running due to the snow! So instead I spent the afternoon watching a Burmese film about some bloke's dad killing a village of people, subtitled. And yes after roughly 20 minutes I had turned it off and my full attention was now drawn to the Matalan website.
The insurance dilemma was nowhere near as big as the toothbrush palava the previous Sunday. A day with no snow and regular running buses (one can hope) seemed perfect to venture into town at the overpriced expense of £4.10. Which I don't think I've mentioned before. So there I was surrounded by a group of rather smelly and old individuals all making our way into the center of hustle and bustle. The place where swarms of people gather day by day, spending hours upon hours embarking upon life's tedious task of shopping for inanimate items. Which we will never use or wear. Spending every last penny on pieces of tat, that's more than likely going to end up in the loft after 3 weeks.
Trying to make my way through the crowd of OAP's (old aged pensioners), all lined up like there was a 70% off sale at Poundland, I made my way to Boots, hoping to find all my essentials for my big trip. I made it all the way to the second isle, toothbrush isle. Where I was faced by thousands of bristly heads all looking towards me, grinning at me, like I was about to perform, burst into song. And if I was there on any other occasion, I most likely would have grabbed one of those duplex all in one toothbrushes and made my debut right there in isle 2.
However I spent the next hour and fifteen minutes comparing the little buggers! It was as if, Chris Tarrant had asked me the one million pound question: "which toothbrush was voted 2012 best value for money?" Well it certainly wasn't the £16.95 pink, tooth, tongue and cheek cleaner with rechargeable batteries; at that price you'd expect it to be hands free. Then there were the 3 for 99p which looked like they would have lost a fight against Sponge Bob Squarepants. Finally after hours of debating I chose the pack of 3 toothbrushes, pink, orange and green at £1.65, then moved onto the shampoo isle; I had a feeling it was going to be a long day.
Monday 6th February 2012
(9 days to go!)

Attempting to walk to the local shops, through all the snow and ice, in my £6.99 wellies was not the best idea I have ever had! With roughly 5 layers of clothes, it wasn't long before a sweat started to build up, I think the woolly hat was a step too far. All this to get some French sticks as I fancied hot dogs for tea. Eventually through the severe weather conditions I made it!
Scanning the shop floor I started to panic, was it as I expected – empty selves! Like every time there's a drop of snow we travel back 60 years to the war and panic buy. Just in case we will never be able to make it out the front door again. So instead we rush to the nearest convenient store to buy the last of the milk, eggs and bread! Like who's really going to miss these few items for a couple of days! "Oh no there's no bread for toast – what the hell are we going to eat for breakfast?" why not just eat those croissants we purchased 2 weeks ago and froze for a raining day!
All this just because I fancied a couple of hot dogs! As I made my way to the bakery isle, my eyes lit up at the sight of two lonesome freshly baked French sticks, standing upright in a cardboard box. Next dilemma, they were medium sized French sticks, do I buy just the one? That will be sufficient for the 2 hot dogs I had planned to indulge in, or perhaps others may want a hot dog or 2? I had just the amount of change to buy both, so I took the risk and like everyone else, over bought on bread. Besides, I don't think I would have been able to pick between the two.
Right, off on my voyage home, why is it the journey home always seems so tedious, that much more harder, requires that much more effort? So after a few minutes of recuperating, I set of home. As I realised this was my only option and the longer I tried to put it off the longer it would take. Without realising my body heat resumed to its peak; the sun shining in my face all the way back didn't help!
Now call me stupid, but whilst walking home I spotted a man leaving his house with crutches! Seriously? If someone cannot be trusted to walk around in normal, dry conditions without falling arse over tit, then how the hell do you expect someone with crutches, leg casted up and all, to get about in the snow? I almost wanted to stick around to watch him attempt it; this had become the highlight of my day.
Finally I made it home, just in time to go for yet another walk with a friend to make snow angels in the crisp, untouched, glorious snow! Why did I not learn from the first time, we walked so far by the time we got back it was dark! Let's just say there's nothing more tempting than the thick white snow, which lays untouched in strangers front gardens. And being the young, child minded people that we were, couldn't resist it! It didn't take long before the hyperthermia set in and the wellies started to rub, so we made our way back, just in time to watch Eastenders and demolish a nice hot cup of rosie lea.
Tuesday 7th February 2012
(8 days to go!)
Today I had to venture to London to open my Australian bank account. London is not usually a trip which consists of many relaxing and serene moments, especially on a freezing cold day like today! And for some reason, my friend had decided to drive most the way and catch a train from Chislehurst station. On route I had happened to notice a road sign for Islehurst in Chislehurst; I found this highly amusing! After an extremely tiring 50 minute journey from Chislehurst to London, we had arrived in a very hectic city centre which we know as London! Well equipped with a hand sketched map from the station to the bank, I had copied down the night before from Google maps, I was well on my way through the winding back streets of the city; trying my best to avoid the commotion of pedestrian traffic.
After realising that I couldn't move the money I had spent the last 2 years saving, due to the fact that the one thing I meant to do before arriving into London, was to move all the money from my savings account to my current account! Annoyingly I would have to go home and move the money across then call through to transfer! So instead of feeling like I had wasted an entire morning of travel and money getting here, just to turn around and go home; we decided to make a day of it. First stop: the Tate Modern, which I had been meaning to go to for years but after 2 failed previous attempts of trying to find the bloody place, I'd given up!
Now coming from someone who considers themselves as a bit of an artist, I was not impressed at the slightest with what I saw on display. It was roughly 2pm and after spending an hour or so roaming around each section with high anticipation, sweltering in the 5 or 6 layers I had chosen to wear to keep warm, the moans and groans of my starving lower abdomen and the light headedness, I decided that before fainting I would indeed buy something from the ridiculous over-priced café. A double chocolate chip muffin, at the expense of £2.50! Whilst eating this muffin, I came to the conclusion that a 5 year old could have created more imaginative pieces of work than that I had just seen.
The thing about modern art that I don't quite understand, is how these artists got famous? Of those I saw, they appeared to have used absolutely no skill. No word of a lie, one room was just showing a piece of film footage of a plastic bag being blown around a street! Seriously, is this what art has become? The next room wasn't much better, 4 pieces of black card, different sizes, hanging on a washing line! The 2 dead pigeons pinned to the wall finished me off!
Time to hit the tube, which to be honest, I was quite reluctant to do after watching a documentary the previous week, about the London underground system and how it could quite possibly cave in at any moment! As I like to live life slightly on the edge, I had chosen to risk it.
Wednesday 8th February 2012
(7 days to go!)
Today is my 21st birthday! A long overdue day, consisting of opening cards from relatives I have never met. Standing them on top of a mahogany finished cabinet, where they will sit for roughly 5 days before I get sick of looking at them and chuck them out! Oh and a day where over eating is a must, because it's the one day you can use the excuse; but it's my birthday!
I hadn't got much planned for today, as it was a Wednesday and most of my friends were at work. I was never a fan of working on my birthday, well not whilst you are young anyway; probably won't mind so much when I'm like 45, but for now it's tedious! It was the only day in the entire year that was mine, and to be honest I quite like the idea of staying in and counting how many friends had wished me happy birthday on Facebook! As you need to know who in return you need to wish a happy birthday to; and who in future you will carelessly forget! Sad I know, but it makes you happy, if the number is above say, 40. I always feel bad when people wish me a happy birthday, who I had forgotten previously in the year.
Usually I'd be moping around, dreading the day that I'd have to go back to work. This was no longer an issue, as I had resigned the Friday before. Leaving me with a week to prepare for Oz; well 4 days to get wrecked for my 21st, a couple to recover, then a day to prepare!
I ended the day with a trip to Pizza Hut, with a few of my nearest and dearests. I know what you are thinking, classy! But I can't resist their bbq Americano with the cheesy bite crust and the help yourself salad bar. Which probably a dozen or so people have had the privilege to feel up before you anyway. It wasn't anything to shout about, it was a tad pathetic, with dry, brown lettuce and a few bowls of Doritos and for those of us who are upper class, Couscous! And then the unlimited ice-cream factory, which to me, was a challenge! I had always wondered if 'unlimited' meant unlimited? Like if I come back tomorrow would it still be available, nothing was mentioned in the small print; I checked! Again the options seemed limited with smarties or wine gums as the only 2 options for toppings; and only chocolate sauce! However I indulged with optimism and after 5 mouthfuls, I felt a bit sick, and I could feel the cheesy bites wanted to make a re-appearance. This was not a challenge I wanted to proceed with; I did not come prepared!
Thursday 9th February 2012
(6 days to go!)
Awakening on my birthday boxing day, I had a lot of preparing for my first ever spray tan, as you can imagine fair, freckly skin doesn't go well with tanning products! I was getting the spray tan done tomorrow, the day of my big birthday/ leaving party, there was a lot more preparation which had to be done. Today wasn't just my birthday boxing day, but a day my bestest friend ever had booked off work to spend with me!
We started the day with a little Robert Pattinson action, by watching the amazing film Water for Elephants. Dining on some slightly old, rock hard French stick (bought back on the 6th, where I had an impossible mission to get it in the snow, told you it wouldn't get eaten; yes I'll admit it, I am a self-confessed over buyer!) With a nice cup of rosie lea, for those of you who are not up to date with a bit of rhyming slang, it means tea. After the film had finished, I finally got to go to Matalan! After searching frantically for this bag that has been occupying my mind for the last 4 days; to my absolute dismay; they didn't have it!
I felt like I could have cried, but instead I just figured I was popping into town tomorrow anyway for my spray tan and to get my hair cut, so I would just search for a bag then! Right next item on the list, pillow. After testing each individual pillow and cushion in Matalan, I still couldn't find the right one, we then decided (well I decided) to try Dunelm Mill. Who stock a large variety of pillows and cushions, which my friend would soon discover. After spending approximately 2 hours searching through the entire pillow range from firm, to memory foam, duck and geese feather, to ultra-light, easily washable, bounce back up, deluxe, Egyptian cotton, down and baby pillows, I was still uncertain about which one to purchase. I decided to think about it as I made my way to the cushion isle; which seemed a much more feasible size to take with me on my travels.
After my friends back became an unsuitable surface to test out the pillows, the only option left was to try the floor. Yes, there I was in Dunelm Mill on a Thursday afternoon, lying on the floor in the middle of the cushion isle testing out the comfort of each type of cushion. The hundreds to choose from made it impossible to decide; after all I didn't want to rush my pillow purchase, as it was a vital part of my trip. So on that note we left empty handed, let's just say it wasn't to the amusement of my friend. The battered sausage and chips we had treated ourselves too seemed to help lift the spirits. Today was an unsuccessful shopping trip, and I can honestly say I don't want to see another pillow or cushion for as long as I live.
Friday 10th February 2012
(5 days to go!)
Tonight was the night to remember; joint 21st and leaving bash, and some serious drinking to undergo. I started of the day by doing the usual, getting a nice new hair-do and a lovely spray tan. Very nervous day indeed, where you have to put your whole trust into a complete stranger; and there is nothing more nerve racking than a hair-cut.
The worst part is the awkward silences, what the hell are you meant to talk about to an utter stranger? After discussing the weather, holidays and TV programmes, it seemed we had run out of subjects to talk about, and I had only been there for about 10 minutes. So instead I would just sit there gazing into the mirror, letting my mind drift off. Occasionally I would say stupid stuff to feel the spaces like "how bad are the split ends" or "my hair is thin isn't it" and "I can't remember the last time I had it cut". Silly small talk, as if she actually cares, then the cutting would commence!
My hands would grip the seat, tighter and tighter. Constantly worrying if she was taking too much off and how ridiculous I would look tonight at my party. After an anxious 50 minutes, it was over. And to my utter surprise I actually really liked it, I had opted for a fringe (or as they say in America, Bangs.) The fringe helped, a little, to make my face look slightly slimmer, always a bonus!
I never know how much tip to give, but figured as I liked it to tip £4.00. I have always been a generous tipper, I remember when I went to Thailand, back in July, a friend of mine had mentioned to always tip 20 baht; every meal, drink, massage, rickshaw ride… But by time I got there, I had forgotten if my friend had said 20 baht or 200 baht and ended up giving the bar man a 200 baht tip, the same price I paid for the drink. It took me a while to realise my mistake! Half my spending money was spent on tips, but I couldn't help it; the joy it bought me to see their faces light up when I handed them the notes.
One woman even took to getting on her hands and knees and started kissing my hand. A little extreme I had thought, but my good deed done for the day; guess they needed it more than me anyway. It didn't come to light until the second to last day of my trip when I had no more money left, and suddenly I really disliked those poor buggers; when all I had to dine on was a packet of paprika crisps.
Next on the agenda for the day was bearing all to a friend of mine, as she squirted me with a cold spray tan. And there I was, standing only in a pair of old black knickers, which I had rolled up and squeezed between my derriere cheeks to prevent minimal tan lines.
The blimmin thing was freezing, my whole body was shaking. Standing on what I can only describe as 2 pieces of square paper stuck to the soles of my feet; which made me look like a complete idiot wearing paper flippers. After the tan I had plenty of time to kill, so I did what any girl would do, go shopping! And with a budget of £19.00 and a shopping list the size of my arm, which included: a beach bag, flip flops, sunglasses and a can of shaving cream; the task seemed impossible.
Walking roughly 100 yards, I was faced with Primark! All in all I got a beach bag, a pillow, 2 pairs of flip flops and 2 pairs of sunglasses all for £17.50; leaving me with £1.50 for some shaving cream, didn't take long until I came across the 99p store; a successful shopping trip indeed.
It suddenly became very difficult to walk; I was on my way back to the salon where my mum worked, to relax and let the tan sink in, when the idea to walk around town in a pair of Ugg style boots with no socks wasn't one of my best concoctions. I could feel the sweat building up and started to panic as I didn't want the tan to leave funny marks around my ankles. So I started to walk a little bit like a penguin, trying to avoid my skin narrowly scraping the sides of the boots; this was an Olympic task.
I now had 4 hours to wait for my friend to get home from work before I could go round and get ready for tonight. I resided in the shays lounge chair in the salon I had previously got my tan in. Time seem to take forever to pass, eventually it was 5.00pm and I had timed it just right to catch a life of my dad, who had come to pick up my mum from work.
Finally I was getting ready for my party, I had told everyone to arrive around 8.30pm at the venue, I hired several months previous. Which meant I had plenty of time to indulge in the pizza and chips my friends mum had provided, and to carry out our usual routine of singing R-Kelly – bump and grind at the top of our voices to passes by outside. Before I knew it, it was 8.00pm and I was nowhere near ready or as drunk as I would have liked to be. Quickly getting dressed, in a rather revealing dress I got from Top Shop, a few weeks ago for this occasion, and my very sparkly, gold, high heels! Then to put my face on and I was ready, well already late for my own party; just time to down 4 drinks before we hitched a ride with a few friends into town.
The 4 drinks I had moderately consumed before leaving the house had taken a rather dramatic effect on my ability to appear sober. Walking into the room I hired, I was so happy to see it filled full of familiar faces, I was delighted to see how many of my friends turned up; and not before long it swiftly turned into a blur. I do have recollections of dancing on a table and flashing my behind, not to mention the 2 hours I spent at the end crying; as it hit me when people were leaving that I wasn't going to see them again for at least 7 months!
Saturday 11th February 2012
(4 days to go!)

Wow! Opening my eyes felt like I was lifting a concrete block off my eyelids. Note to self, worst hang over ever, next time don't mix drinks! I couldn't lift my head of the pillow, it was like waking up to a world which never stopped revolving, constantly spinning! Trying to remember the events of last night proved difficult, couldn't even remember getting into bed; I was gobsmacked to see that I had managed to take my make up off before going to sleep!
It wasn't long before people wanted to update me with stories about dancing on tables (which I already remembered!) kicking intruders out the room, sounds like me and the taxi venture on the way home, consisting of cheesy chips, so a bloody good night then! I then somehow was easily persuaded to travel to McDonalds for breakfast; well it was technically lunch time by time we got there but still the first meal of the day for me. Mc Chicken Nuggets and chips followed by a chocolate milkshake, which I felt very strongly wouldn't stay settled for long.
Caught a lift home with my friend's boyfriend, and I personally blame the fresh air, but as soon as I stepped out the car and onto the icy pavement and through the front door; my head felt like it was going to explode. Pounding against the ceiling and the lavender candle on the cabinet just wouldn't keep still. The only option was to go back to bed; this is where I spent most of the afternoon, wallowing in a bubble of self-pity.
Managing to rise from my pit of misery, I stumbled downstairs for a glass of water to find my mother had returned home from work early. I then discovered how she had spent the night up A&E with an excruciating pain in her side, putting my hangover to shame.
Funnily the medication she had been given to take had side effects which made her feel hung-over; personally I think she was just coming out in sympathy with me. We both spent the afternoon moping around on the sofa watching DVDs; wasn't long before I headed back to bed!
Sunday 12th February 2012
(3 days to go!)
Not much to report on today, had a long lay in and sat around watching TV, uploading the horrific photos from Friday night. What was I thinking wearing that dress; it didn't make me look very flattering in the photos! People were still telling me stories about what happened and how much fun everyone had, a successful send off in my books; will go down in history!
After gentle persuasion my mum had agreed to cook a lovely roast dinner, which to be honest was the highlight of my day; as this was probably going to be the last roast I'd see for a long time.
Monday 13th February 2012
(2 days to go!)
Today was a girls' day, lunch was planned along with a well-deserved pampering session with the girlies also known as the 'Wolf Pack'. We met at Chitos Mexican Grill in Ashford, after some deliberating I went for the bbq chicken and chips, very Mexican, oh and ketch up on the side. Not much convincing needed to order dessert, deep fried, crispy doughnut type sticks, dipped in sugar with a little cup of warm, melted chocolate; heaven on a plate.
And with the groups' exceptional time keeping abilities, we were already a half hour late for our pedicures. It took 15 minutes of life-threatening driving to arrive at the beauty salon; during this period they had called to highlight their lack of patience and annoyed thoughts on our lateness. Now we were really looking forward to our relaxing afternoon.
It wasn't just us 4, but one of my friends had a 5 month old baby, who really didn't seem to want to spend the afternoon sat in the reception area of a beauty salon, surrounded by un-impressed beauticians. I went for the cheapest treatment, the express manicure at £15.00, took around 15 minutes and with my astonishing maths capability that works out at a pound a minute. As my treatment was the quickest I was the lucky sod left with the crying baby for the rest of this relaxing day.
We had fun playing in the mirror, crying, eating and knocking over the large vase of flowers on the mantel piece. After all the excitement we headed back to our friends house for doughnuts and DVDs.
Tuesday 14th February 2012
(1 day to go!)
Valentine's Day! Which to me meant just another ordinary day, please; don't get your violins out. The plans for today were packing and then some more packing. Got a message from one of my friends (from the Wolf Pack crew) she was 8 months pregnant and had gone into hospital with some sort of pains. I was sure the little one wanted to see me before I left for my big trip!
The pile of stuff in the corner of my room, wasn't getting any smaller, it had been stacking up now for the past 2 months or so; seeing it gathered in a heap on the floor made it all seem much more realistic. The main question, how the hell was it all going to fit in my backpack? I had been putting it off for days now, dreading the moment when it would all be packed, as that would be it, nothing left but to go. The nerves were really starting to kick in now, this time tomorrow I would be on my way to the airport with a 23 hour flight ahead of me!
I picked up the sleeping bag, not even sure when I would need it or use it, but the thought of me being somewhere a thousand miles away stranded in the middle of nowhere without it, was enough to scare me into packing it first. Next in the walking shoes, because you never know, no word of a lie I spent half an hour trying to squeeze the shoes down the sides of the sleeping bag to save space. At one point I was literally inside the backpack trying to arrange the stuff at the bottom, I nearly gave up and set up camp, well I already had the sleeping bag down there.
Why did I opt for a backpack that you could only open top and bottom! I already knew I wouldn't be able to carry the bloody thing on my back for 7 months. After 3 hours I was all packed, time for lunch.
No more news from my pregnant friend in hospital, I was hoping that meant she was in the process of popping the little one out. Another friend nipped over to tint my eyelashes and eyebrows as they are both really fair and annoying to keep applying make-up to; and to put it nicely, without make-up on I look like a character from Men in Black, one of the aliens incase you were wondering.
I finished off my last night in England with a farewell drink at the Muggleton Inn, completely forgetting it was Valentine's Day. Couldn't resist to temp myself with their rather valuable price food and ordered the all-day breakfast and to round it off a baked waffle with chocolate sauce. Now feeling a little bit sick there was time for a few more goodbyes and more tears! Saying goodbye to my bestest friend ever was one of the hardest things I have ever had to do, she was more like a sister to me and I couldn't picture the next 7 months without her; I knew this trip would really test our friendship and I was already counting down the days till I saw her again!
When I got home, I had a text from my pregnant friend, saying no baby! I sat down to check in for my flight online, it took about an hour to pick which seat I wanted – seriously why do people let me make decisions? After consulting a friend who previously worked for the airline, I chose the very back seat on the right side of the plane, isle seat of course and there were only 2 seats in our row, how bad could it be? That was it, it hit me and I glanced over at my mum sitting in her chair and burst into tears.
Wednesday 15th February 2012
(Time to go!)
Today was the day of all days, and I had absolutely no idea how I was going to make it through the day without breaking down into a nervous wreck! Didn't get a wink of sleep last night, the thought that this was the last time I would be sleeping in my bed for at least 7 months, was too much to bare. The last time I would wake up to the sound of my mum's voice downstairs, the last time for a long time I would have to wait for my sister to get out the shower and wake up to the noise of my dad; some say he's attempting to sing, but to me it was more like the sound of a rat being swung against a brick wall squealing for its life to be ended.
Grabbing a slice of bread from the bread-bin and lowering it into the toaster, capturing the layout of utensils and how the furniture was arranged and how it's never been changed in the last 21 years; made me remember so many childhood memories. I mean it's not like I'm going away forever (come on, pull yourself together woman!) But I'm going on my own, to a place 23 hours away by plane, where I won't know a soul, to a country I have never been to before – what was I thinking! Is it too late to change my mind?
My parents had taken the day of work to take me out for a farewell lunch in a nice little pub in Wateringbury. Just what I wanted, I can barely keep breakfast down with the amount of summersaults my stomach was doing, and anyone would think it was practising for the summer Olympics; which I won't be here to see anyway!
While tucking into the gourmet burger and chips, I got a call from my pregnant friend saying she had given birth to a gorgeous little baby boy and they were going to name him Percy! He was born a whole month early and weighed only 4 pounds 13 ounces. It felt like a sign, a lucky omen, he was born on the very same day I was leaving for the biggest adventure of my life! The only downside was I didn't have the time to go and visit, to hold him; and to give my friend a huge hug and to tell her how proud I was of her! It would be 7 months before I get to see him, hold his little hand, see him smile and knowing I was about to walk away from all of that, killed me!
You see what you don't realise is, until you actually put yourself in a position where you leave, you don't realise what it is you actually have! After all my friends came to my send-off party and showed me just how much they all cared about me and how much they were all there for me, I didn't notice how good I had it. I'm at such a good moment in my life, surrounded by amazing friends, and family that really love me, and I'm about to walk away from all of them; but would I have noticed it all if I wasn't leaving; would I have taken them all for granted? Sometimes in life you have leave to appreciate what you've got!
The lunch was the last thing I had planned in England, and I couldn't hide away any longer from the fact that this was it; all that was left was to leave! The time had arrived, my friend was outside as she was taking me to the airport along with another friend we had to pick up on route! I packed my humongous, heavy backpack into the boot of the car, now all that was left was saying goodbye to my mum and dad! I can honestly say it was the hardest thing I have ever had to do in my entire life!
What made it even harder was the fact my dad, who was pretending to clean the hood of his car, had begun to cry. The only time I have ever seen my dad cry was at my nan's funeral, so you can imagine how this made me feel. Me and my dad never really had a close relationship, I always believed from a young age that he didn't want me, that he didn't love me, and I honestly thought he didn't care. But for the first time in my life, I realised how much he actually did; and it was literally crushing me inside to see him this torn up about me leaving, how was I going to be able to turn around and get into the car and leave like this. My mum didn't help when she started to cry; I was expecting her too, but still nothing can prepare you to see your parents so cut up like this. And to imagine what I was about to put them through, and not letting them have their little girl safe and near for the next 7 months; must have been unbearable.
As we drove around the corner, I felt like I was physically being torn from reality, from my life, dragged away from everything and everyone I have known for the last 21 years of my life! One last stop before the airport, we had to go to my old place of work and pick-up the other friend who wanted to see me off, one last lot of goodbyes to friends and colleagues before we hit the M25 on our way to Heathrow Airport.
Butterflies galore were occupying my stomach right now! As we drove further and further away from Maidstone; I felt like I was about to burst! We arrived, parked up and headed inside, time for a quick bite to eat and a quick drink before I checked in my backpack. Time to say my final 2 farewells then I would be all alone.
I started crying again before I got to the customs line, I hugged my friends really tight and honestly didn't want to let go. They watched me as I got smaller and smaller, further away down the line, one more look back before I turned the corner and entered the airport lounge! Shit, I'm alone, surrounded by hundreds of excited passengers all eagerly waiting for their flights, I never felt so alone.
After half an hour I must have looked in every little shop, moving out of one and into the next knowing full well I don't actually have any money for all this over-priced, designer rubbish! Did the norm, popped to WH Smiths and got a bottle of water, packet of skittles and a selection of magazines for the flight; then rummaged for an empty seat in a corner where no one could see me. I wanted to disappear, I longed to be back home snuggled up in my nice cosy bed, feeling safe and sound; a place where I felt so comfortable.
I started feeling sad again, with a thousand different emotions filling up my body, I called my bestest friend and tried desperately to hold back the tears, it felt so good to hear her voice (I only blimmin saw her yesterday!) She reassured me how much of an amazing time I was going to have, and all the incredible people I would meet. She did what she always does and talked sense, calming me down and got me excited for the trip again.
No time to talk, I had the next thrilling part of my trip to do; walking for roughly a day and a half to the boarding gate! Why are they always so far away, is it the further you're flying, the further away your gate, trying to save petrol money?
I was frantically looking at the gate board, it was less than half an hour from when we needed to take off and they still haven't told us what gate. Was there a problem? Had they forgotten? This was the first time I was on my own and in-charge of getting somewhere on time! I'm usually an organised freak when it comes to all this stuff, but as soon as something goes wrong, or the times change; I turn into an anxious array of chaos. I started to think I had missed the flight, and then what do I do?
The screen flashed gate number 40 and like a herd of antelope, all in sink, we scrambled for our belongings scattered all over the floor and made a dash for gate 40. The only problem is no one knew which way it was to gate 40, even the signs seemed clueless, after spending 10 minutes following the wrong signs and ending up at a toilet I was now on the correct path to gate 40. With every corner you turn and every funny little elevator thingy you get on for roughly 100 feet, 10 metres apart, you wonder if gate 40 will ever make itself known to you.
Made it to the infamous gate 40 along with my fellow antelope, now all gathered again in a smaller lounge waiting to start boarding the plane; but it's never that simple is it? There are already people forming a queue as if it means they will get to Australia before me! Why are people in such a hurry to sit down on a plane for 23 hours is beyond me, and we have all definitely got a seat otherwise we wouldn't of made it through the 20 odd gates and checks to this point. This is the British for you and don't you just love it!
Then they call out these random numbers, seems every seat but yours, once they've called all the OAP's and children on first of course. It feels like you're playing bingo and finally your number is called. Then you walk through that weird sci-fi tunnel into the plane, where obviously they make you walk through business class to rub in the nice space type pods they get, with all that extra leg room and seats which turn into beds; not to mention the mini bars and private storage compartments. I mean why would I not want to see that, swiftly moving into the economy class section and for a minute I thought I boarded the wrong flight as I swear this was the cattle section! I barely could fit down the aisle, and I know I'm no Kate Moss but I'm not fat either; hitting every arm on both sides of the aisles as I made my way to the very back of the plane.
Well it was small, and to my disbelief there was a metal bar behind my seat which prevented me from reclining, not allowing even an inch; this was not a good start. The man sitting next to me seemed okay, a little creepy, but then doesn't everyone seem like that at first. And about 20 minutes into the flight the person in front of me decides to recline, I could feel my nose against the TV screen. I started to burn up; I could feel my top getting tighter around my neck, the Claustrophobia kicked in.
I stood up immediately and sat behind my chair to try to relax, the air hostesses didn't seem impressed by this as apparently it wasn't allowed, I explained what had happened, and apparently there was no other free seat! So I decided to stand and loiter to make it appear I was waiting for the toilet. I took some rescue remedy a friend had given me the day before and tried to sink back into my seat and sleep.
Which if I was sitting so upright I probably could have done, instead I decided to try and make the person's life in front of me a misery by 'accidently' kneeing the back of the seat and banging the table tray up and knocking the TV screen! It didn't work they must have been knocked for 6, flat out. Confused about what time or day it was I drifted off to sleep.
Thursday 16th February 2012 (I think)
(Flying through the air)
I awoke with the choice of a full English breakfast or nothing, and chose nothing, as I was convinced it was around midnight and these people had their timings completely backwards! Besides I couldn't get the table, tray thingy down in front of me anyway, otherwise I probably would have eaten it straight off of the blokes head in front of me! Not that it would have agreed with me, so instead I tucked into my packet of skittles I bought previously at the airport.
6 hours until we reach Bangkok! Not my first trip to Bangkok Airport, although when I arrived I had forgotten about the unbearable, sticky heat and the peculiar toilet system they had. Oh and the fact that you have to walk all the way down to the end of the airport to walk upstairs to then walk all the way back to board the same aircraft! Who designed this airport! We had half an hour to re-board, which I stupidly thought was plenty of time; but turns out it was only enough time for a quick wee and to trek the length of the airport twice!
Customs again, yes! Something I had become an expert in, this time we had to stand in this machine and hold our arms up, whilst they scanned my whole body, (I hope this isn't the machine I read about in the paper a few weeks ago where they can see you naked, I don't think I'd appreciate the middle-aged Thai man, slightly over-weight, seeing my under garments!)
There I was again back in seat 53H, my arch enemy! Was hoping that a few people would off hopped of at Bangkok and a seat elsewhere would free up, it wasn't my lucky day. By this time with the change of climates I had already experienced, the freezing cold Heathrow and the sweltering Bangkok, I could feel myself becoming a little bunged up; and a head-ache was in the pipe line! The man in-front of me had gone; and been replaced with a lovely Australian woman.
Surely no one would be sleeping this last leg, 8 hours until Sydney! I decided to try and get my money's worth and watch a few in-flight entertainment films; which I had pre-looked up in advance for this trip! I watched 'Crazy Stupid Love', 'Dolphin Tale' and started to watch 'One Day', but never got round to seeing the end as the captain thought it was a convenient time to land; never did I think that on a 23 hour flight I would run out of time to watch a movie!
Then all of a sudden as if time travelling I just lost 11 hours of my life, of which I have absolutely no recollection of, or memories! As I changed the time on my phone to Oz time; fast forwarding it by 11 hours! And according to the Captain it was now Friday Morning, and we just touched down in Sydney, Australia!