Discovering Florence
Florence — Served with a Touch of Luxury...
It's hard to imagine Italy without amore — and harder still to imagine Florence, the epicenter of Italian romance, without its legendary backdrops. Indeed, with all her many charms and beguiling ways, Firenze has a way of taking hold of your heart and never letting go.
Irresistibly romantic, each of Florence's myriad neighborhoods, nooks and crannies have their own signature style. At the center of the old city, visitors can spend a morning losing themselves in the Uffizi or marveling at the inimitable bridges and cathedrals that dominate Florence's skyline. The Santa Croce neighborhood is where you'll find the basilica of the same name — as well as one of the city's best kept retail secrets for stunning, handcrafted leather goods, la Scuola del Cuoio. Housed in what was once the basilica's monastery, la Scuola del Cuoio has a rich history and features a curated collection of bespoken, leather ateliers. At the center of Florence, in the heart of the old city, is Piazza Repubblica. The chicly popular gathering place is home to Florence's whimsical carousel and within steps of enough shopping to satisfy even the most voracious retail hunger. The square also serves as backdrop to one of the city's most elegant hotels — the Savoy. Built on the site where the church of San Tommaso once stood, the Savoy is now a beloved home away from home for some of Florence's most well-heeled guests. It is also home to Irene, a Tuscan bistro experience exponentially elevated by Chef Fulvio Pierangelini's Midas touch.
In Florence's residential Oltrano area, located just across the Arno, bespoke ateliers, tiny shops and hidden trattorias beg discovery. Despite the plethora of choices for romantic dining in the Oltrano, few compare to the experience that awaits at Quattro Leoni, where you'll experience brilliant Tuscan food served either al fresco or within the restaurant's ancient stone walls that stand in rustic contrast to the starched, white tablecloths. As to the menu, prepare yourself for a memorable feast — most notably the house made pasta filled with a surprising, bright combination of fresh pears and cheese.
For most, Florence is a walking city and the Oltrano is easily reachable by foot — assuming one is willing to venture from the well-trod tourist routes in favor of a square surrounded by what poets have called the 'slippery lanes' of Florence. Despite that walkability, there are some destinations and certain occasions that lend themselves to being chauffeured by car and driver. Fortunately, there is no shortage of livery throughout the city. Indeed, given the myriad pedestrian paths and confounding labyrinths of one way roads combined with the luxury of having your driver waiting to simply whisk you away to your next destination; driving in Florence is an experience most well-heeled visitors are happy to pass on.
While most of Florence is accessible by foot, should one choose, the charming neighboring town of Fiesole is best reached by car and driver. Just thirty minutes from the city center, Fiesole is a Tuscan dream rife with rustic trattorias, elegant architecture, and indulgent hotels including the magnificent Belmond Villa San Michele — a Michelangelo-attributed Renaissance masterwork replete with the indulgent, 'Limonaia' villa and La Loggia, one of the most elegant, romantic and scenic dining spots in all of Tuscany. And those in the know will tell you to plan to arrive just before dusk — sunset over the Florence skyline, as seen from Fiesole, is one of the most magical views found anywhere in Italy.
Perhaps the poet, Thomas Bailey Aldrich, put it best when he said, "Nothing except time is wasted in Italy." One's time is exquisitely well-spent if you allow yourself to sit back, drink in the beauty, and savor every delicious moment Italy brings.
My Top Pick for Some Florence Retail Therapy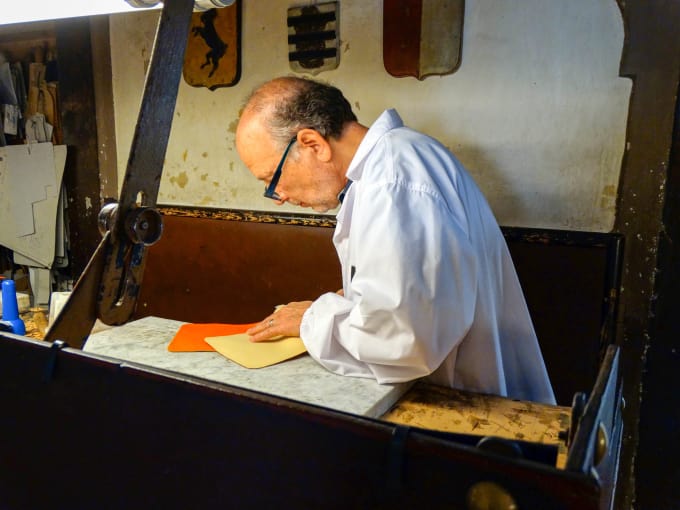 Founded after World War II by the Franciscan friars of the Monastery of Santa Croce and the Gori and Casini families, Florentine leather artisans since the 1930's, the school was built to give children orphaned by the war a practical trade with which to earn a living. Today, the school is one of Florence's best kept secrets when it comes to shopping for luxury leather goods.

My Top Pick as a 'Must See' Destination in Florence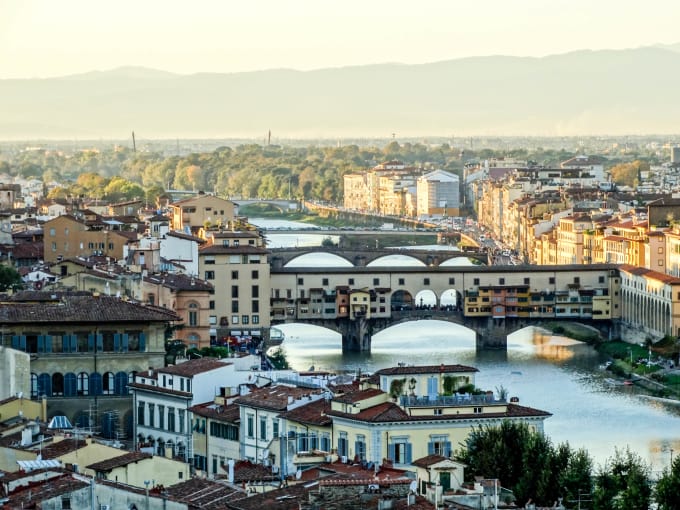 Bustling and frenetic, the Ponte Vecchio is a landmark in Florence and no trip to this magical city is quite complete without a visit.
My Top Pick for the Best View of Florence (Hint, You Need to Visit Fiesole!)