Wander is powered by Vocal creators. You support
Tay Inkwell
by reading, sharing and tipping stories...
more
Wander is powered by Vocal.
Vocal is a platform that provides storytelling tools and engaged communities for writers, musicians, filmmakers, podcasters, and other creators to get discovered and fund their creativity.
How does Vocal work?
Creators share their stories on Vocal's communities. In return, creators earn money when they are tipped and when their stories are read.
How do I join Vocal?
Vocal welcomes creators of all shapes and sizes. Join for free and start creating.
To learn more about Vocal, visit our resources.
Show less
From Scotland to Oakland with Rage and Love
One Idiot's Holiday to the Bay Area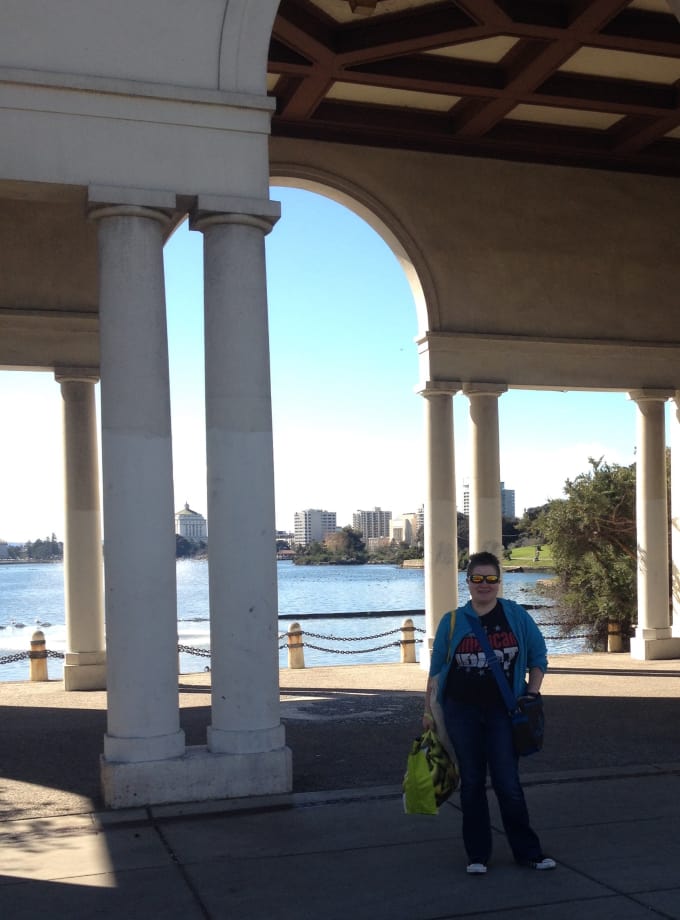 July 2017: 
I'm lying on the living room couch, and my mum asks from the other side of the room "where's Oakland?" I laugh, and for once not because my limited knowledge of world geography means I don't know where it is. I laugh because I know exactly where Oakland is. It's been mentioned enough times during concerts and interviews with some of my favourite bands, most notably Green Day and SWMRS. Their love of their hometown is rather infectious. It's somewhere I've been wanting to go at some point in the future. 
My mum thinks she's found cheap flights to Oakland in February, but from London. We live in Edinburgh. We book the flights; me, her, and my sister. Nine days there, we decide. I'd prefer more, but as an unemployed recent graduate, I can't be picky. We spend months looking up places to go. I take a temporary job over Christmas, and work long hours to get spending money. By some act of coincidence, Mt. Eddy announces a free show in San Francisco while we're staying in the bay area: obviously I'm going to that.
It's not until January, when mum has decided she doesn't want to go, that we finally book accommodation, an Airbnb next to Lake Merritt. We book transport to and from the airport in London, by which point the cheapest method by far is coach (an option I've used before, and not one I would recommend if you like sleep). We organise ESTAs, travel insurance, money, and then eventually the countdown gets low enough to start packing. We have multiple day trips planned out: San Francisco, Muir Woods, Martinez. We're going. 
For all our planning though, our trip didn't exactly go to plan.
February 17, 2018:
Packed, my sister and I head to the bus station. The temperature is hovering around 5º C and I assume it'll be warmer when we return in about two weeks, so I decide against bringing a hat or gloves (is this foreshadowing obvious enough?). The Edinburgh to London megabus is an 8 hour journey and always seems to be full: we are hardly the only ones enticed by its cheapness compared to train or plane. I've found the easiest way to deal with the journey is to not expect to sleep. Just close your eyes, and listen to music. With a bit of luck you might nod off for a half hour every so often. 
18th February 2018
We arrive in London a little bleary eyed. It's my sister's first time in London, and any time I'd been in London I'd stuck to the vague area around Hyde Park and Victoria. We headed first to the train station's Wetherspoons to have breakfast (where I used patchy wifi to check us in to our flight), then left our luggage in the coach station and went off to explore. We wandered up to Buckingham Palace, since it was close, and realised the crowds outside were waiting for the changing of the guards. It was still an hour away, and we didn't care that much for it, so we walked around St. James' park. Through our accidental wanderings, we went past downing street, saw a map, and decided to head to Trafalgar Square. 
Buckingham Palace, London, 02/18/18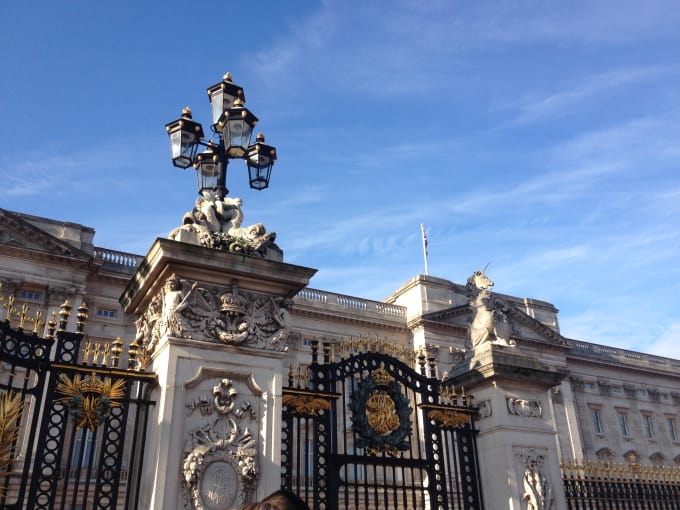 Arriving at Trafalgar Square, there appeared to be an event on. Closer inspection revealed it to be chinese new year celebrations. We wandered through Chinatown — I hadn't even realised Chinatown was in that direction before — and found a Chinese restaurant for an early lunch.
Trafalgar Square, London, 02/18/18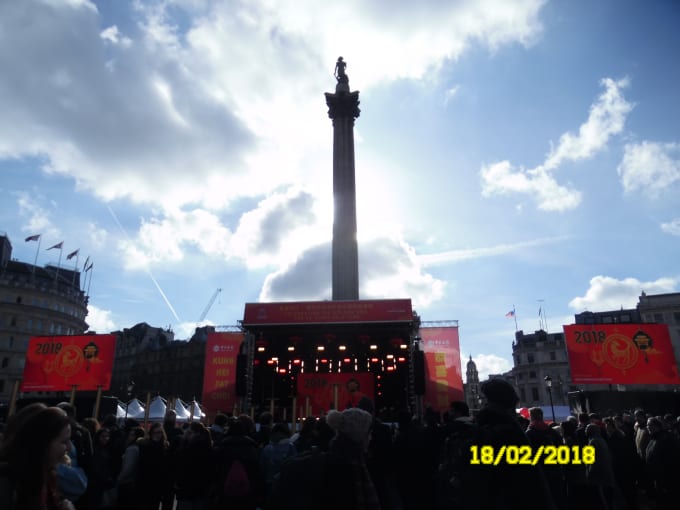 Chinatown, London, 02/18/18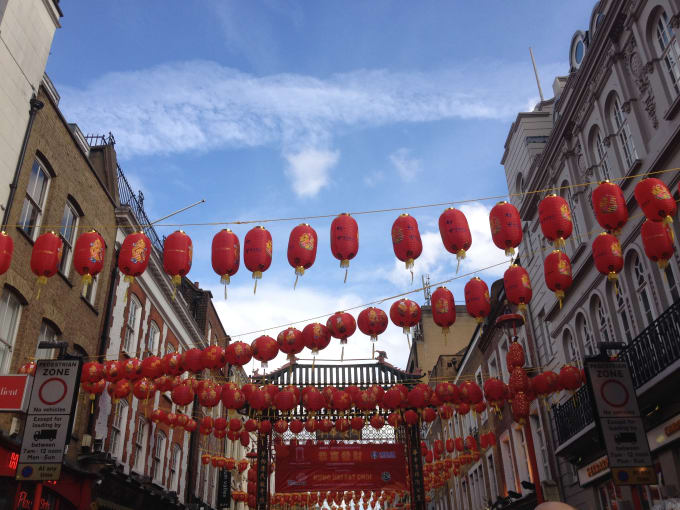 We walked back to the coach station and collected our luggage with just enough time to make the coach we were booked on to take us to Gatwick. From there, we found our way to the Premier Inn, and got an early night: our flight was an early one the next day.
February 19, 2018
We were awake from around 4:30 AM, and at the right terminal of the airport by 5:45 AM. Our flight was supposed to start boarding at 7:45 AM, but the departures board continued to not show the gate. By 8 AM, the app had updated to say the flight was delayed. Eventually, just before 9 AM, a gate appeared on the board. But once we arrived at the gate, emails and texts soon showed the flight to be cancelled. The staff made an announcement, saying there was a fault with the plane that couldn't be fixed in time. All the way through customs, collecting our suitcases, and to the BA desk, I worried that we wouldn't make it to Oakland after all. But we were booked onto another flight in the afternoon: this time Heathrow to San Francisco. We were given vouchers for the coach between the airports, and for food/drink at the airport before we got the coach. 
It was exciting when we finally had a gate, and a plane, and it was actually boarding. The flight departed around 3 PM, and it had already been a long day. It was our first long haul flight. We'd each had our own interrailing adventure in Europe, but this was our first time outwith the continent. Naturally, I spent most of the flight watching films. 
Arrival in the United States meant a long line at border control, and many questions (how can you afford this if you're unemployed?). A reply from our Airbnb host said it was okay that we would be turning up six hours later than previously stated, because they often didn't go to bed until 2 AM anyway. Leaving the airport, we had to work out the ticket machine for the BART, confused that you just put the money in without needing to select a ticket first. We took the BART right the way round to 12th Street in Oakland, and then struggled to find our way to Lake Merritt and our Airbnb. I stopped by the lights surrounding the lake, breathing in the new air. It was pretty, in it's own way. There was something special about arriving in Oakland on a date declared "Green Day Day."

It was almost 9 PM local time when we reached the Airbnb, and by the time we finally got to sleep that night we'd been awake for over 24 hours, yet it was still somehow the 19th. 
February 20, 2018
We'd intended to go food shopping the day we'd arrived, but after the flight cancellation, and not even arriving in San Francisco until sunset, we'd crashed out soon after we arrived. So instead, we headed out the next morning to find the Walgreens and Trader Joe's. We had decided that getting clipper cards for public transport would be significantly cheaper, the discounts worth the $3 for the card. We had our first ice cream of the holiday and ended up walking all the way around Lake Merritt. The skies blue, I was grateful I'd packed my sunglasses and sun cream. 
Lake Merritt, Oakland, 02/20/18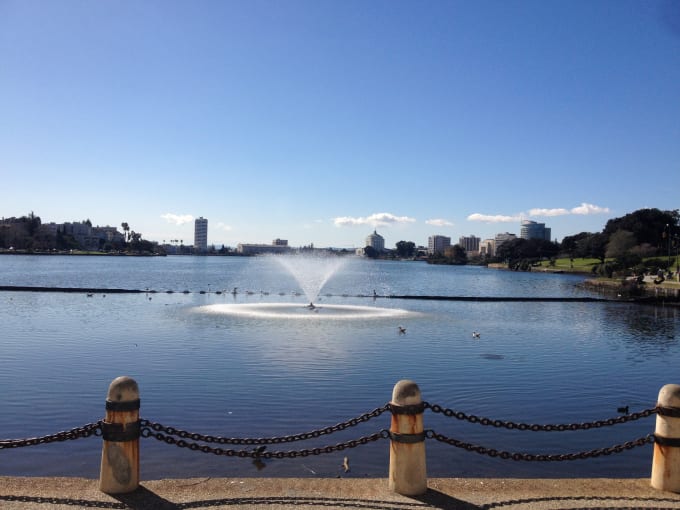 We got back with our various goodies, watched a film together, then I went out again by myself, desperate not to waste any time. Walking along 14th Street, I passed Ruby Room, and smiled to myself. Ruby Room, huh, the song by Foxboro Hottubs? 
Ruby Room, Oakland, 02/20/18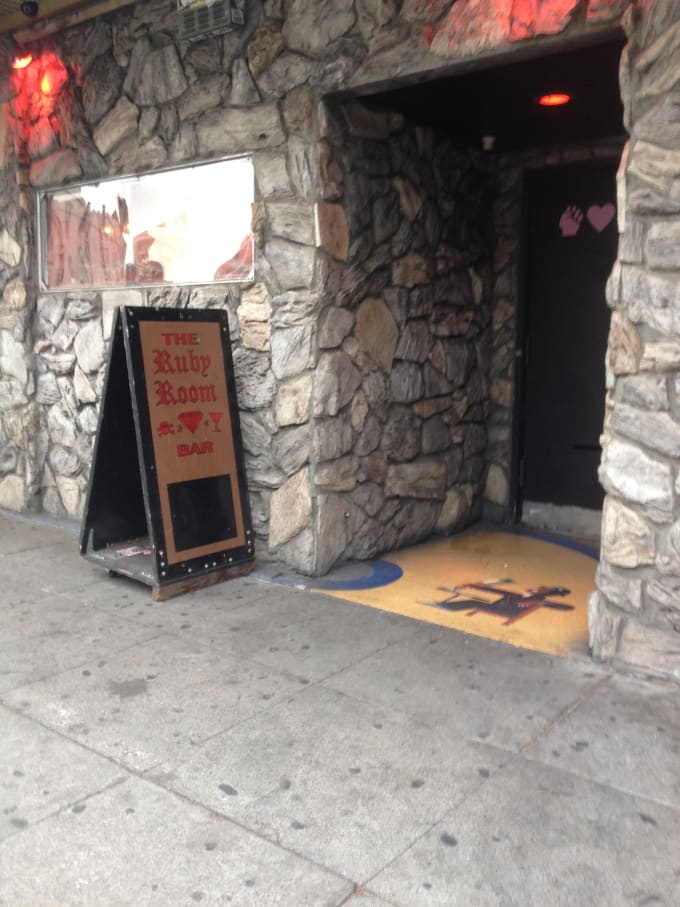 I walked over to Broadway, then crossed over to Telegraph Avenue. From the distance I could see the lights of the Fox Theater. Beside it, my destination: Rudy's Can't Fail Cafe. Co-owned by Mike Dirnt of Green Day, with two locations in the east bay, it rather prides itself on its friendly staff. I was not disappointed. Good wifi, friendly crew members, and good food. I bought a shirt, and was given a sticker and three badges along with it. 
Rudy's Can't Fail Cafe and Fox Theater, Oakland, 02/20/18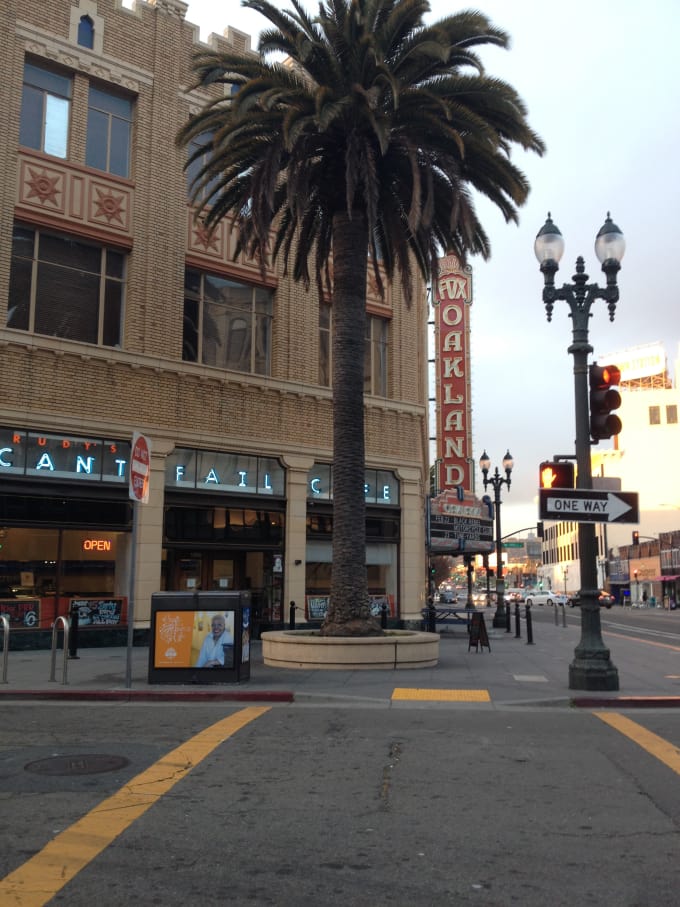 Around the corner from the Fox Theater is the Champions for Humanity monument, with 25 humanitarians from around the globe sculpted over four sections. 
February 21, 2018
My sister has a bad knee, and it had gotten worse, so the next day I ventured out to explore alone. She did not care for places mentioned in songs, after all. Each morning I'd plan my routes for the day, even if it didn't always go to plan. Google Maps is reasonable for checking routes by public transport, or walking distances, and maps.me is great for offline maps when you suddenly realise you don't know what direction to walk in. 
First I took the BART to Ashby, getting out at the Adeline Street exit. I walked along the portion of Ashby Avenue to Telegraph Avenue. In a house on Ashby Avenue, in the early 90s, Green Day filmed the music video for "Longview" — their first music video. I'd looked up the exact address at one point, but only to check which part of the street it was on, "somewhere between adeline and telegraph" being good enough for me. 
Ashby Avenue, Berkeley, 02/21/18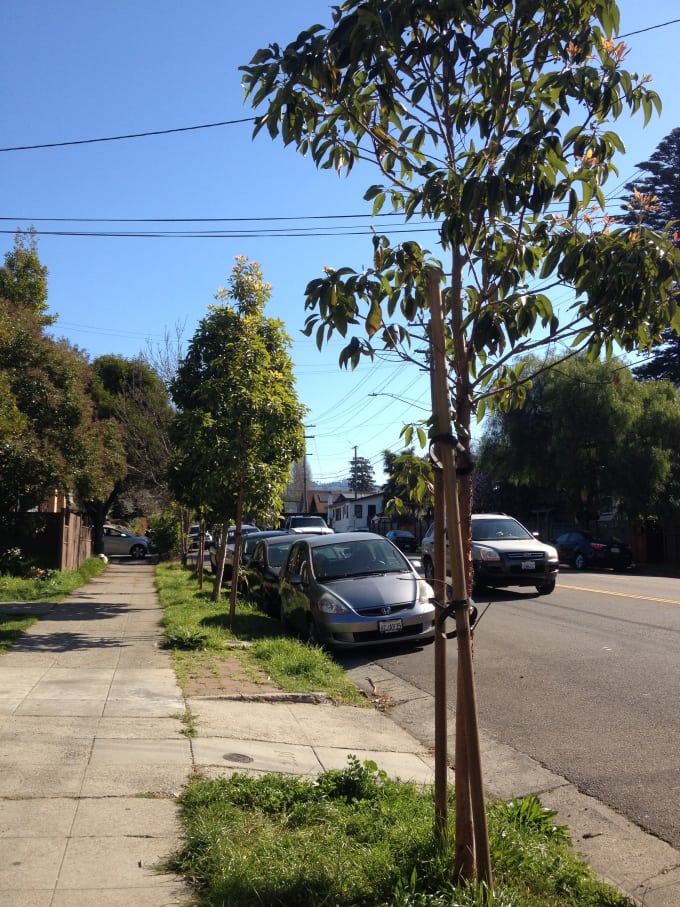 Not much further up Telegraph Avenue was the intersection with Stuart Street — famous in my eyes for the song "Stuart and the Ave."
Stuart and the Ave., Berkeley, 02/21/18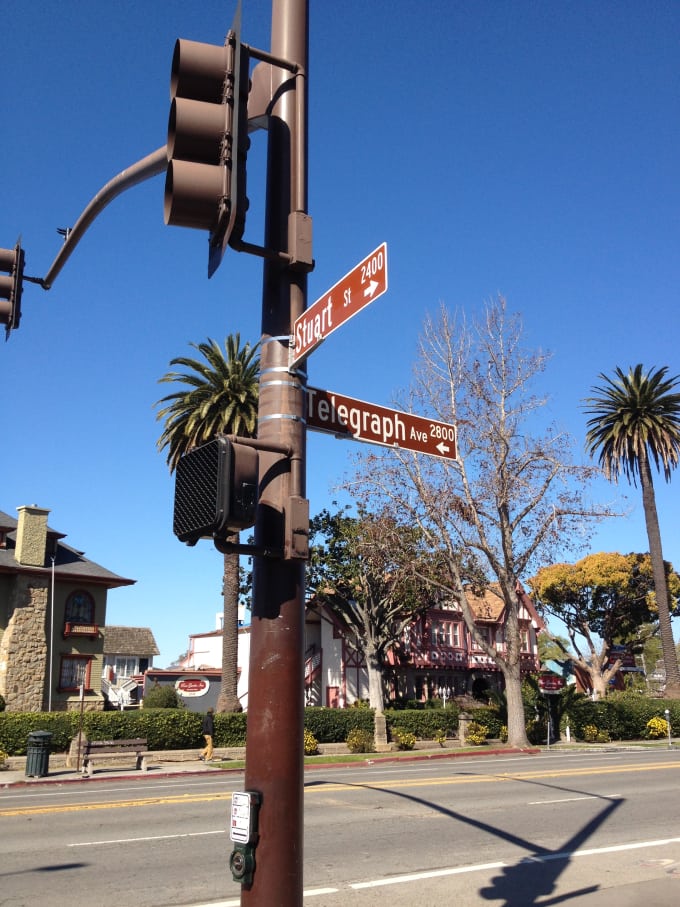 Heading up Telegraph Avenue, I visited a 7/11, a CVS, and a record store/bookshop, before coming to the intersection with Durant Avenue, where the University of California's Berkeley campus makes its presence well known. I stopped for frozen yogurt at Yogurt Park, then went to find a bus stop.
Durant and Telegraph, Berkeley, 02/21/18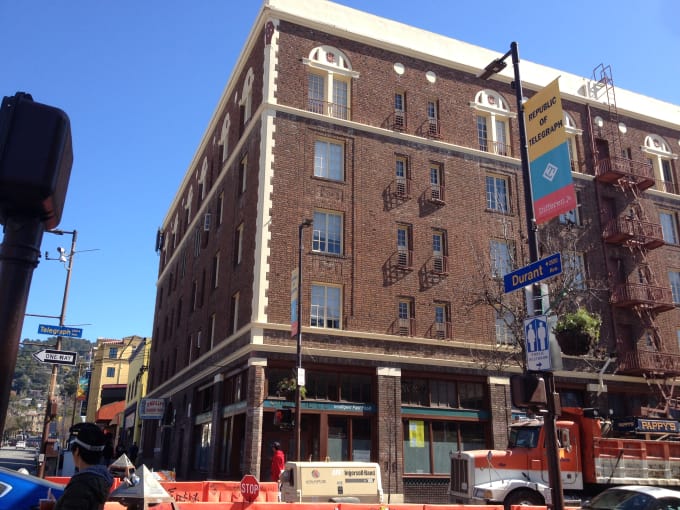 I took a bus out as close to Berkeley Marina I could get without changing to another bus. From the Berkeley Amtrak station, I walked around the aquatic park, crossed a bridge over the freeway, and followed the bay trail out to the marina. The views across the bay from the bridge, and all the way out to the marina, were amazing. You could clearly see San Francisco's skyline, the port of Oakland, Treasure Island, the bay bridge and the Golden Gate bridge. 
San Francisco Bay Trail to Berkeley Marina, 02/21/18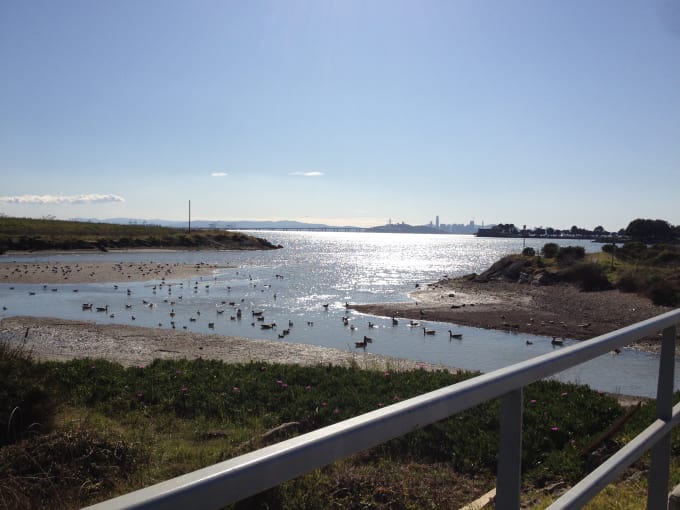 Berkeley Marina, 02/21/18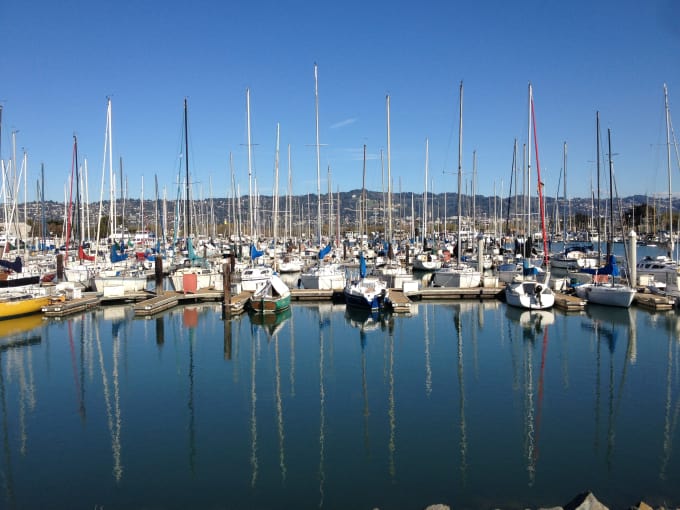 Having walked all the way around the marina, I made the fantastic decision to walk all the way to Gilman street. Along at 924, a building I almost walked past, is a volunteer run, non-profit, alternative music venue, opened in the mid 80s, and a focal point in east bay punk. Ideally, I would have gone to see a show there, but of the days where I didn't already have events planned, there were no shows I was interested enough in. 
924 Gilman Street, Berkeley, 02/21/18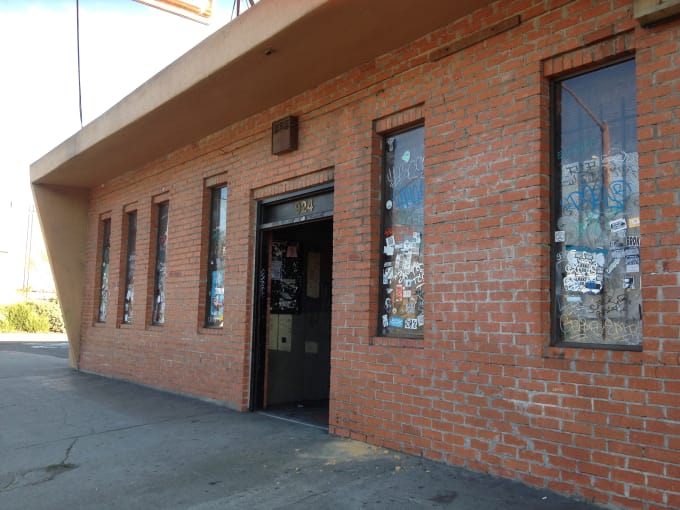 I went to a Dollar Tree across the street, laughed at the shortbread referred to as "European cookies," and bought some knock-off pop-tarts. Surprisingly, I was tired by this point, and passing the Tokyo Fish Market, went to a McDonalds for food. A man selling his drawings of cartoon characters by entrance started chatting to me, and told me to keep writing. 
I'd intended to get a bus back to downtown Oakland, but it din't seem to be appearing, so I walked to North Berkeley BART station. Just as well, since outside were some girl scouts selling cookies. They recommended the shortbread. 
February 22, 2018
As her knee was still not recovered, my sister and I agreed to each make our own way to San Francisco and meet there. I walked down to Jack London Square, having finished reading Jack London's Call of the Wild not long before we left on our trip. The first sight of the square was the palm trees, then the mural on Heinold's First and Last Chance Saloon, Jack London's cabin, the dog statue, and the fountain. 
Jack London's Cabin, Oakland, 02/22/18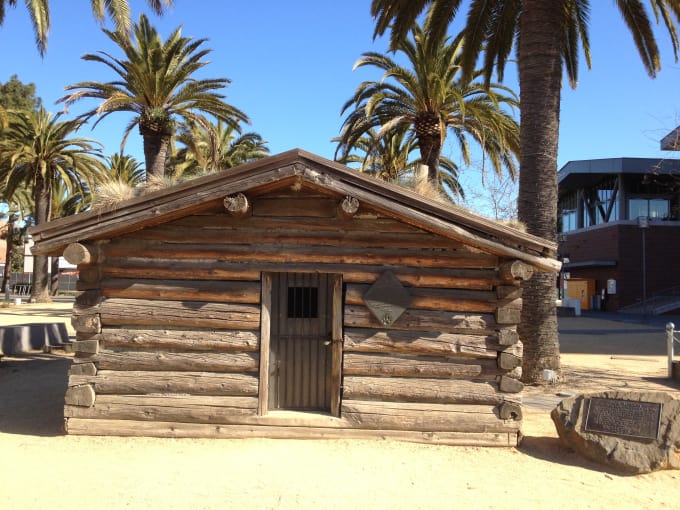 Enjoying the views, I walked over to the ferry, and used my clipper card to get the bay ferry across to San Francisco's Pier 41. On the way, it passed the iconic cranes of the port of Oakland, and stopped at Alameda, and the ferry building in San Francisco. Sat upstairs on the outer deck, it was very windy. The ferry goes under the Bay Bridge, and gives great views across to Alcatraz. 
Views From the Bay Ferry Crossing From Oakland to San Francisco, 02/22/18
I met my sister again outside IHOP. I decided on a cheeseburger omelette (surprisingly very good, but very filling) and red velvet pancakes (which I couldn't finish). From there, we went to find a Safeway. Since the Safeway we knew as kids was taken over by Morrisons in 2004, this was mostly for the novelty. We then walked around the shops on Pier 39 for a while before a minor rain shower, and trying to decide where to go next. 
Pier 39, San Francisco, 02/22/18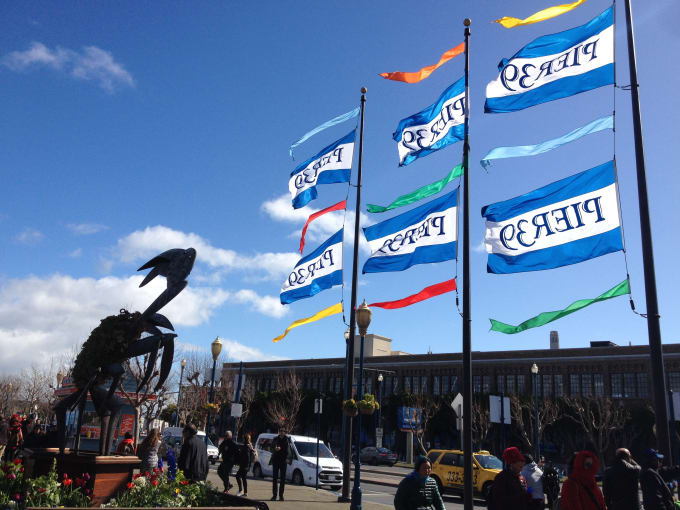 I'd intended to find Golden Gate Park, but due to much confusion with the Muni buses, we instead ended up slightly lost somewhere in the middle of San Francisco. Having worked out our transport options once more, we split up again, and I caught a metro to San Francisco State University. Eventually I found my way into the depths of their student union to their music venue The Depot. The student union I'm used to (apparently the oldest in the world) certainly doesn't have arcade machines in the basement. 
I was there to see Mt. Eddy, who had the middle set of the three bands playing that show. Since they are yet to play in the UK, it was great to see them at a reasonably local show to them. That show far overdone my previous record for furthest from home. I bought a shirt for myself, and realising I could get one for a friend, found someone awake to ask. 
Mt. Eddy, The Depot, San Francisco, 02/22/18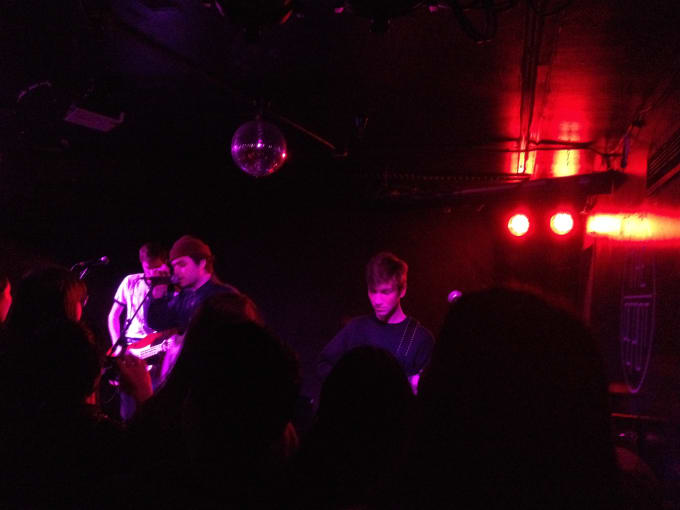 The first stop the BART trains make on the east bay side is West Oakland station, hinted at in "Welcome to Paradise."
West Oakland Station, Oakland, 02/22/18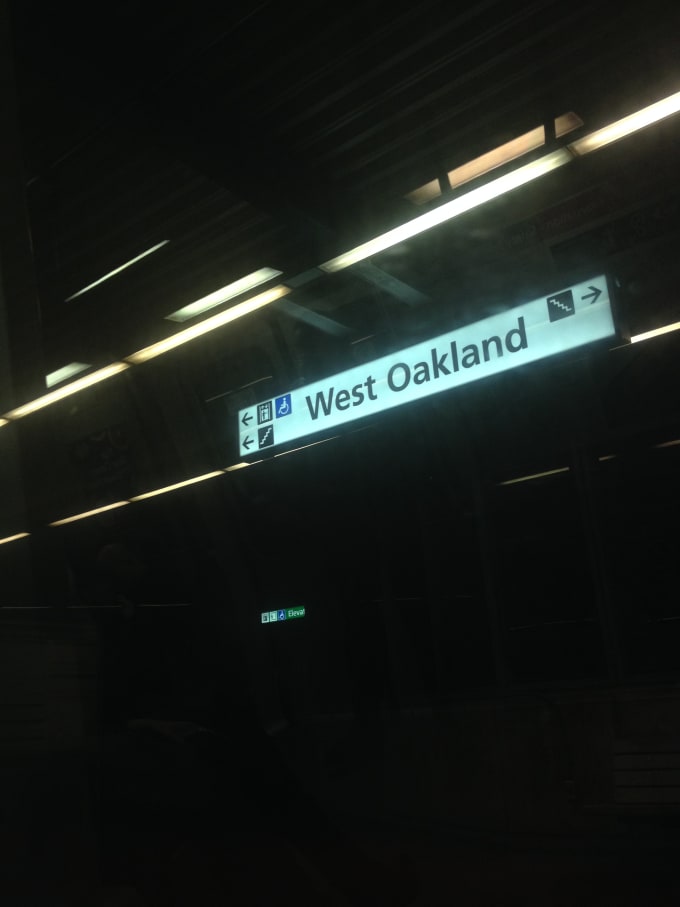 February 23, 2018
I took a bus to Emeryville, and went to the Rudy's there. This one didn't seem to have wifi, but the toilets were marked "all gender" which is always a plus. Despite not liking hot drinks, I had to order a cup of Oakland Coffee, the brand started by Green Day from their love of coffee and the environment. I can confirm: it is coffee. 
Rudy's Can't Fail Cafe, Emeryville, 02/23/18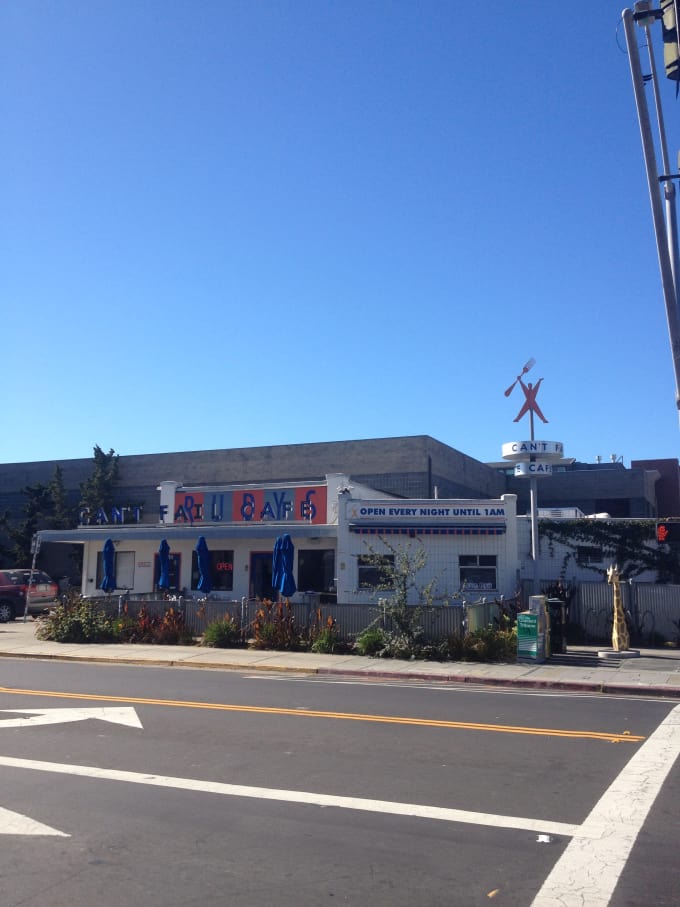 Having spent too much in the Emeryville Target, I walked along 40th Street to the point past Telegraph Avenue with Broken Guitars, and across the road, 1-2-3-4 Go! records. Broken Guitars is a guitar shop owned by Billie Joe Armstrong and (guitar tech, tour crew manager, and Pinhead Gunpowder member) Bill Schneider. I don't go in, feeling my lack of knowledge of guitars will be too obvious. 
Broken Guitars, Oakland, 02/23/18
Across the street at 1-2-3-4 Go!, Billie Joe, along with his friends and family, helped build a room in the rear of the record shop for live concerts, and has since played there. The first thing I notice as I step in are a few Green Day shirts, clearly left over from last August's pop-up shop prior to their hometown show at the Oakland Coliseum. Looking around the little shop, there's a "Green Day: God's Favorite Band" poster, a photobooth, and shelves of zines, along with the many records/tapes/CDs. Of course across the road from a shop owned by two of its members is where you find Pinhead Gunpowder CDs. I buy two CDs and a shirt, and continue walking along the street. 
1-2-3-4 Go! Records, Oakland, 02/23/18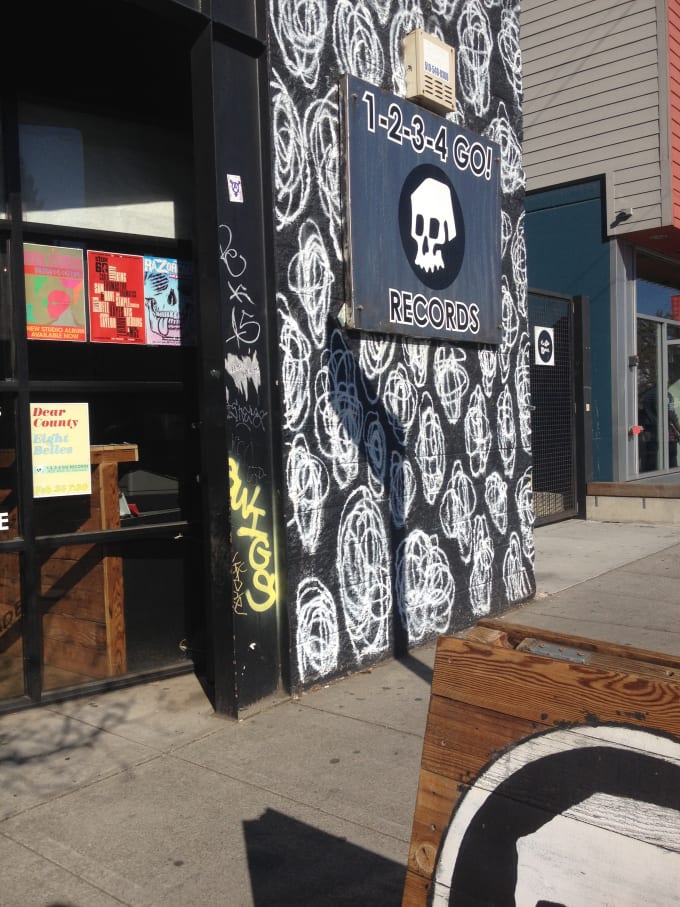 From 40th Street, I found my way on to Piedmont Avenue, and finally come to Fenton's Creamery. The outside of the ice cream parlour can be seen in the ending of the Pixar film Up. I get a sundae, but am not as thrilled by it as hoped. There were unexpected strawberries hiding in the bottom, a fruit that has made me feel sick since I was about eight. World famous the sundaes may be, but certainly the sundaes are not for me. 
Fenton's Creamery, Oakland, 02/23/18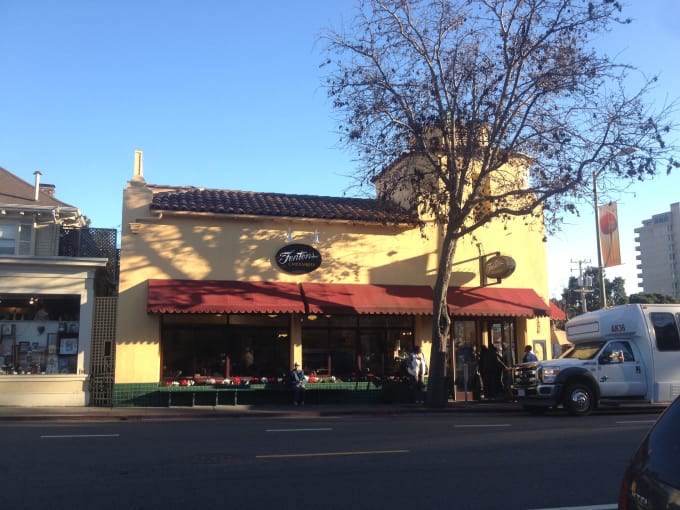 On from Fenton's I walked to College Avenue, where Adrienne Armstrong, Billie Joe's wife, co-owns Atomic Garden. Atomic Garden is a cute shop, but most items are neither my style nor anywhere near my price range. 
Atomic Garden, Oakland, 02/23/18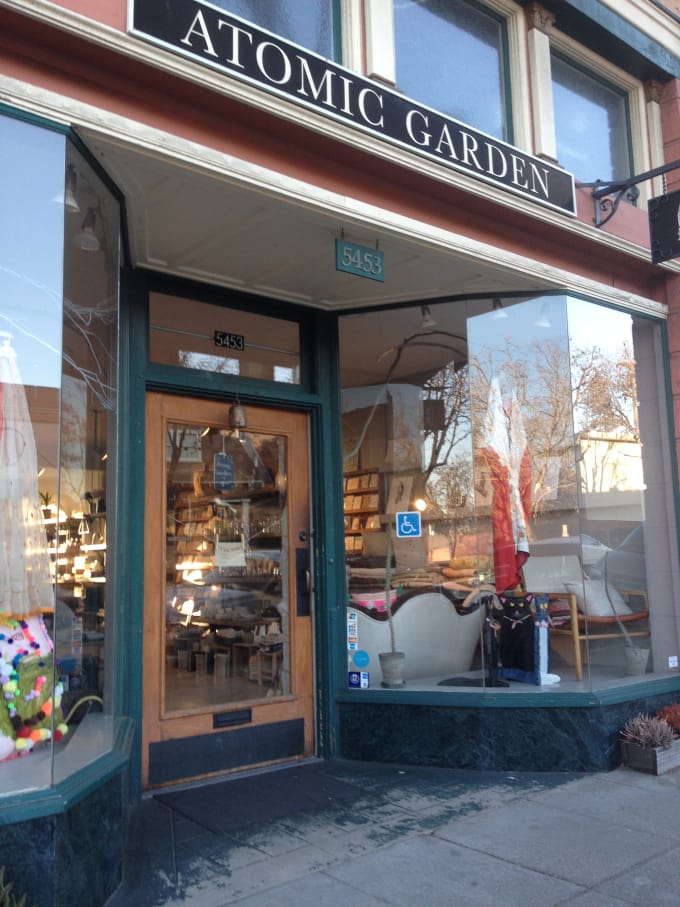 My final stop for the day, after taking the BART from Rockridge to Lake Merritt, was the Oakland Museum of California. On Friday nights the admission is half price, with lines of food trucks outside, and various music, dance, and craft activities outwith the exhibition halls. There's a koi pond in the garden, and halls on history, natural sciences, and art. I spent a couple of hours wandering the halls, then went outside and got tacos from a taco truck. 
Oakland Museum of California, Oakland, 02/23/18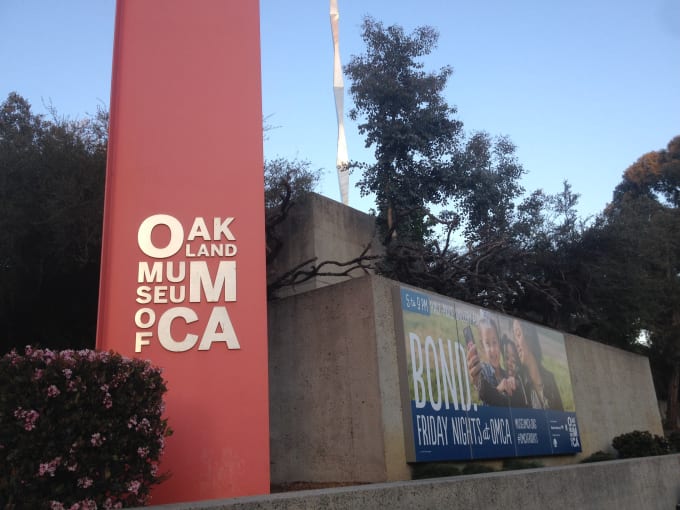 February 24, 2018
I took the BART into San Francisco, then the only bus that goes out to Treasure Island, midway along the bay bridge. Treasure Island hosts a large flea market on the last weekend of each month. A lot of stalls from local businesses. I bought pies from a friendly man, finally found an Oakland keyring I liked, hunted for the exact badges I wanted, watched a  flea circus, and struggled to find a bus stop back to the city. 
Treasure Island, San Francisco, 02/24/18
At the bus stop, a local complained about how cold it was. I was getting a sun tan in February, and had to disagree. I will accept that in the middle of the bay, it really funnelled the wind through. I arrived back at the transbay terminal, and walked up to market street, noticing the floats being prepared for the night's chinese new year parade. While finding a toilet, a realised a Burger King had arcade machines in it, and played a game of Pac-Man Jr. 
I planned to stand somewhere near Union Square to watch the parade, and ended up to the left of where the televised part of the parade route was. The grand marshal Michelle Yeoh arrived, staying in a car that blocked the view of the first, non-televised part of the parade, much to the annoyance of those around me. They started asking the police to move the "illegally parked car." Eventually, Michelle went to set off fireworks, get interviewed, wave at people, and finally leave. There were hours of various groups parading past, dressed up, dancing, playing instruments, performing... So many dragons, and so many dog costumes. It being San Francisco, some floats were cable cars. I'm a year of the dog, so it's a fun coincidence that this year was the year I ended up in three Chinatowns in the space of a week, without fully intending.
Chinese New Year Parade, San Francisco, 02/24/18
After the largest dragon passed and the last firecrackers were set off in our section, I wandered off down the San Francisco streets. I passed a pub called Edinburgh Castle Pub — only about 5000 miles away from the actual castle. I then came to a pub with only a sign opposite asked people to be quiet, and a friendly bouncer, giving any clues to it being a pub. Otherwise one would assume it to be a door to an office. Inside was a different story. It was Smuggler's Cove, a pirate-themed and wonderfully decorated bar, which mainly serves rum-based cocktails. I wish the lighting wasn't so dim, I couldn't slyly take photos of the decor. Or a decent photo of the cocktail I ordered. I made a note to go back if ever I make it back to San Francisco, and try as many of the cocktails as I can. 
February 25, 2018
Heading from the BART station to a bus stop in Berkeley, I found a Ben and Jerry's shop, and had to go in. I took a bus up the Berkeley hills to the Lawrence Hall of Science. It's mostly for kids, but there's a small section on its namesake Ernest Lawrence.  I have a master's in chemistry, and 16 elements have been discovered at Berkeley — somewhat more impressive sounding than the three discovered in Edinburgh during the Scottish enlightenment. The views from the hall down to Berkeley and across the bay were wonderful, made better by the endless blue skies. The area outside the hall has a fountain, a whale model, and a DNA model to climb on. 
Lawrence Hall of Science and UC Berkeley Botanical Gardens, Berkeley, 02/25/18
From there I walked, following the road around to UC Berkeley's Botanical garden. The wide variety of plants are organised mostly by continent. I wandered through the cactuses, greenhouses, and japanese gardens. 
Continuing to follow the road around until it almost reached the university campus, I took a hike up tightwad hill. I couldn't help but think the route I took up was not the easiest, but as I sat a father and daughter and their friendly dog joined me, and they had taken the same steep route up. There was of course a much easier route, up a track from a car park on the other side of the hill. 
Tightwad Hill, Berkeley, 02/25/18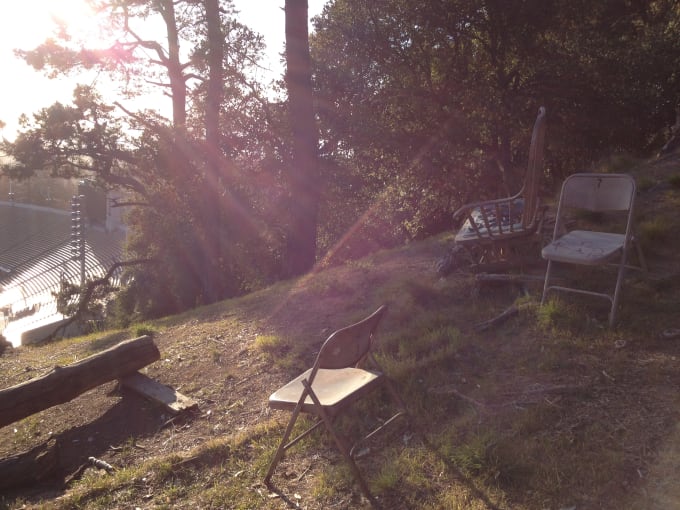 Tightwad hill is called such because of its view into the California Memorial stadium — you can watch games from the hill without buying a ticket. There's some old chairs, and tree stumps and logs from fallen trees used as seating. Sitting on a tree stump, I listen to the song "Tightwad Hill," and realise that the members of Green Day were my age when the song was released. I decided to watch the sunset there, before finding a way back down. The views didn't just take in the stadium, but also across the bay.

Sunset from Tightwad Hill, Berkeley, 02/25/18
February 26, 2018
For the last time this holiday, I went across the bay to San Francisco. Just across from the Embarcadero BART station, I took the free PresidiGo shuttle up to the Presidio park, getting off at the Letterman buildings. I wander past the Yoda fountain just as someone is packing away a film camera. Lucasfilms is somewhere in that area, I likely walked past it. I walk round to the Palace of Fine Arts. There's a lagoon and walkways surrounding the "palace". 
Palace of Fine Arts, San Francisco, 02/26/18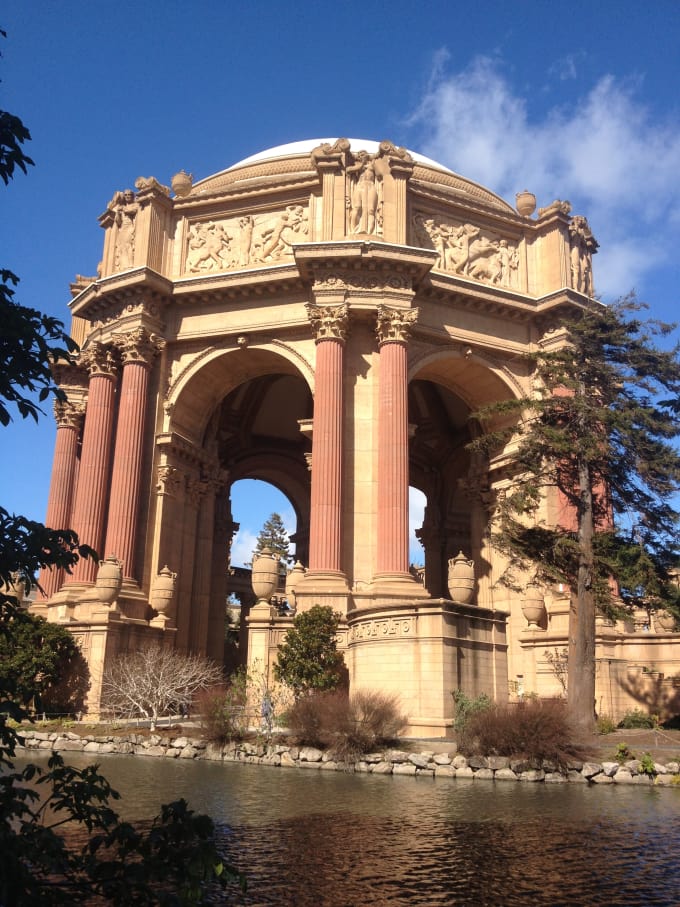 While trying to work out where a bus stop is, I instead decide that the 45 minute walk along the beach and up to the Golden Gate bridge isn't so bad. By this point in my adventure, I have a cold and am sneezing frequently. So I walk along by Crissy Field, then up the hill to the welcome centre. 
It wasn't until I was about a third of the way across the bridge that I remembered that it was a suicide hotspot, making the rest of the journey tough for me. I was glad when I made it to the other side, in Marin county. But seemingly the only way back to San Francisco was to walk back across the bridge. In a living example of pathetic fallacy, the skies clouded over on the Marin county side, and as I reached San Francisco, the clouds followed me, showing off with a brief shower of hailstones. 
Across the Golden Gate Bridge and Back, 02/26/18
"I can see the ledge now
Golden Gate is falling from behind
Well if you call this living
I just wanna hang my head and cry"
"27th Ave. Shuffle" - Foxboro Hottubs
I'd had other plans for the day, but due to the weather turning to rain showers, and my own ineptitude at the muni bus system, I just took the bus straight down to the Daly City BART station, and headed back to Oakland. I guess I'm destined to never find the Golden Gate park. 
February 27, 2018
The last full day in the bay area. I was exhausted, running out of tissues, and in denial about leaving. I took a bus towards Fruitvale, wandered past the Alameda County Sheriff's office on East 12th Street, looked in some shops, and found a Walmart in San Leonardo. 
Alameda County Sheriff's Office, Oakland, 02/27/18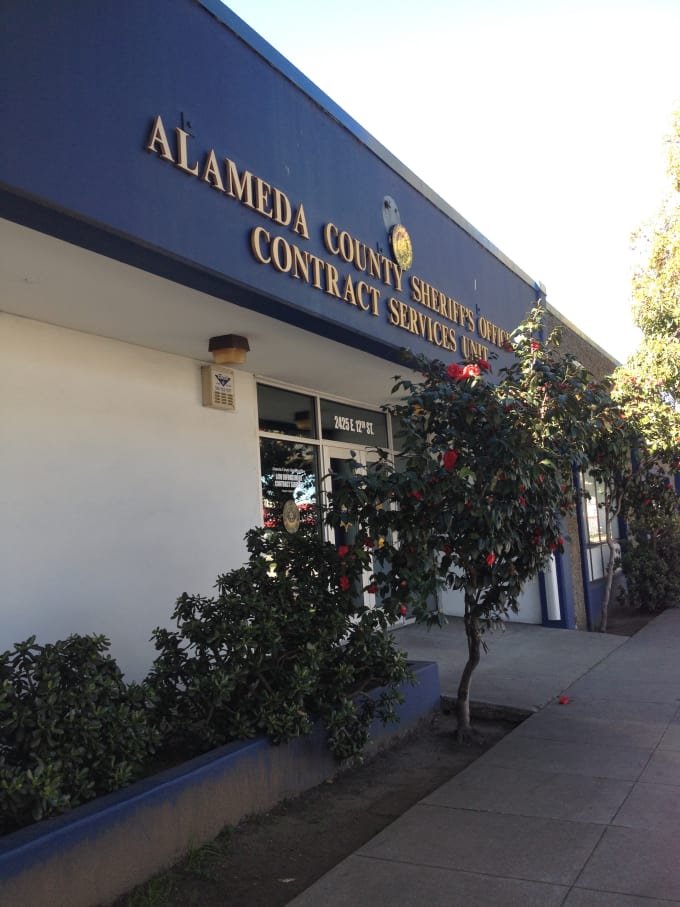 Mural opposite the BART Station, San Leonardo, 02/27/18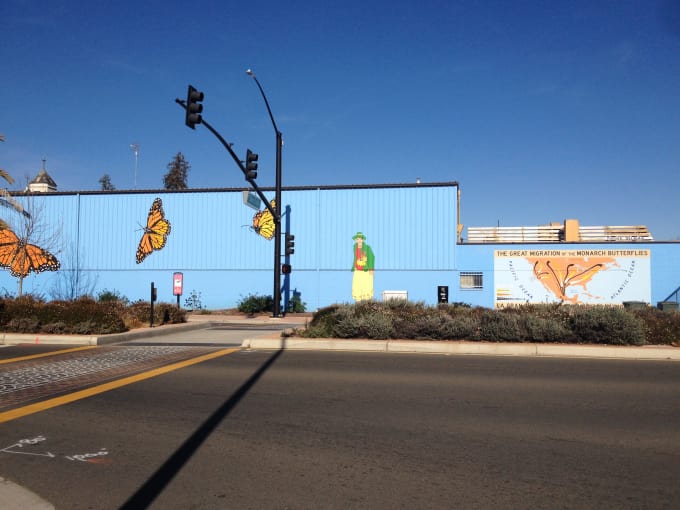 Rather than go on a long adventure, my accomplishments for the day were finding a Walmart, and checking us in to our flight. My sister had gone to the cinema at Jack London square for the second time in the holiday, both times there only being one other person in her screen. 
As we were relaxing in California, we read the news from home: a red weather alert across Scotland's central belt for the next couple of days, due to large amounts of snow. Buses and trains being cancelled, people being advised against travelling, schools closed... It was the first time the MET office had set a red alert for snow in Scotland. 
February 28, 2018
We cleaned up the studio a little, re-packed our bags, and went to hand back our keys. Our host was nice enough to offer us a lift to the BART station. We changed to the airport BART at the coliseum, and I managed to get my clipper card balance to 0. The airport is... small. Terminal 2 is for South West airlines, terminal 1 for all others. Immediately to the right after security was our gate. I went to terminal 2 and rushed back with ice cream cones from the Fenton's Creamery shop there. Our flight was so quiet, we were encouraged to take up whole rows each. I lay across three seats for a few hours, not quite sleeping, but at least resting my eyes. 
March 1, 2018
Arriving in London, we sat on the runway for 45 minutes. A lot of flights were cancelled due to the weather, and we had to wait on a plane being de-iced and moved out of a gate so we could get in. We got our suitcases quick enough to end up waiting around the airport for another hour before we could take a coach into Victoria. 
We left our bags again, and I headed off to a pub to meet the friend I'd bought a Mt. Eddy shirt for. I cursed myself for not bringing my hat, or buying one in Oakland. It was distinctly colder in London, and none of the clothes or shoes I'd taken with were waterproof. My sister went to a hospital to get her knee checked out, and I later went to meet her there. We got food and wondered whether the coach back up to Edinburgh would still make it, as the person questioned at the coach station had thought it would. We considered staying in London for a night (and getting some sleep) until things had calmed down more. 
Back at the bus station, and finally on the bus and warming up, we were instead wondering whether the buses would be running once we would get back to Edinburgh. The weather alert had been lowered. 
March 2, 2018
The coach was doing fine until it hit the English borders. The A1 was closed between Alnwick and Berwick upon Tweed, and the drivers were trying to find a way through the smaller roads. They tried four different roads, often meeting other drivers looking for ways through, and tipping them off on ways that weren't possible: "that way has 8 foot snow drifts, turn back." We stopped somewhere near Coldstream, with the drivers calling their depot to see if they knew of a route they could take. Here, we ran into a coach we'd seen before, trying different routes through the snow. The drivers exchanged numbers, in case one found a way. Quite a few people got off the coach to stretch their legs, us included. 
The English Borders, 03/02/18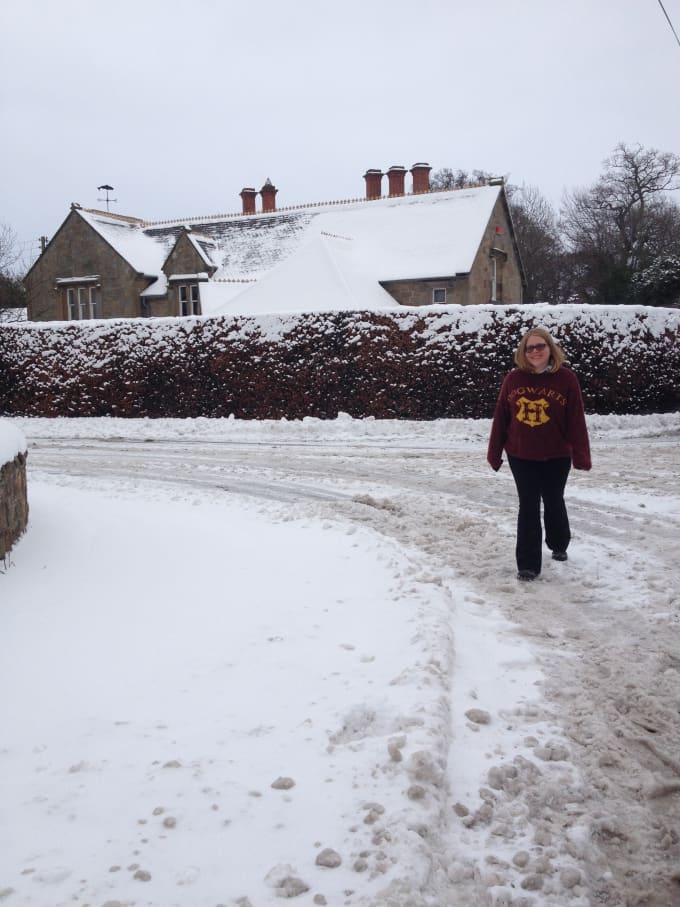 The driver talked us through the options, if none of the A roads were clear when we tried again, it would be better to head back to Newcastle than to try the B roads. We tried one again, and came across the truck that had previously been blocking the road. The driver told our driver that the only reason they hadn't gotten through was because they'd stopped to let gritters past, and couldn't get traction again, and advised our driver to go for it, just don't stop. The driver asked us if we wanted to go for it, since it seemed to be the only option. We agreed, knowing it sounded like a bad idea. 
The atmosphere on the coach was tense, people craning their necks to see the road, as we wound past snow drifts over roads covered in snow. At one point, the coach struggled to pass some cars, and almost stopped. When we got going again, the passengers applauded. Further up the A698, winding along just below the border, we had to stop. The council was there, clearing a blockage. But we made it through, and from then back to Edinburgh it was clear running. Finally making it into the bus station around noon, 13 hours after we'd left London the night before. Those extra 5 hours in the borders hadn't been ideal, but at least by the time we made it in the buses were running again. The city centre, normally unlikely to even get snow lying, still had a decent chunk of snow. When we went to bed that afternoon, we'd been awake for 48 hours. 
Opposite North Bridge, Edinburgh, 03/02/18