Wander is powered by Vocal creators. You support
Caledonian Cogs
by reading, sharing and tipping stories...
more
Wander is powered by Vocal.
Vocal is a platform that provides storytelling tools and engaged communities for writers, musicians, filmmakers, podcasters, and other creators to get discovered and fund their creativity.
How does Vocal work?
Creators share their stories on Vocal's communities. In return, creators earn money when they are tipped and when their stories are read.
How do I join Vocal?
Vocal welcomes creators of all shapes and sizes. Join for free and start creating.
To learn more about Vocal, visit our resources.
Show less
Here's tae the New Season!
East Coast, West Coast Bimble Part 1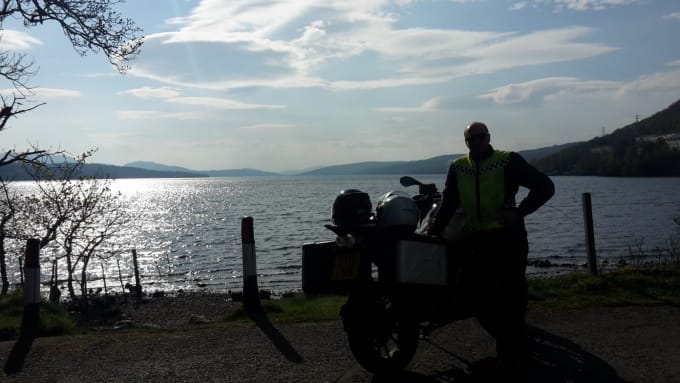 Alain deLille is apparently responsible for the origin of the idiom, "All roads lead to Rome;" if that were true, then equally all roads would lead away from it, too! Rome, of course, can be substituted for any major capital city and my sentiment remains the same.
Although my bike is never off the road during the winter months, it is with an unparalleled relief to my soul that we surpass the winter solstice and the days begin to lengthen. The season, the only season that counts, comes round again and the roads begin to populate once more with the to-ing and fro-ing of two-wheeled machines.
Sometimes, the thought takes me that perhaps God Himself is a biker! Scotland, his little diorama, crafted so perfectly to reward the most faithful. A boon granted to those who dare to traverse it unfettered by electronically controlled air conditioning or other fancy mod cons.
The perfect day for a ride is a clear blue sky and a gentle cooling breeze. Such a day arose on the Easter weekend, surely a sign from the Big Man himself (my son for your sins, the glorious sunshine for your indulgence). I set off west so that the rising Sun would cast my shadow ahead, a simple route to follow, no map required. I followed the south bank of the river forth towards Stirling and the A811, until I was ready for breakfast, which came surprisingly soon after already eating breakfast. For those with a similar hunger, I recommend sampling the delights of the Woodhouse Cafe outside Kippen. They will even provide a blanket for you to sit on the grass when no table is available!
The A811 is a rather dull road, straight for too long and flat on either side for too long. Its one advantage is that it brings you to Loch Lomond and the Trossachs National Park swiftly and without ceremony. From there, you can ride up the road that leads nowhere, beyond Balmaha. Take my word for it, never underestimate how exciting and rewarding roads that lead nowhere are! You can also follow in my tyre tread and ride the back of Loch Lomond itself too, the western shore. Stunning, every twist of the road reveals a unique vista.
The Road to Nowhere (Rowardennan)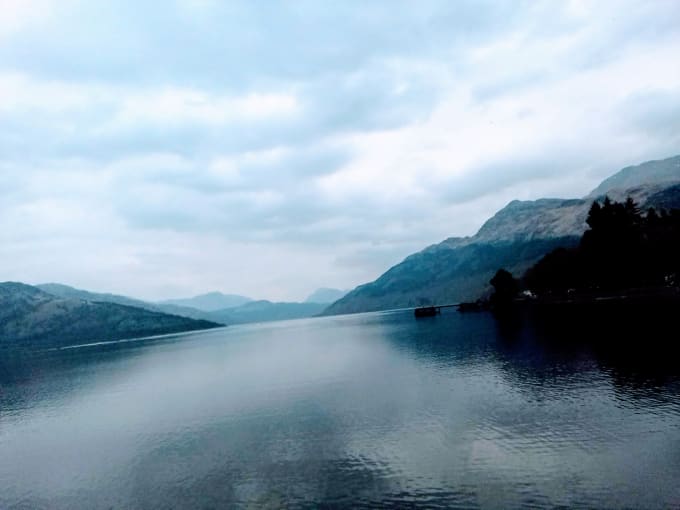 About halfway up the Loch, my attention was diverted by the A817, the Sun had moved around a little by this time and my shadow seemed to crane towards the northwest. This delightful road removes you from the traffic heading for Luss and cuts across the hills. Tightly packed heather and the odd stubborn tree have refused to shift their gaze from Inchmurrin, and rightfully so! Soon the hills roll more violently and the idea of a plateau becomes no more than a whim. A steep descent towards Gare Loch is followed and you can ride the vast boundary of Faslane, home of the Trident. It's not that it's pretty by any means, but it has an appeal or at least a mystery to it. A brutal testament to man made stoicism juxtaposed with the natural stoicism of the nature protecting it. The chain link fences and coiled barbed wire is distinctly more feeble than the enduring, wind bitten fortifications surrounding Gare Loch.
Head north and be transported to a Norwegian Fjord! Loch Long missed the memo or skim read its geological instructions, maybe just plagiarised his Northern European buddy, but it's impressive. A single track road that jerks and convulses its way onward, never truly sure which point of the compass rose it's aiming for. It was here I ended my day at the top of Loch Long in Arrochar, surrounded by steep rock faces that were clearly placed here by design to focus the gaze down the Loch and out to the open sea.
It was day one of the Easter weekend, Jesus had died and I had emptied my fuel tank, progress had been made all round!
Part two to follow.