How to Find Affordable Camping
Using Hipcamp to Travel the US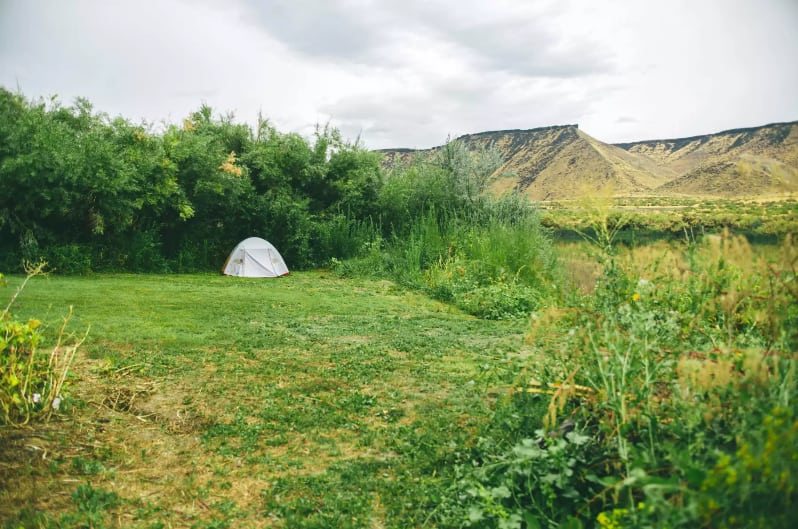 Do you have a desire to camp in unusual places? Do you have a desire to stay in places that aren't necessarily a government ran camping site? Do you like meeting new people? Hipcamp might be a great solution for you.
Hipcamp brings together land owners that are willing to have campers, in tents, vehicles and RV's use their properties for a night, a week or longer. Some Hipcamp hosts have added tree-houses, cabins, yurts, and other interesting buildings to their campsites to give even more comfort to guests.
We listed our property, which is located on the banks of the Snake River in Idaho, recently. We've just had our first visitor. The day he chose to book the appointment ended up being the only really rainy day we have had lately. Hipcamp let us know that he would arrive on Monday and leave on Tuesday. We set up our own pricing, time requirements and what people can and can't do on our property. As the camper, he sees everything up front.
We loaded our listing full of information and photos so that any prospect can see what to expect when they arrive. We set a discounted price for weekdays to encourage travelers to add us to their itinerary. We also set up a special weekend treat for visitors. Not only can you choose to be a camper, but you can choose to have us provide your weekend meals for you! My husband is an excellent cook, both on the grill and in the smoker. Dinner on Friday night, breakfast on Saturday morning and dinner Saturday night are provided in the upgrade package.
Back to our camper...He pulled in and checked in with us as we asked. After being shown the different places he could pitch his tent, he picked a spot right on the river. Then the torrential rains began! It was a good thing, this particular camper also had a fully set up van that he travels around in. What a treat to get to meet him! If it hadn't been for the rain, we may have not gotten to spend time with this exceptional 19-year-old. He left his Midwest town on the day he graduated and drove to the west coast. He then purchased his van, named Sue, and began traveling all over the West.
This young man makes his living doing photography, odd jobs in the places he visits and through a few sponsorships he's picked up along the way. He had intended to take advantage of the Owyhee Mountain trails for a motorcycle ride, but the rain put an end to that. Bass fishing isn't much fun in the rain either, but during the downpour, he and my husband spent a few hours getting to know each other and playing guitars together.
Learning a New Song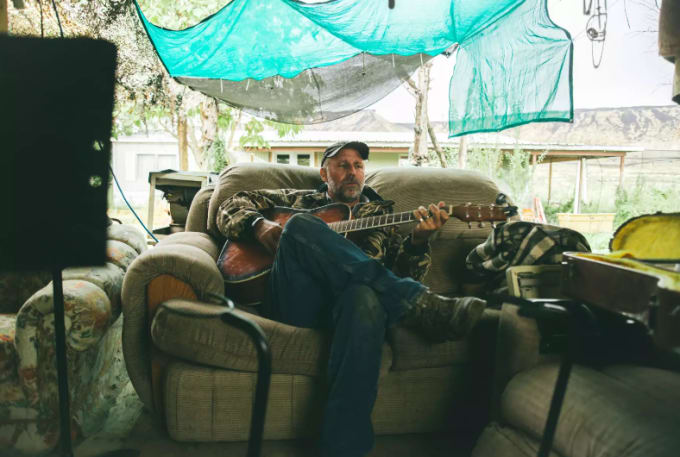 Hipcamp is giving us an opportunity to share our 3 acres with strangers, whom will surely become friends. Over the next year, this property is taking on a whole new identity in that it's being converted to a micro-farm using the Back to Eden Organic Gardening method (look it up on YouTube) and by adding chickens. We will be adding a self-serve and you pick produce stand this next spring. We intend to use the property as a teaching center. Hipcamp allows us to share these opportunities with the public in a fun way.
I would suggest you check it out if you have a property you want to share and make a little income from or if you are a traveler and want to find more unique experiences than you get from the regular old spots. Here is a link to our listings. Have fun searching for your next destination! We hope we get to meet you at some point! Common Ground-Snake River Experience