In Search of the Northern Lights
The Mind-Blowing, Natural Phenomenon That Is on Everyone's Bucket List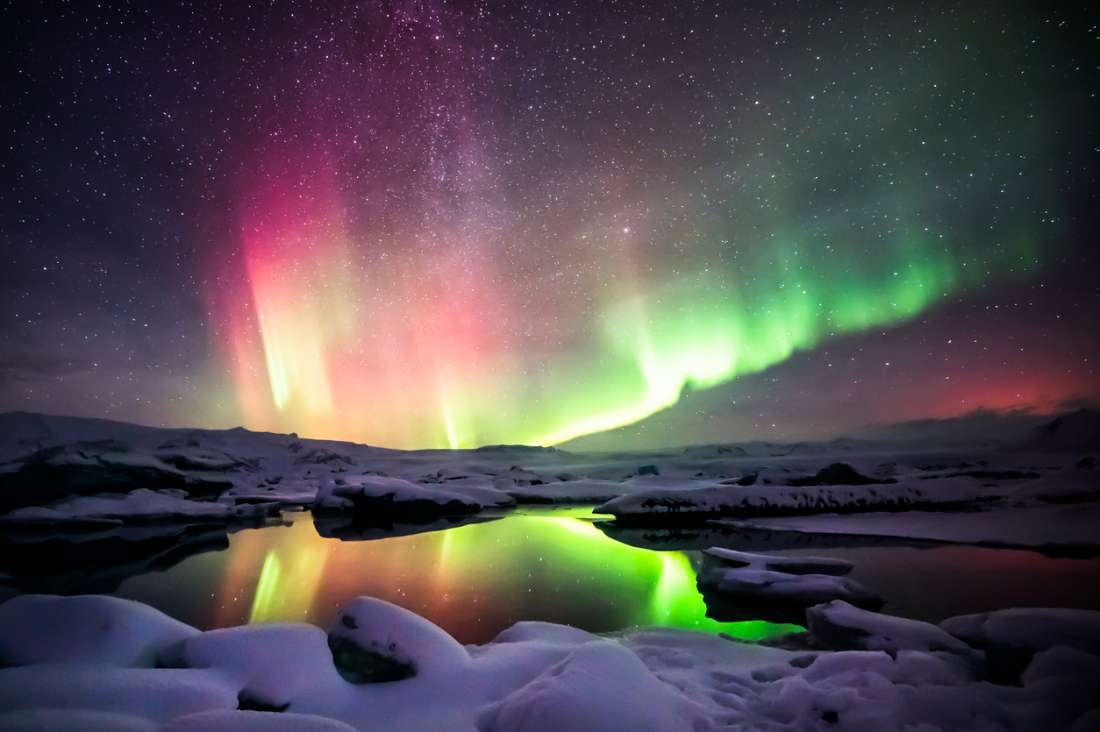 My search for the Northern Lights began back in 2014, I had seen thousands of photos in books and online, and of course, I'd watched The Snowman… duh. One of my best friends once told me that he planned on proposing to the girl of his dreams in view of the northern lights in Greenland. How romantic is that? What a beautiful and spectacular notion. Surely something magical that the both of them will always remember! I decided I must see this wonderful natural phenomenon for myself.
I travelled to Norway that summer, to backpack from Bergen all the way up past the Arctic circle. There, I was sure, I would see the northern lights. I should have done my research, I was greeted by the midnight sun. Which was completely breathtaking, but not what I had expected. During the summer months there is very little darkness (sometimes none at all) so the northern lights do not come out to play. My trip to Norway remains the best trip I have ever taken, but the northern lights were not ticked off the bucket list just yet.
Next on my list was Iceland, I took my other half for his birthday and we had a northern lights tour booked from Reykjavik the first night of our stay. I figured this time I would leave it up to the professionals to show me the lights, the tour also promised another go if you don't see them the first time. When we arrived in Iceland, the snow had been falling thick and fast for the past week and there hadn't been any sightings; the forecast for us, however, looked clear. We threw on our thermals and bundled into the jeep, we were driven high into the mountains, there were literally hundreds of other tours in the same vicinity... which does take away from that magical romantic feeling.
When we got to "the spot," everyone piled out of the cars, this is where I realised I was underdressed. Three layers of thermals was not enough. We waited for around 10 minutes before being piled back into the cars and driven even further into the mountains. This time when we got out the cold was unbearable. I instantly couldn't feel my feet, my nose was running and all I could think was "this better be worth it." We stood around for around 15 minutes until someone shouted "Look!" …What? What was I looking at? Because all I could see was what looked like a cloud. I tried so hard to see what everyone else claimed to see. I couldn't. My boyfriend was squinting at the sky hopefully.
We only had a semi ok camera set up, so there was no chance of a photo. Luckily, there was a professional photographer taking everyone's pictures, and yes, with a very expensive professional camera set up, the sky did look slightly green. But nothing like the mind blowing colours I had expected. Maybe it just wasn't a great display… but at least we could say we saw them… sort of. I was now far too cold and annoyed to stand outside anymore. I climbed back into the car to wait for everyone else.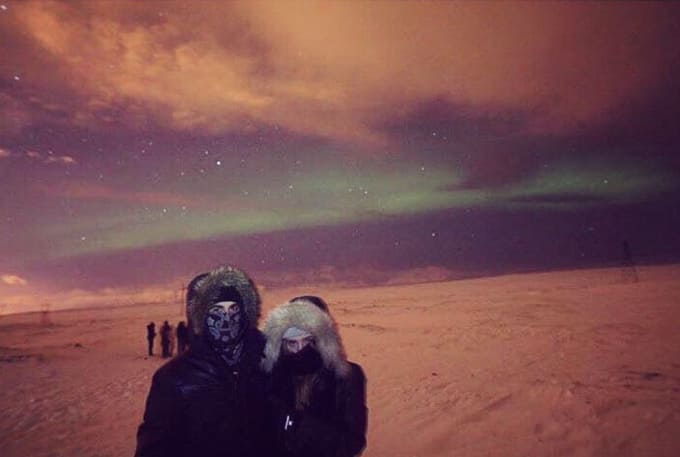 I convinced myself that what I had experienced in Iceland was not the full effect of the aurora. How could it be? People had described this as a bucket list experience, a life changing event! Something breathtaking. Not a slightly off colour cloud.
So, onto attempt number 3. This time in Lapland. My dad visited Lapland on his honeymoon and stayed in a glass igloo that promised views of the Aurora Borealis as you lay in bed. To be fair, my dad never really mentioned the northern lights from his trip, so I can't imagine they were that great. His wife had the same screwed up, unimpressed look on her face that I imagine I have when people ask what the northern lights are like.
I booked a lodge in the middle of the woodland in Ivalo. Around 20km from "The Northern Lights Village." I mean, come on. You're selling it to me. When you land in Ivalo the airport boasts that it is "the home of the Aurora," ….bring it on?
The plan was to land in Lapland, get dinner, and go hunt for the lights by snowmobiles that we had booked. Unfortunately, on our way from Helsinki to Ivalo (an hour flight) a passenger became ill… halfway there, so the plane was turned around and headed back to Helsinki, where we sat on the runway for two hours. Needless to say by the time we finally reached our lodge, we were tired and cranky and had missed the last chance to go out by snowmobile…. by 15 minutes. The lodge compensated us by giving us an "aurora alarm." This would sound anytime up till 1am if the northern lights were present over the lodge…. a lot of places will offer this service at a fee.
We had our dinner and then treated ourselves to some drinks by the fire in the main house, when those who had been out on the snowmobiles returned they claimed to have seen the aurora. Of course they did. But it gave me hope! The alarm went off at 12:55am that night, I scrambled out of bed, much to the annoyance of my boyfriend, and threw on my many, many layers (it was -32 degrees, the threat of frostbite was very, very real). I ran outside, I saw nothing. I noticed a few people further down the hill, so I followed them. A very, very vague light above the trees appeared to be what everyone was staring at. Was that it? Who even knows. It could so easily have been a cars headlights, a village in the distance, a street lamp. Granted we were secluded, but still, I was not blown away.
Unfortunately, the next morning the snow came down hard, and it continued for our entire stay which meant the cloud cover was thick and the chance of seeing the precious Aurora was 0. I left in love with Lapland but as always, disappointed with my Northern lights experience. I remain curious and ready to go searching again. I refuse to believe I have yet to see the true Aurora Borealis at it's best and most beautiful. People have described vivid green and red, dancing above their heads. So I am hopeful that one day I too will see this.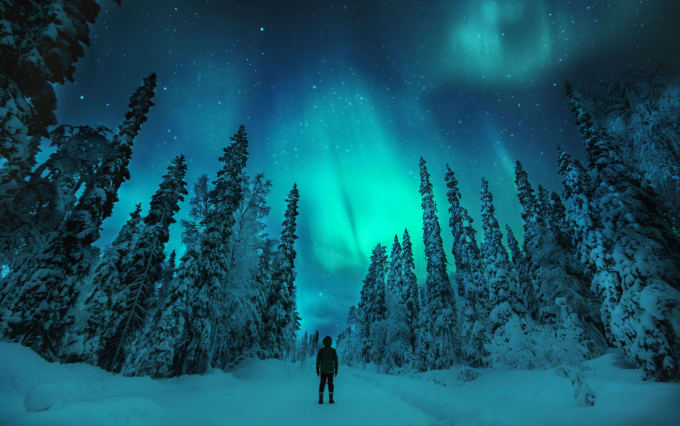 If you are in search of the perfect northern lights experience, here are my tips for you.
Know where to go.
The best places for the northern lights are Alaska (my literal dream destination), Iceland, Greenland, and the Northern parts of Scandinavia (Lapland in Finland and Lofoten Islands in Norway are particularly well known for the aurora). It is also important to add that if you are in a town or somewhere with a lot of light pollution, this will make seeing the Aurora near impossible. Go somewhere desolate and secluded without city and road lights. Our lodge in Lapland was the perfect place for the lights (Muotka Maja Wilderness Lodge).

Know when to go.
The best time of year for the aurora is from September to March when the nights are longer and darker. During the longer summer months there is very little darkness in the North. The midnight sun is a spectacular sensation to behold though, and I would recommend it to anyone.

Know how to dress.
Thermals. Thermals and more thermals. A lot of places will rent the snow suits that are both waterproof and thermal for temperatures up to -40 degrees. I would recommend hiring one of these for your trip. They are not the coolest or most flattering but in the -32 weather I experienced in Finland, I could have died of hypothermia without it. Underneath it I wore a long sleeve thermal top, a normal jumper, and a large fleece. A scarf, a face mask (to stop frost bite, particularly if you are on a snowmobile or skies and the windchill factor is high) a woollen hat, thermal leggings with fleece tracksuit bottoms over the top, woollen gloves with heavy duty thinsulate gloves over the top. On my feet I had normal socks, a thermal layer, and then thick wool socks over the top of those two… I then hired waterproof, thermal snow boots from our lodge. I was still cold.

The way you dress is so important for your safety; most places will have a checklist of what to bring on their website, or you can email them and ask. Lodges and resorts will also hire the snow suits and boots and gloves.
Don't expect to see them.
When we arrived at Muotka lodge, there was couple who had been on our flight, they told the owner they had ONLY come for the northern lights. Nothing else. The owner encouraged them to take in some other activities and enjoy the area for its beauty. They were dead set on ONLY being in Finland for the aurora. Like I said, it snowed for our entire stay. There were no aurora sightings.

These countries are BEAUTIFUL. My favourite holidays I have ever been on are Finland, Norway, and Iceland. Hands down. There is so much to do, enjoy, and take in. It is an experience that I would relive a million times over. Adding the aurora to my checklist was just an extra desire. I have yet to be blown away by the Northern lights and that's fine with me, it hasn't made my trips any less amazing. Of course, the experience would be heightened by the presence of the northern lights but that would simply be an added bonus. Go to experience the country, the traditions, the sights, the weather... not for an unpredictable natural display.
Don't be disheartened.
I am three trips deep hunting for the lights, each trip has been more magical than the last and I've loved every second of all of them. But I still look forward to the day I see the lights. I am never disheartened by their absence, only excited by the prospect of continuing my hunt.