Wander is powered by Vocal creators. You support
Osei Agyemang
by reading, sharing and tipping stories...
more
Wander is powered by Vocal.
Vocal is a platform that provides storytelling tools and engaged communities for writers, musicians, filmmakers, podcasters, and other creators to get discovered and fund their creativity.
How does Vocal work?
Creators share their stories on Vocal's communities. In return, creators earn money when they are tipped and when their stories are read.
How do I join Vocal?
Vocal welcomes creators of all shapes and sizes. Join for free and start creating.
To learn more about Vocal, visit our resources.
Show less
Is This Really the Biggest Public Library in the World?
Biggest Library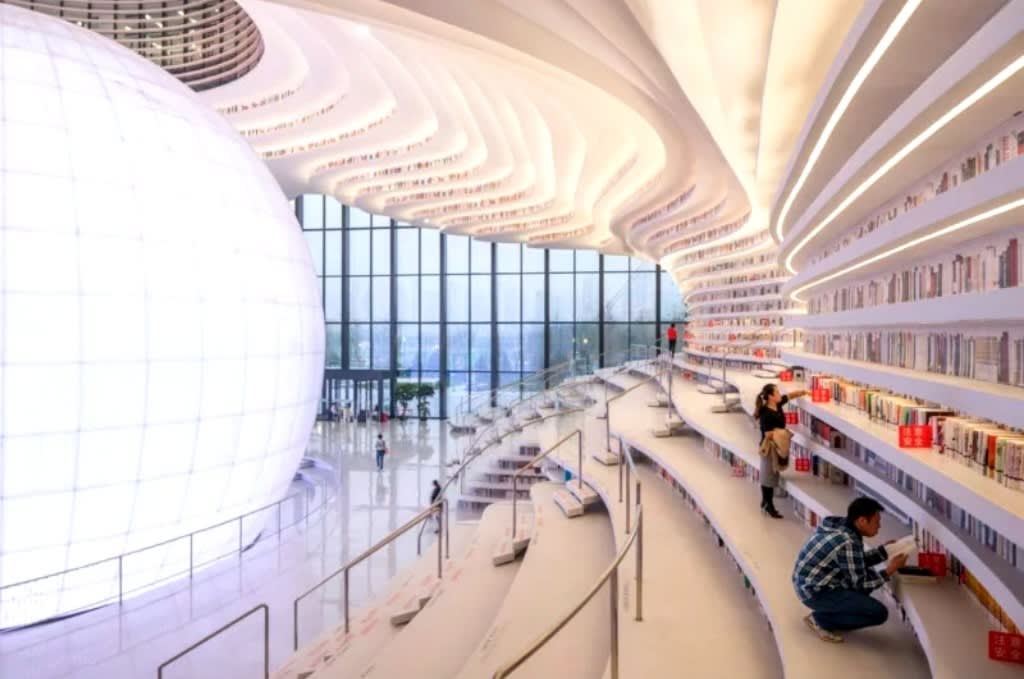 Reading, they say, does not only improve your life and skills but trains the brain and actively raises your vocabulary and writing techniques to a positive level. Above all, reading helps you focus and concentrate—and of course, libraries cannot be left out when you talk about books. They are meaningless without books. If you're an author or one who likes books and believes in collection of quality contents, you are in to witness the best library in the world. The futuristic library was built in Tianjin, a coastal city about 100 kilometers from the capital Beijing. It contains almost a million books on the shelf. Perhaps you will need this great library to shelf your books as an author.

The Tianjin Binhai Library is located in China and has an impressive look designed by the Dutch company MVRDV. They had all the ideas to build and assemble this beautiful building, but the Dutch recognized that the services of local architects were necessary. This move was a good step, because the locals knew the architectural terrain of China very well. You can see the rounded-shaped masterpiece of the curve library at any angle. The eye- resembling library which is arguably the biggest in the world was completed in three (3) years.
The contractor MVRDV acknowledged that there are some drawbacks, given the high speed at which this library was built. It is very hard to get to the top shelf. Instead of housing books, the shelves have aluminium plates on them. The 33,700-square-metre book house is encircled by bookcases that is very tall from the floor to the ceiling. You may have to climb on other boxes or a very long staircase to reach the top. A lot of backpacks, a solid form, a ladder that serves as chairs, and ceiling layers make it eyesome.
Once in the library, all visitors will have enough space for general use, meeting new friends, meeting people from different backgrounds around the world, and socializing. The futuristic Library expresses its beauty with magnetic angles and curves. Touching on the books, the future-oriented library has five cultural buildings with reading rooms, books, lounges, and other waiting chambers. The library harbors all reference books you can think of. On the second floor there are two rooms with conference rooms, an office, a computer and an adjoining chamber.
A fascinating feature of the bookhouse is the ceiling with a sound lighting system that is reflected in front of curved glass Louvres. I was really impressed with the library cleaners as they stylishly remove dirts from the white shelves with ropes and movable scaffolding. I looked on with a feeling of amazement. On the other hand, some medical students and a few others believe that the library is overly hyped. They believe that the base of most images is printed on an aluminum plate that forms the back of the shelf. Well, that's their point of view. You also need to gather in the library and witness the experience since about 20,000 people worldwide flock to the library every weekend.
About the Author
Osei Agyemang is a passionate and creative content writer / editor who is an expert in writing interesting and innovative contents. Osei is also an addicted travel enthusiast who likes to visit and tell the stories of interesting places around the world. He is an award winning National Artist who studied Psychology, Journalism and Global English Language at University of Strathclyde and the University of Glasgow respectively.
Email: [email protected]
Twitter: https://mobile.twitter.com/richboat96
Linkedin: https://www.linkedin.com/in/osei-agyemang-boateng-57187929