Wander is powered by Vocal creators. You support
Jessica Herring
by reading, sharing and tipping stories...
more
Wander is powered by Vocal.
Vocal is a platform that provides storytelling tools and engaged communities for writers, musicians, filmmakers, podcasters, and other creators to get discovered and fund their creativity.
How does Vocal work?
Creators share their stories on Vocal's communities. In return, creators earn money when they are tipped and when their stories are read.
How do I join Vocal?
Vocal welcomes creators of all shapes and sizes. Join for free and start creating.
To learn more about Vocal, visit our resources.
Show less
Most Beautiful Cities in Italy to Visit
Whether you're a world traveler or have never left home before, the most beautiful cities in Italy have something for everyone.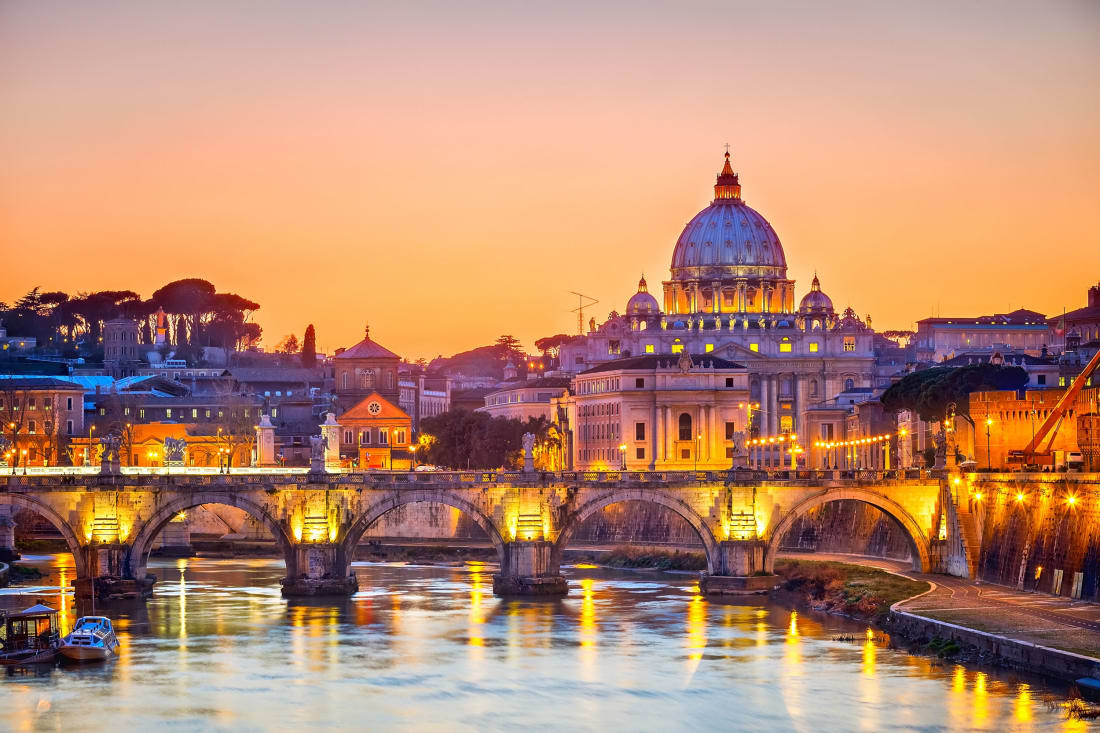 Going to Italy is an opportunity to explore a new country and learn more about yourself as a person. In addition, it is a chance to learn about the ancient history of the country. 
I visited Europe this summer and compiled a list of the most beautiful cities in Italy that you must see during your trip based on my experiences. Seeing these wonderful cities will make your adventures memorable and worthwhile. 
Florence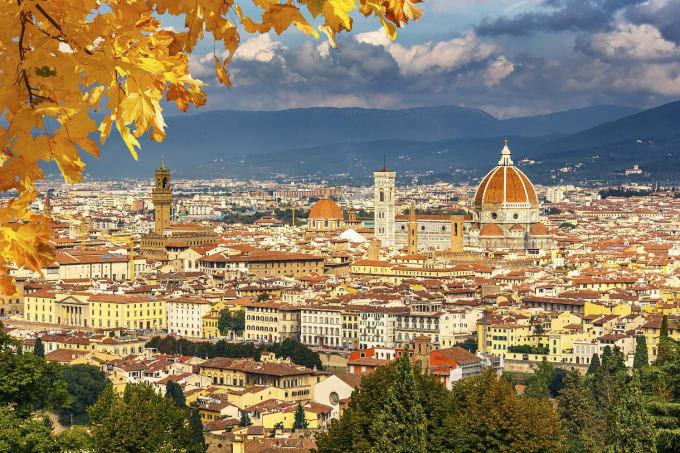 Florence, the capital city of Tuscany, has phenomenal architecture and is viewed as one of the most beautiful cities in Italy. When you're in Florence, I highly recommend visiting Brunelleschi's Dome. While more than 500 years old, it is still in amazingly good condition. 
The Duomo, an Italian cathedral, contains gorgeous artwork on its ceilings. If you're feeling adventurous, you can climb the 463 steps to the top of the dome. Your legs will most likely be aching when you're done but the spectacular view of Florence is priceless. 
Also, if given the opportunity, you should go to the Ponte Vecchio, otherwise known as the Old Bridge because it is more than 600 years old. The bridge has a beautiful view of the Arno River and is filled with shops and restaurants to satisfy the desires of every tourist or Italian. 

Rome
Rome, the capital of Italy, is another one of the spectacular cities in Italy. It is filled with deep-rooted history and is home to the Colosseum, which is the largest amphitheater ever built. 
I strongly encourage you to see the Roman Forum, which was built in 500 BC. It is thought-provoking and gratifying to see an archeological site with so much history. The Pantheon, built in 128 AD, is also an amazing building to visit. Roman kings are buried there. 
The scenic and romantic Trevi Fountain is a very well-known place to see while sight-seeing the most beautiful cities in Italy. It is usually surrounded by Italians and tourists admiring the fountain and spending time with significant others, or tossing coins into the water for good luck. 
In addition, you must bear witness to Michelangelo's Sistine Chapel while in Rome. The chapel ceiling is covered with highly religious artwork. When I visited the chapel, there were no words to describe it. Everyone stood in awe of the beauty and toil that went into painting this work of art. 
Venice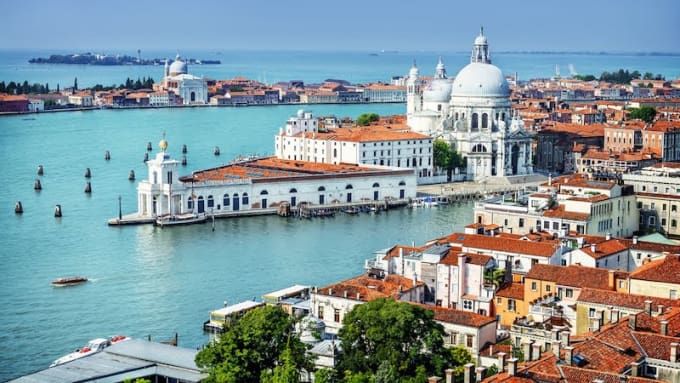 Venice, in the northern region of Italy, is home to Saint Mark's Basilica. Like many buildings in Italy, this church's architecture is stunning. There are usually long lines of people waiting outside the Basilica to see the splendid paintings that hang on its walls.
The Grand Canal is another must-see in Venice, one of the most beautiful cities in Italy. The water is perfect for a romantic gondola ride or a lovely tour of the city. Shops and restaurants line the canal, and it is an ideal site for photography. 
Pisa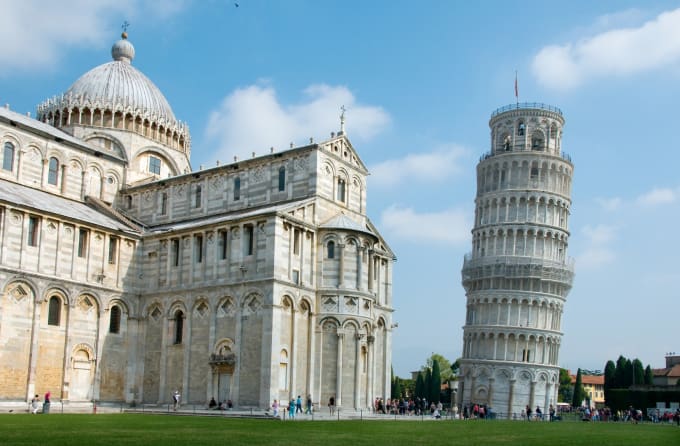 Pisa is one of the cities in Italy best known for the Leaning Tower of Pisa. The tower is humorous because it looks like it is about to tip over. I suggest taking a classic photo in front of the tower and then climbing its 293 steps to the top, where you'll see the tower bells and a view of Pisa. 
Siena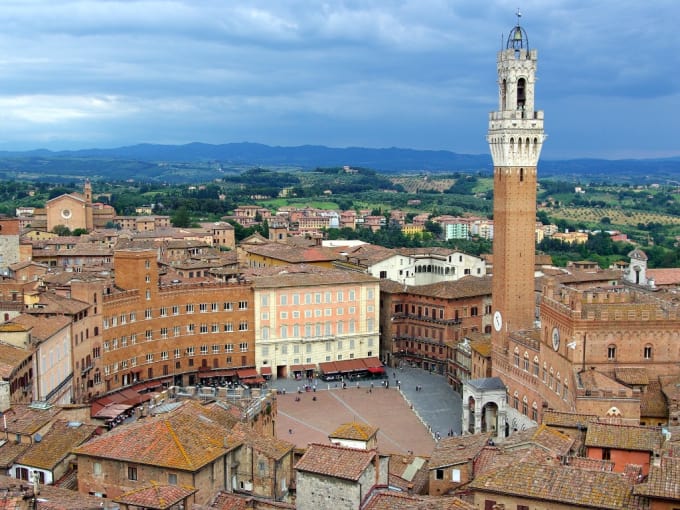 Siena, one of the most beautiful cities in Italy, has rich medieval architecture. It's located on top of three hills. 
When visiting this city, I strongly suggest seeing the Piazza del Campo. It's one of the most popular public squares in the country and a universal symbol of Siena. You can relax and socialize in its open space. The Piazza still hosts large events such as the Palio horse race, which is a four-day event. 
The Siena Cathedral is also certainly worth seeing. The attention to detail on the inside and outside of this old church is truly breathtaking. 
Milan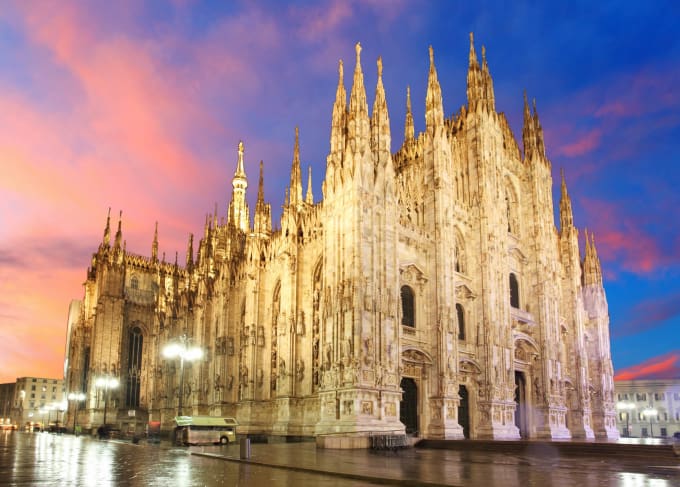 The Italian city of Milan is known for being at the forefront of fashion and is a necessary place to visit while exploring the most beautiful cities in Italy. 
In this Italian city lies the Piazza del Duomo. This extensive church is the fifth largest Christian church in the world. Its size and architecture outdo the other duomos in Italy. 
Another popular sight to see is Santa Maria delle Grazie. This church contains one of Leonardo da Vinci's most famous paintings, The Last Supper.
Verona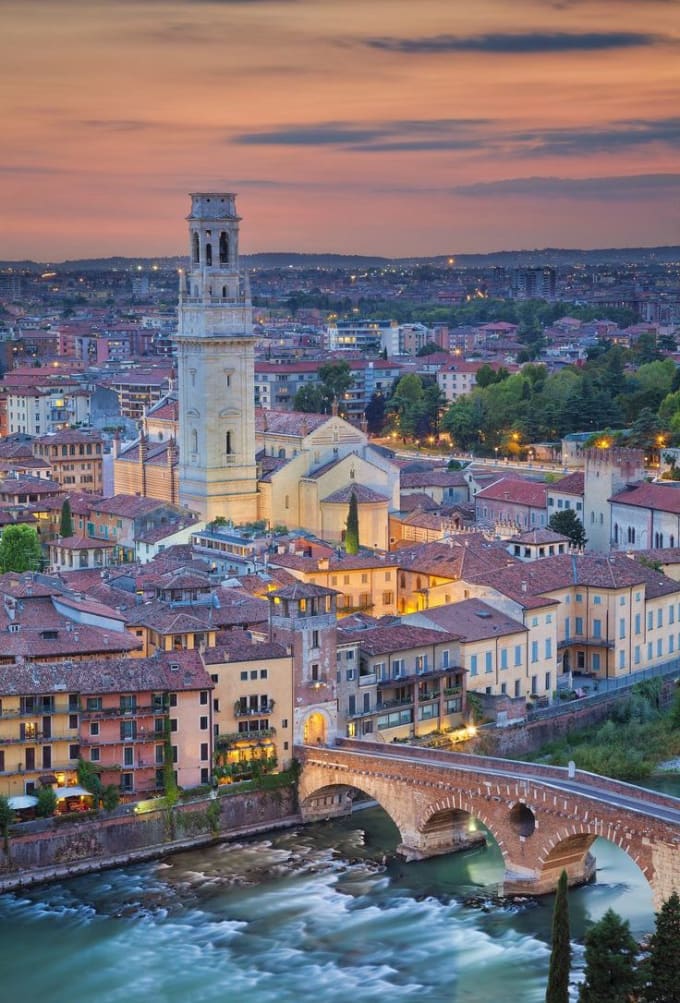 Verona is known as the city of love, and is the setting of William Shakespeare's tragic play, Romeo and Juliet. I suggest seeing Juliet's Balcony, which has a bronze statue of Juliet beneath it. 
It's incredible that part of the Verona Arena amphitheater is still standing, considering it was built in 1 AD. It has deep historical significance to Italy, and it needs to be on your list of places to visit while roaming these most beautiful cities in Italy.