Moving to England
The Beginning of a New Chapter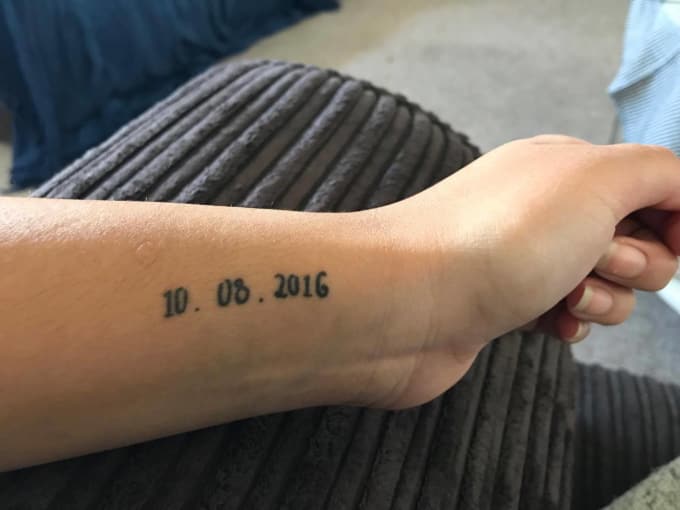 Every time I look at my left arm I see a little memory imprinted on my skin. It was only 5 months ago that I got my very first tattoo and I am still in love with it. I plan on getting more eventually but this will always be my favourite one as it signifies a really important and massive step towards change, which I took only last year. On the 10th of August 2016 I got on a plane, by myself and with only two bags, I moved to the U.K.
My dad had bought me the ticket only a few weeks before and although it was exciting, it was also terrifying. Having that boarding pass with an hour and a date that was only getting closer made me realise that there was no turning back. I had made a decision and even though I didn't have any plans nor did I know what was going to happen, I jumped head on to this new uncertain adventure. That has been the best decision of my life!
I got to London Gatwick airport at quarter past 10. When I stepped off that plane and made my way to baggage claim, I felt this immense curiosity and excitement about everything that was happening around me and what was going to happen throughout that day. Once I got my bag I made my way outside and turned on my data to call my parents. It was a foggy crisp morning and the air was filled with sounds unfamiliar to me. The sound of my mum's voice was reassuring, I knew she was miles but it felt like I had her with me. After we ended the call, I texted one of my oldest friends who moved to England a few years before I did. I had asked her weeks before if she could pick me up from the airport and she agreed. But on the actual day she couldn't so I had to find my way out of the airport and into wherever I was planning on going.
I bought myself an oyster card and hopped on a train to St. Pancras. My friend was going to meet me there to help me find a hostel where I could stay for the following two nights. I got to St. Pancras and she had already been there and had to go home to do something for her mother, so I waited. I sat there for a couple of hours, observing the people around me, listening to their voices and their perfect English accents that were always so fascinating to me. Around 3 in the afternoon I got a text, she was there. I called her and told her to meet me next to Starbucks and so she did. When we saw each other it was like no years had gone by, it was like we were back in school, in 2010, playing basketball with our friends and singing Jonas Brothers' songs between classes. We hugged for a while and made our way out of the station. She took me to the Harry Potter store at King's Cross and it reminded me of what my mum said when I got my acceptance letter from Portsmouth University: "You're going to Hogwarts."
After a little while there, we got on the tube and went to her place. I charged my phone and we chatted for a bit about life. She asked "Where are you gonna go now?" to which I had no reply. Meanwhile my mum had been trying to find me some hostels to stay in, which she email me the links to. Cíntia brought down her laptop and we had a look at what my mum had found. It didn't take us long to find a good cheap hostel that accepted cash payments so we booked it for the following two nights. She told me how to get there and sent me off. I'm still so grateful for all she did for me, without her I don't know what would have happened.
I got on the bus and silly little me got off on the wrong stop. I wasn't worried though. I made my way to Sainsbury's and tried to find something to eat. All the food seemed strange so I got some fruit, biscuits, a bottle of water and made my way to the hostel. Once I got there I checked in, payed for my stay and made my way upstairs. I had stayed at hostel before but never with 11 other people, both male and female. I put my bags way, made my bed — comfiest bed I have ever slept on — and went back down to eat my dinner. I cried on the phone to my mum that night. I just wanted to go to Portsmouth or go back home. Although things went smoothly, it had been a terrible day, probably one of the worst days of my life. She told me that everything would be okay and things would sort themselves out. I knew for a fact she didn't believe what she said, she was definitely more scared than I was but I didn't want to worry her so I agreed that everything would be alright, said goodbye and went back to my room.
I woke up the next day, still feeling sad and scared. Little did I know that everything was about to change.