Wander is powered by Vocal creators. You support
Tracey Kifford
by reading, sharing and tipping stories...
more
Wander is powered by Vocal.
Vocal is a platform that provides storytelling tools and engaged communities for writers, musicians, filmmakers, podcasters, and other creators to get discovered and fund their creativity.
How does Vocal work?
Creators share their stories on Vocal's communities. In return, creators earn money when they are tipped and when their stories are read.
How do I join Vocal?
Vocal welcomes creators of all shapes and sizes. Join for free and start creating.
To learn more about Vocal, visit our resources.
Show less
Review: Sofitel Hotel Corniche, Abu Dhabi
Our two-night stopover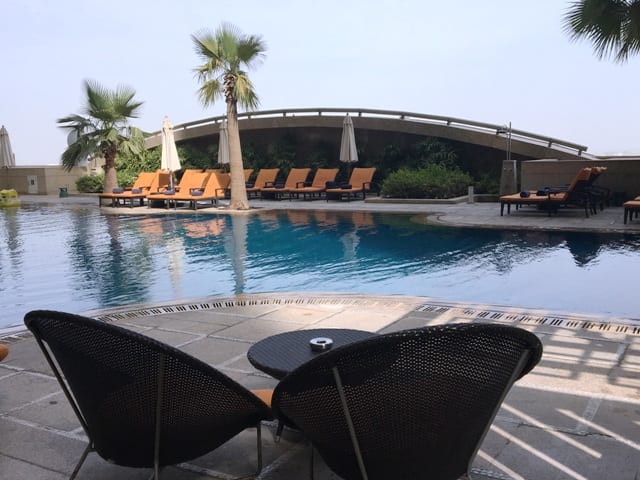 PackThePJs factored in a two-night stopover in Abu Dhabi on the way home from our recent holiday to the Maldives. This was easy to do as all our flights were on Etihad Airways. Using Booking.com we chose the Sofitel Hotel, on the Corniche, in Abu Dhabi. We've never stayed in Abu Dhabi before, so why did we choose this hotel? Well, the price was incredibly reasonable, it is rated 5 stars, and the family room we were offered was called the 'Prestige Suite with Executive Lounge Access and Butler Service'. Hard not to be enticed, really!
Location of Sofitel Abu Dhabi Corniche hotel
The 280-room Sofitel Abu Dhabi Corniche hotel is situated right in the heart of the city, along the famous Corniche. From Abu Dhabi airport it takes approximately 20-25 minutes to drive to the hotel. We used hoppa for our airport transfers and we recommend them highly. Our flight from Male International didn't land in Abu Dhabi until around 11pm at night. It was important for our transfer driver to meet us in arrivals – and he was there! The transfer was easy and effortless.

Not that we could see it in the dark as we arrived, but directly opposite the hotel is Lulu Island and the Arabian Gulf. It takes around 10 minutes to walk to the beach. The hotel provides a complimentary shuttle service to the beach (remember how hot it gets in Abu Dhabi!).
During our stay we took a very reasonably priced taxi to the Abu Dhabi Mall, about a 5-minute drive away. Other shopping malls are a similar distance away, but we had very limited time to explore.
Local tours of the key attractions pick up and drop off at the hotel – a great way to see the highlights of Abu Dhabi.
Room: Prestige Suite
After a very efficient check-in we were escorted to our 'suite' on the 25th floor. The door opened to a large L-shaped sofa surrounding a coffee table (full of goodies from the Executive Lounge), and facing a 40" flatscreen TV.

Adjacent to this there was a 'business area' with executive desk and chair, but also a hairdryer, kettle, coffee maker and capsules, water and fridge. At this point I'd like to add that the air conditioning was excellent, as was the complimentary WiFi.
From the 'lounge' area you enter a double bedroom, with another 40" TV and complimentary 'sleep kits' that included eye masks and 'sleep mist' to put on your pillow. The famous Sofitel MyBed was really comfortable, and the bedding consisted of very high-thread count cotton sheets, duvet covers and pillowcases.
Beyond the bedroom was the exceptional bathroom: a lovely deep bath, with its own TV :)
A power shower/rain shower large enough for the whole family to use at the same time (we didn't, in case you wanted to know!) His and Hers sinks – well, actually Hers and Hers … one for me, one for Millie-Mae.
Really good quality complimentary toiletries and plenty of fluffy towels – perfect! Two loos, and a bidet complete the room tour.
The children were provided with 'pop-up beds' that had substantial mattresses and they slept really well on them.
However amazing the room was – it couldn't compete with the view when we opened the curtains the following morning … wow!
Executive Lounge and Breakfast
Our Prestige Suite gave us access to the Club Millésime executive lounge. However, children can only enter this lounge at certain times of the day (breakfast wasn't one of them). So instead we took our breakfast in the main restaurant, Corniche, just beyond the lobby area on the ground floor.

Breakfast is a help-yourself buffet, and the options available were extensive (to put it mildly!). Definitely something for everyone – especially children.
You could choose from fresh fruit, juices, yoghurts, cereals, freshly baked bread and pastries, cold ham and cheeses, international cuisine of various kinds, and a hot food selection. A favourite with the children was a pancake, crepe and waffle bar!
The staff were very friendly and very attentive. Fabulous breakfast.
Later in the afternoon we visited the Club Millésime executive lounge on the 35th floor, for a cold drink and sweet snack before heading out on a desert safari tour.
Two very friendly members of staff greeted us, helped us pick a table and then provided drinks – nothing was too much trouble.
The views from this lounge were incredible too.
Hotel Facilities
Sadly, our time at the Sofitel Abu Dhabi Corniche hotel was short. We'd have loved to have spent longer there to make use of the facilities and features available in the hotel. On, we believe, the 8th floor there is an amazing swimming pool. We only had the time to look at it – the children were desperate to go for a swim but alas we had to head to the airport.

In this swimming/sunbathing area you'll find the Grills @ Chill'O restaurant: here you can watch sports live on the TV while enjoying Mediterranean and Arabian cuisine.
On the same floor as the pool you will also find Parmigiana, an Italian restaurant.
The Sofitel Abu Dhabi Corniche hotel also has a Spa.
Finally, in the lobby area you'll find Le Café Lobby Lounge that serves a wide range of teas and coffees along with a tempting range of pastries and macarons!
We were really impressed with the hotel, of the friendliness of the staff, and of Abu Dhabi in general. It was a lovely stay – in exceptionally hot weather (for us Brits anyway!). The only negative is that we hadn't arranged to stay a little longer. We'd love to return one day.