Wander is powered by Vocal creators. You support
Tia Philippart
by reading, sharing and tipping stories...
more
Wander is powered by Vocal.
Vocal is a platform that provides storytelling tools and engaged communities for writers, musicians, filmmakers, podcasters, and other creators to get discovered and fund their creativity.
How does Vocal work?
Creators share their stories on Vocal's communities. In return, creators earn money when they are tipped and when their stories are read.
How do I join Vocal?
Vocal welcomes creators of all shapes and sizes. Join for free and start creating.
To learn more about Vocal, visit our resources.
Show less
Some of the Tallest Waterfalls in the World
How to Find Those Walls of Water Falling from the Sky

When deciding where to go for your next night out, maybe consider a day out instead! Finding a destination to take your group out during the day has endless possibilities, but what if you try something out of the ordinary? Heading to a peaceful lake or even a beach is nice from time to time, but what really will make it the best day ever is water falling from the sky! Grab some friends and take a trek to one of the tallest waterfalls in the world. Whether that be in Hawaii, USA at the Pu'uka'oku falls or in Venezuela at the Angel Falls, you're bound to fall for one of these waterfalls.
Chasing waterfalls does not have to be difficult either! Largest.org has created a guide to the seven largest waterfalls in the world, which includes everything you need to know for a fun trip. The guide features where the best view of the falls are and whether you need to hike, swim (or both!) to reach those gorgeous falls. The overview of these waterfalls also contains the number of drops each waterfall has, if you will need to pay an entrance fee, and if a tour is required! 
Some of the World's Largest Waterfalls
The seven wonders of the world might not beat the views of the seven largest waterfalls in the world. Plus, hanging out next to some falling water is quite peaceful and relaxing. Please check out some great pictures below to see where you'll find you and your friend group next!
Kjelfossen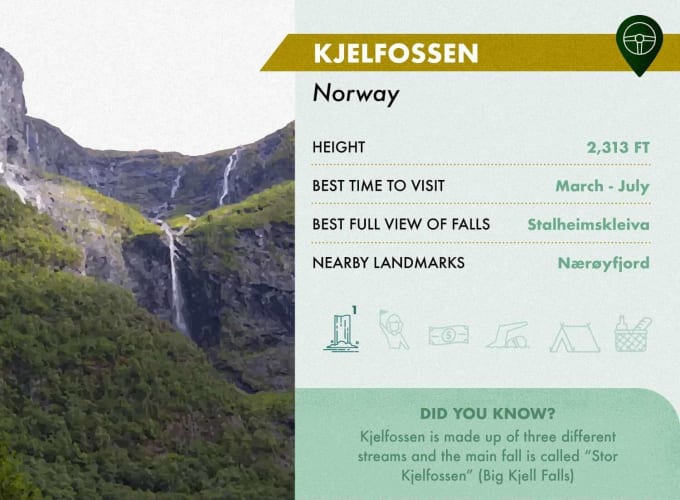 Norway has wonderful waterfalls and one so happens to stand at 2,313 feet (even though there have been some discrepancies regarding the exact height)! This waterfall is also comprised of three different streams. The main stream is "Stor Kjelfossen" (Big Kjell Falls) and the one adjacent to it is "Vetla" (Little). Visitors will get a clear view of Kjelfossen by heading down Northern Europe's steepest road, Stalheimskleiva. The best time to visit this waterfall is between March and July, and a train can even be taken to view this beauty!

Yosemite Falls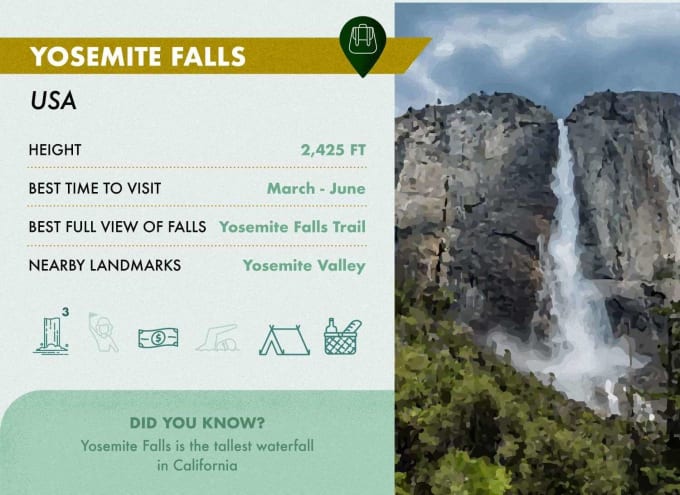 Yosemite National Park is generally very heavily traveled to, making Yosemite Falls one of the most traveled to waterfalls in the world. This waterfall is one of the tallest in the USA and very easily accessible to hikers willing to make the trek. There is a trail that leads to the falls known as the Yosemite Falls Trail. This trail is one of the older historic trails in the park and offers an up close view to the waterfall. The best time to view the waterfall is around late spring and early summer due to the water flow being larger at those times.
Gocta Cataracts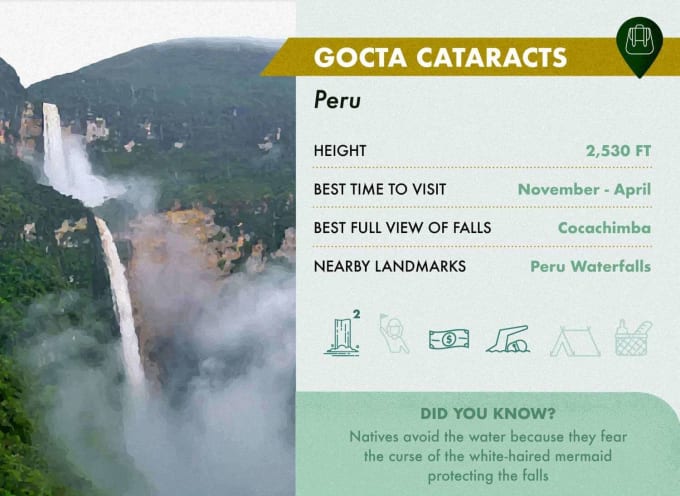 Did you know that natives will avoid the waters of Gocta Cataracts due to the fear that they will run into the white-haired mermaid who protects the falls and sets a curse on you? Even with this curse, you are most definitely allowed to swim freely in the waters… there'll just be more swimming room! The height of this waterfall stands at 2,530 ft—that's around 460 people stacked together. The best time to head over there will be between November and April. Nearby is the Peru Waterfalls which is a wondrous site as well, so if traveling to the Gocta Cataracts you can knock out seeing two waterfalls in one day!

Pu'uka'oku Falls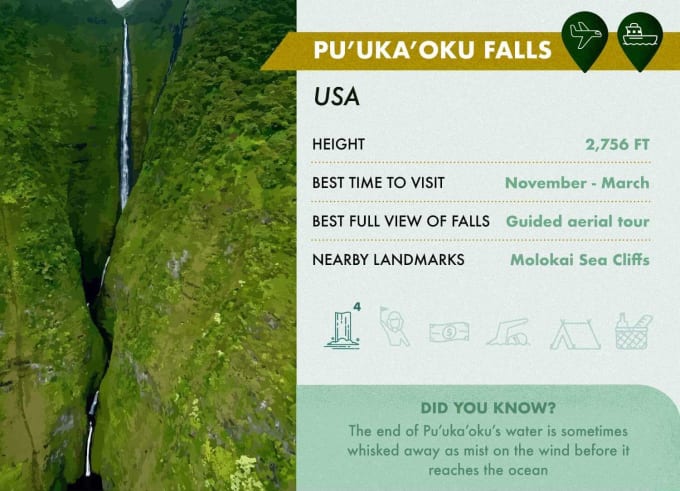 If you're looking to get tropical, head to Molokai, Hawaii to view this monstrously tall waterfall! Pu'uka'oku reaches 2,765 feet, marking it the third tallest waterfall in the world. The falls has four drops and is located right next to the Molokai sea cliffs. The waterfall is so tall that the waters of the falls (and neighboring waterfalls) do not actually meet with the ocean. Instead the waters are whisked away as mist in the winds. The best time to view these falls is between November and March and to get the best view, you may want to look into a guided aerial tour.
You can view the rest of the world's largest waterfalls below. Find out which waterfall you'd like to visit and see if you can plan a picnic or camping trip! Safe travels—we hope that you find this to be a great idea as a day out as well! 

Find the Rest of the 7 Largest Waterfalls in the World Here: