Wander is powered by Vocal creators. You support
Alan Russell
by reading, sharing and tipping stories...
more
Wander is powered by Vocal.
Vocal is a platform that provides storytelling tools and engaged communities for writers, musicians, filmmakers, podcasters, and other creators to get discovered and fund their creativity.
How does Vocal work?
Creators share their stories on Vocal's communities. In return, creators earn money when they are tipped and when their stories are read.
How do I join Vocal?
Vocal welcomes creators of all shapes and sizes. Join for free and start creating.
To learn more about Vocal, visit our resources.
Show less
Swanage - Dorset - England
Getting There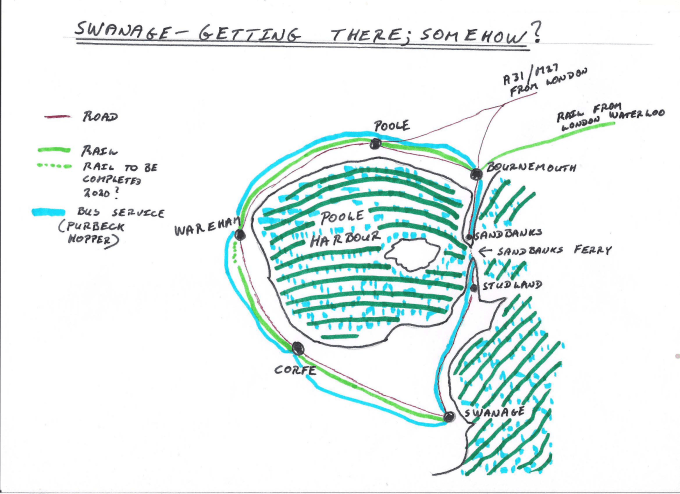 Swanage town is located on Britain's south coast and has been building its reputation as a traditional British seaside town since the era of the Victorians in the 19th century. Its unique position gives the visitor access to award an award winning sandy beach, the stunning Purbecks, the South West Coastal Path, and the world famous Jurassic Coast line.

The sandy beach stretches the length of the town's sea front and its promenade. Close to the town and where the central part of the town meets the sea are all the amenities a visitor would want: places to just sit and watch people or the coastal scenery, countless numbers of eateries offering something for almost any time of day, any budget, and any taste from that old British tradition of fish and chips, which are no longer served in old newspapers, through to high quality dining using ingredients sourced locally be that from the land or the sea.
Interested in going?  Well then, let's work out the options for any visitor.
By Road
There are two options for reaching Swanage by road.
Option 1
Reach either Poole or Bournemouth and follow the signs to Sandbanks and the Sandbanks Ferry. This is a chain link ferry service that lies across the narrow opening of Poole Harbour. Even though this crossing is less than ten minutes, once you reach the other side you will feel that you are in another country but without the hassle of customs or border controls. Out of the main holiday seasons in the UK, this route is a novel way to gain access to the Purbecks and reach Swanage. It is also 25 miles shorter than the other driving option.

Once you land at Shell Bay, which has not been named after an oil company, you will drive across Studland Heath and through Studland village. But if there is no need to rush, venture off the road into one of the many car parks signposted, park the car, and walk to the beach and admire the miles of clean soft sand forming an arc from Shell Bay to Studland.
Now you should really feel that you have arrived in the Isle of Purbeck.
The continuing drive will take you between fields reaching up to the tops of ever higher hills and at one point, you will cut through a wide crevice in the hills that will reveal the geology of this landscape. Half an hour, without stops, you will then descend into Swanage.
Avoid this route during the main holiday seasons as the Sandbanks ferry crossing is a serious choke point for traffic with queues, which the British are very good at forming, stretching along the road on either side of the crossing. Also, check with the ferry company out of season if the ferry is out of service for planned maintenance. (Sandbanks Ferry)
Option 2
This option will take you around the western edge of Poole Harbour, 25 miles longer than going via the Sandbanks Ferry but during the main holiday seasons reduces the risk of being stuck in traffic queues.

Aim towards Poole and pick up the signs for Dorchester and Weymouth. Near Lytchett Matravers pick up the signs for Holton Heath, Sandford and Wareham. This will put you on the right route for Swanage. The route between Poole and Wareham takes you through built up areas and woodlands so there is not much to see. From Wareham onward, you will then catch views to your left of Poole Harbour and teasing glimpses of the Purbeck Hills in front that lead to the sea and the Jurassic Coast line.
The route will take you through Corfe and its world famous Corfe Castle. From here it is only a short drive on to Swanage. This way into Swanage is not as spectacular as via Sandbanks but your patience over the extra 25 miles will be rewarded once you are able to park and start exploring the town.
Public Transport
Buses
Swanage is well connected by local bus services to Poole and Bournemouth. Try to catch the service known as "The Purbeck Breezer." This is a double decker bus service with open tops offering a hop on hop off service along its routes. In 2018, the price for a day ticket on this service was £8.80.

Your views from the top deck, providing it is not raining, will be even more spectacular than from the car or ground level from a layby. They will also be stress free as someone else is doing all the driving.
Trains
The South West Train service runs from London Waterloo through Bournemouth, Poole, Wareham and then on to Dorchester and Weymouth. Wareham is the nearest station to Swanage so you will have to leave the train here and transfer to the bus service, at the moment (late 2018).

This comment is qualified because at the time of writing rail lines do exist from Swanage to Wareham ready for use. In 2019, this branch line will undergo extensive testing to ensure its infrastructure is suitable for the modern electric diesel trains. Hopefully in 2020, passengers will then be able to travel all the way from London Waterloo to Swanage without having to transfer to buses at Wareham.
The line from Swanage to Norden is already operated by The Swanage Steam Railway and for train buffs is a must see and ride while you are staying in the area.
When buying a ticket at Waterloo, always go to the ticket counter and ask for prices for any special bargains. Quite often during the summer season it is possible to buy a £15 return ticket. The ticket machines on the platforms and online booking systems do not always offer these bargains. The normal weekend fare is £50.70 and during the week, off peak, is £59.70. Always ask and then ask again.
Summary
Whatever mode of transport you have used to reach Swanage, you have now arrived and can kick back for the rest of your visit, be it for a day only or for a short break. Relax and breathe.

We stayed for four nights during the week 17 to 21 September, 2018. We went there to switch off from everyday life, recharge our batteries, and learn that if you want to do nothing for a couple of hours that is fine. So, during our stay, we did not do a lot but there will be subsequent articles describing what we managed to do in between those spells of doing nothing.
I hope this article has been a useful introduction to a town and area we love and that the following articles will be just as useful if you are planning a trip.
Postcards from Swanage
Top left is looking north from the town to Ballard Point while top right is looking south to Peverill Point and showing part of the town next to the sea.