Wander is powered by Vocal creators. You support
Leigh-Ann Combrink
by reading, sharing and tipping stories...
more
Wander is powered by Vocal.
Vocal is a platform that provides storytelling tools and engaged communities for writers, musicians, filmmakers, podcasters, and other creators to get discovered and fund their creativity.
How does Vocal work?
Creators share their stories on Vocal's communities. In return, creators earn money when they are tipped and when their stories are read.
How do I join Vocal?
Vocal welcomes creators of all shapes and sizes. Join for free and start creating.
To learn more about Vocal, visit our resources.
Show less
Taking a Bite Out of The Big Apple
Travel mom visits New York: Advice and Tips...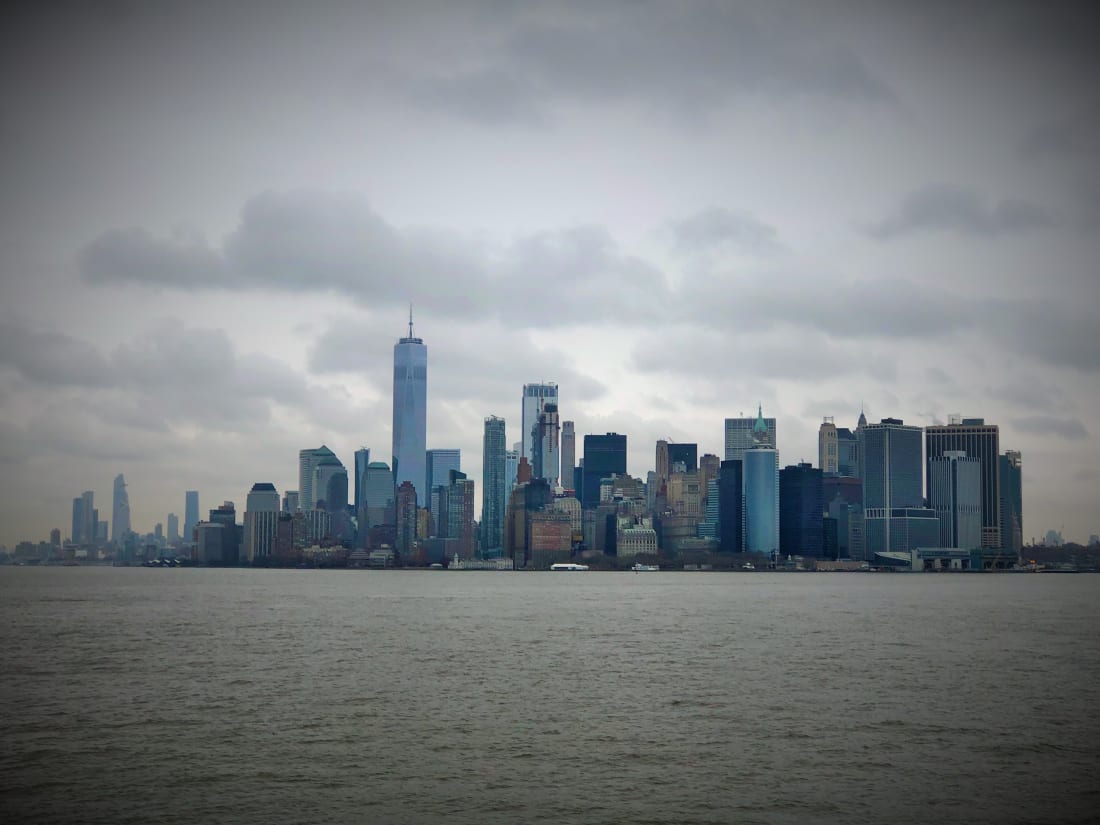 New York City has always held a deep fascination for me, a girl from a small coastal city in South Africa with no concept of skyscrapers or subway systems. What I knew of New York I learned from movies and TV shows, and believed the city to be glamorous, gritty, alive with possibilities, and heaving with people & cultures. Yet I wasn't to discover this for myself until this year, after many years of travelling around Africa, UK, and Europe. 
I'm a 40-year-old mom of two little kids, an African travel consultant living in South Africa. Here are some travel tips and advice based on my trip for first time travel to New York for the young at heart, but the more comfortable in body! 
For a South African, New York is incredibly expensive—there's no such thing as budget travel to the city. There are ways to be a little more careful with your money, but be prepared for big hits on the credit card, especially if you don't want to limit yourself in experiences. I'll go into that a little more shortly. 
During my trip I spent about two weeks in New York, with a break in between to visit Washington. I stayed in three different spots in Manhattan; one hotel and two AirBnb's, and used a combination of the subway, yellow cabs, and Ubers to get from place to place. It was January when I visited, during what was called the Polar Vortex, and I can tell you I've never experienced such cold! Will go into a little more detail on packing for a cold climate trip, for those who need advice. 
Let's start with getting around, especially from the airports. When you arrive at JFK, there is the option to take a yellow cab to Manhattan or take the subway. Most cabs have a fixed rate for transfers from JFK to Manhattan, so ask for this cost before you take a cab and see what best suits your budget. It'll be between 45 minutes and over an hour depending on traffic. 
The subway is more reasonable, but cumbersome if travelling with lots of luggage. First you take the Skytrain to the subway. There is a set fee for this and you pay for your ride after you exit. At the same time, you will buy your subway pass, and I'd recommend buying a pass that will cover you for as many days are you are in the city. It took a while for me to get proficient in purchasing subway tickets and refilling the cards, it's not a terribly simple process initially. Don't be afraid to ask for help the first few times, people are genuinely keen to help to move things along. Tip: check that your credit card or debit card is authorized for international use, or get an international travel card loaded with international currency. I barely used notes and coins during my stay, saved a lot of time just paying for things via credit or debit cards. Once you're on the subway, it is a long journey into Manhattan, and the train will fill up during rush hour. 
Just a side note—if you arrive or depart from LaGuardia there is no subway stop at the airport, but there is a bus that will shuttle you to a subway stop, and will take you straight into Manhattan. It's quite easy to navigate, but do ask for help if you need.

Getting around New York on a budget is going to be by foot or by subway, or bus if you take the time to figure it out. I didn't bother with the latter. As I said before, get a multi day pass to save on refilling your card often and save a little bit on your travel expenses. Understanding the subway routes themselves, well, this is another thing entirely. Routes are marked by letters and numbers. Some trains don't stop at all stations so you have to be super careful when arriving at any subway station on any route, checking uptown and downtown trains and making sure you enter the right station entrance for either. It's going to seem daunting and you might just want to give up, but think of it as a puzzle you will eventually get the hang of. I love this sort of thing and was navigating the subway like a champ within the first few days. But I could not have done it without the New York Subway app, which was terrific. It has offline capabilities, will plan your route and tell you where to go, and there is free wifi in most subway stations so you can navigate relatively easily. Just take some time, stand aside to let other commuters through, and plan your route. And do ask for help! New Yorkers are busy people, but they are a lot friendlier than you may think. 
Ubers are everywhere, and range in cost depending on where you go. I used them more at night when I was just too tired to navigate the subway, especially in areas where there weren't very many subway stops. It can be pricey, though, so check fares before you make the decision to book an Uber. Found them to be very safe and efficient—in fact, had one of the best Uber experience in my life in New York. Managed to get the Party Uber, and you'll know it if you get it too. 
Otherwise plan to walk a lot—sacrifice style for comfort as you will be spending a lot of time pounding the pavement. Save the heels for the nights out when you know you will be Ubering to and from. 
On this trip, I didn't visit the outer boroughs. Manhattan had enough to explore as it was and it was too damn cold to spend a lot of time walking out and about. I booked a hotel in Midtown West to begin, followed by an AirBnB apartment on the Upper East Side and then another AirBnB apartment near Soho. What you don't realize about New York hotels is that they are subject to a host of taxes and levies that will only be added to your booking once you have selected a room. So be prepared for a fair jump in cost from the cost of the hotel room to the final total. Having said that, I was far more comfortable staying at the hotel than I was at an AirBnB, which I'll talk about in a moment. In Midtown West, I stayed at the Hudson New York. Excellent location, close to a subway station and just on the tip of Central Park, well priced and comfortable. For extra space, book a twin room. 
On to the AirBnB's—Manhattan is not all AirBnB friendly. Most buildings do not want their tenants to rent out apartments for short term rentals. I was told on both occasions that we may be subject to questions from neighbours or officials and to state that we had booked and paid for a medium term stay. It was a little uncomfortable. Don't get me wrong, I love the AirBnB concept! But I think in Manhattan book your hotel, take the tax cost knock on the chin, and feel a lot more comfortable about your stay. Also, while I generally always prefer a kitchenette to enjoy the odd meal in, we didn't once bother so it wasn't as much of a necessity as I had thought. You eat out or on the go all the time. Also hotel check-ins can be FAR less complicated. Even if your room is not ready, at least you can store luggage while you wait. 
When I first started reading up about areas in New York to stay, I learned that most New Yorkers advise against staying in Midtown or near Times Square, that Upper East Side was an upmarket & relatively quiet neighbourhood, and that downtown near Soho was the vibey place to be. Of course I learned a lot more about all the areas before and during my visit, but these seemed to stick out for me. Midtown for some conference work I was doing, Upper East Side to explore Central Park, and the Museums and downtown for a bit of vibe. 
As it turned out I really enjoyed the central location of Midtown West, in particular my hotel The Hudson. It was not quiet, nowhere that I stayed was terribly quiet, but close enough to a host of subway stops and just a touch out of reach of the tackiness that is Times Square. 
Upper East Side is more suburban, if you can call anything in Manhattan suburban, with lots of apartments and families, and quite a few decent restaurants and shops to explore just from your doorstep. Not too many subway stops, though, so plan on walking quite a bit unless you are lucky in securing a spot next to a station. It was extremely cold which meant that walking Central Park turned into speed walking through Central Park just once. I can imagine this is a great place to stay in summer though, and just far enough away from Midtown to feel a little less claustrophobic. 
Soho was our biggest mistake—in our 20s, this would be heaven on earth! Bars open until early hours and jostling for space on all the streets, loads of people out and about and up for a party. But when you're 40 and sleep is prized above all, it was noisy and exhausting. If you are going to stay in this area, book a hotel with a lot of floors and stay up as high as you can, away from the constant street noise outside. 
As a travel consultant I recommend first searching for options on Booking.com and getting a range of hotels that you think would suit you, then visit their direct websites and compare the costs of going direct vs booking on a booking engine like Booking.com. I tend to book my stays direct with the hotels, purely to have a little more control over payment and cancellation. AirBnB options have some flexibility, so check your terms and conditions before you book. Some allow you to prepay a deposit with the balance on arrival, although their cancellation policies may vary from place to place. If you plan on using the subway, book a hotel with a close subway stop that has more than one or two lines running through it. Will help tremendously in moving about the city quicker. 
On to some brief packing tips for a trip to New York in the dead of winter! Coming from a warmer climate I was very nervous and must have repacked my bags several times over. Eventually I decided to pack my basics and buy anything else I needed in New York, should the need arise. It really didn't! My two staples were my down-filled mid-length lightweight jacket and my dressier long length grey coat. I used one for day time exploring and the other when I knew I'd be headed out to a fancier bar or restaurant. Even during a polar vortex and coming from a Sub Saharan climate, I never felt the need to wear thermals or heat generating gear, just heavier trousers or jeans and at least two layers under my jacket. It was still cold, but bearable and made life easier when you walked into any indoor venue with the heat cranked up! My absolute essentials were my leather gloves, my wool hat and a scarf to fend off the worst of the wind. Also an umbrella for the rainier days. I walked around all day in good quality mid calf leather boots and also my sneakers, saving my heeled boots for evenings where I knew I wouldn't be doing too much walking. The trick is to understand that if you need anything to make yourself more comfortable during your stay, it is available in the city. So rather pack only the essentials and pick up things along the way as you need. I bought a few more items of clothing because I wanted them, not because I needed them, and was glad of the extra space in my luggage to bring them home! For fancier evenings, I had one black blouse with black trousers that worked well in every setting. Guys may need to ditch the jeans for evenings out, but only if you really are looking to drop loads of $ on the more upmarket places. 
Enjoy your time in this incredible city! Spend the money to go up to as many viewpoints as you can—The One World, Top of the Rock, Empire State. Who knows  when you will be back? Take the free ferry to Staten Island to get the view in the pic attached, and then turn around and jump on the free ferry back and get a look at the awesome Statue of Liberty. Before paying the huge fees to visit the art museums, including the Guggenheim, check that all exhibits are open. It sucks to pay full ticket price and the important exhibits are closed, happened to me twice. Go have lunch at the Chelsea Market, walk the Skyline, go smash a pastrami sandwich at Katz (share it, it's a monster) and walk until you feel your feet will fall off. And a cool albeit expensive thing to do—go find the Lids store near Times Square, choose a NY Yankees baseball cap, and have it embroidered as a keepsake. I put our family name on the back and gifted it to my dad. He is super proud of it. 
Safe travels, until next time...