Wander is powered by Vocal creators. You support
Rasma Raisters
by reading, sharing and tipping stories...
more
Wander is powered by Vocal.
Vocal is a platform that provides storytelling tools and engaged communities for writers, musicians, filmmakers, podcasters, and other creators to get discovered and fund their creativity.
How does Vocal work?
Creators share their stories on Vocal's communities. In return, creators earn money when they are tipped and when their stories are read.
How do I join Vocal?
Vocal welcomes creators of all shapes and sizes. Join for free and start creating.
To learn more about Vocal, visit our resources.
Show less
The Beauty of Sigulda
The Gauja River flows through the lovely valley.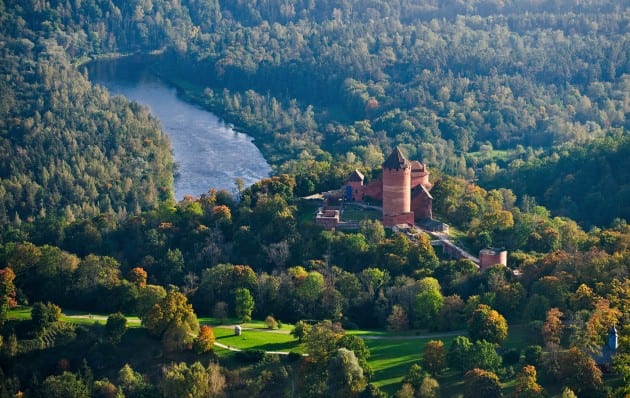 The History of Sigulda
Sigulda's inhabitants can be traced back as far as the 2nd century B.C. as they settled here and hunted, fished, and bred domestic animals. Settlers known as Livi have been in the Sigulda Region since around the 11th century. One can still see the ancient decorations they once made which show that the Livi lived on both banks of the Gauja. When in the 13th century Christianity bearers appeared, they took over the Livi settlements. In medieval documents, one can see the town referred to as Segewold instead of Sigulda. Up until the end of the 16th century, Sigulda Castle was under the rule of the Livonia Order and a small town was set up by the castle whose inhabitants were mostly craftsmen and merchants. Wars came along and the Sigulda Castle and town got destroyed during the time of the Polish-Swedish War.
Sigulda started to become prosperous when in 1889 opened up the Riga – Valka Railway Line and made it easy to reach the area. Soon, those who owned the castle manor began to sell the land around and about the railway station so that people could build summer cottages. The street built was Sveices, or Swiss Street, and the Hotel Segewold opened up near the station. It was in 1928 on February 25th that Sigulda got its town rights. Once again, war loomed, and during WWII, the beautifully built and interesting railway station circa 1925 was destroyed and along with it the bridge over the Gauja, built in 1937. It was after the war in 1953 that Krimulda and Turaida were annexed to Sigulda and the administrative center of the Gauja National Park which was founded in 1973 was established in Sigulda on Baznicas or Church Street.
The Gauja National Park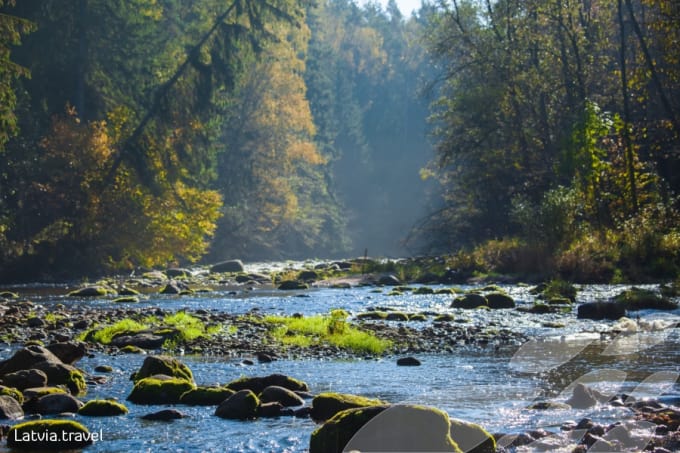 There are many interesting sights to see within the Gauja National Park, which is the biggest and oldest national park in Latvia. It was established on September 14th, 1973. The park is very large and encompassed in its territory are three towns: Sigulda, Cesis, and Ligatne. 
Gutman Cave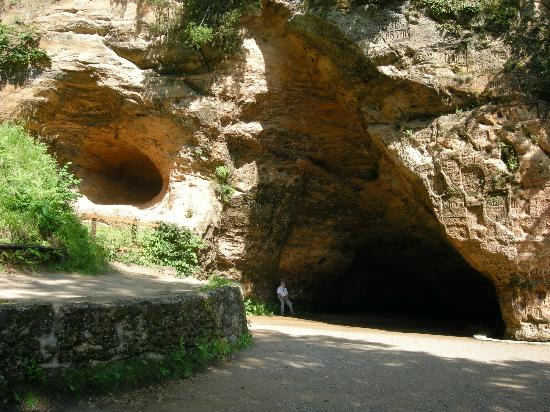 Gutman Cave is the biggest internal erosion cave in all of the Baltic States. Its formation began before 10,000 years. After the Ice Age was over, water streams gnawed their way through the sandstone rock. 
The Devil's Cave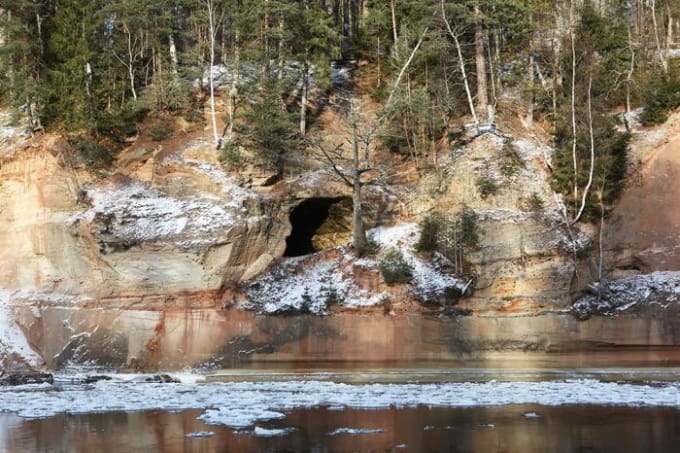 Velnala or Devil's Cave – also came into being before 10,000 years. The gate which leads into the cave is located eight meters above the Gauja. This is an old cult site which is associated with many ancient legends and tales. 
Daudi Waterfall
Daudi Waterfall is the third biggest waterfall in Latvia at a height of 2, 4 m, and a width of 1, 5 – 2, 5 m.
Painter's Hill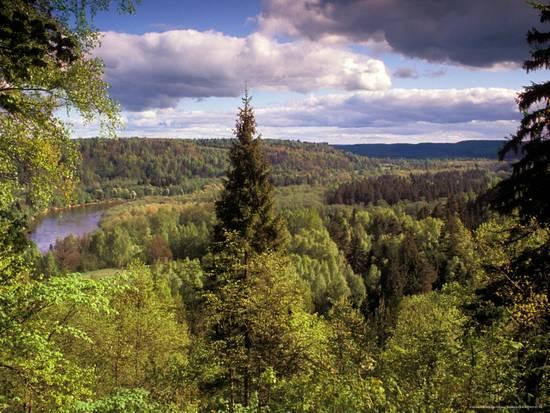 Painters' Hill – so named for the lovely sight that unfolds toward the Gauja primeval valley and the river itself some 80 m below this hill.
Emperor's Chair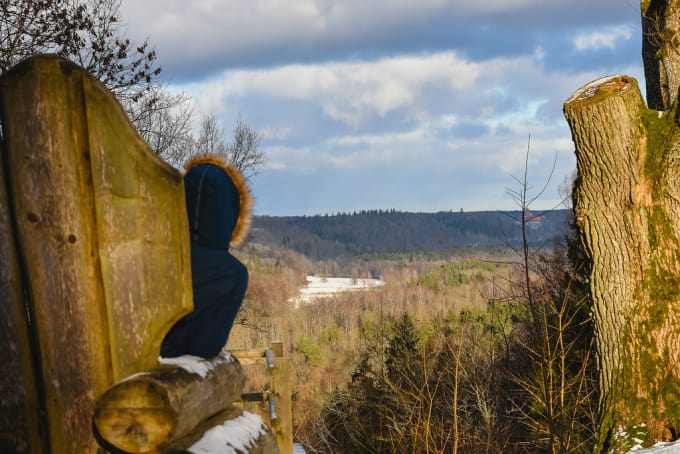 Emperor's Chair – It was in 2001 that this incredibly huge wooden chair was placed here for sitting and viewing the Gauja and primeval valley. It was named the Emperor's Chair because these sights are connected with Russian Czar Alexander II who came here in 1862 and was impressed by what he saw. The chair was made by Latvian artist Harijs Zemitis.
Sigulda Medieval Castle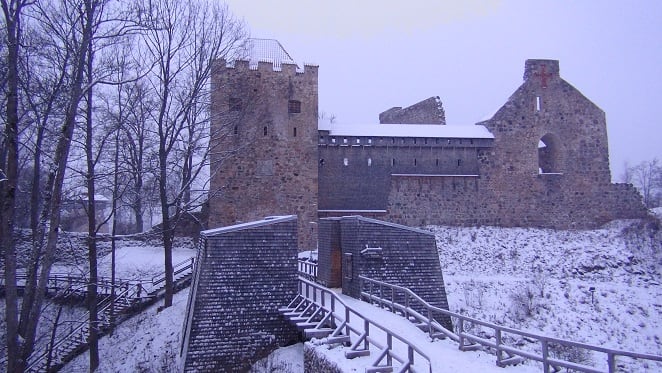 Castles and Manors
Medieval Sigulda Castle – Now in ruins, it was built in 1207 by the Order of the Brethren of the Sword Master Venno. It was a "Castellum" type of fortress which has a chapel. All that can be seen of this castle today is the south-western part of the convent building with Gothic window apertures and the main gate tower.
Sigulda New Castle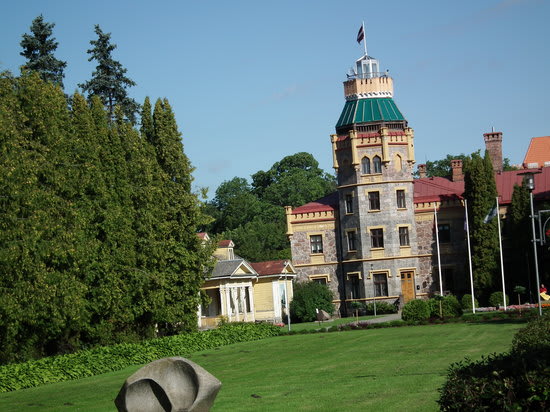 Sigulda New Castle is located at Pils or Castle Street 16. It was built from 1878 to 1881 by manor owners Kropotkins. After WWI the castle was used as the Writers and Journalists Recreation House and it was reconstructed from 1935 to 1937. Many famous Latvian artists have done work to the interior. After WWII, one could find the U.S.S.R. Health Ministry Sanatorium in the castle. Now it is occupied by the Sigulda Regional Council. 
Turaida Medieval Castle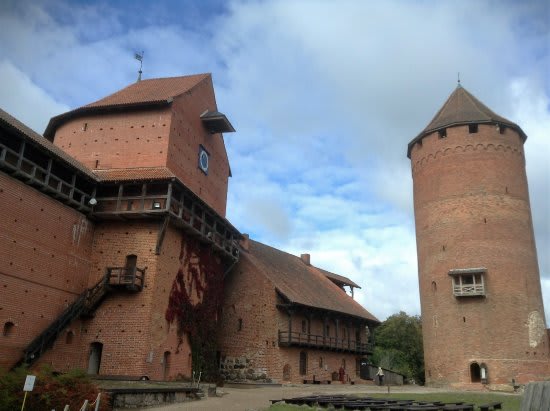 Turaida Medieval Castle was built in 1214 and was constantly added to and expanded until the 16th century. It was one of Riga's Archbishops' residences. There was a fire at the castle in 1776 and afterward, it was not renovated. Now many tourists visit the ruins and since a sight area in the big round tower was built in 1936 and more restoration was done later on, tourists can climb up to the top of the tower to get spectacular views of the Gauja and the entire national park. In the halls of the castle are expositions about its history and epoch events.
Turaida Manor Buildings
Turaida Manor was developed next to the castle in the 18th and 19th centuries. Now tourists can see the household buildings like the stewards' living houses, cattle shed, fish cellar, barn, servants' house, and bath-house,zs2d among others. There is a working blacksmith works and tourists can take a horse and buggy ride. 
Krimulda Medieval Castle Ruins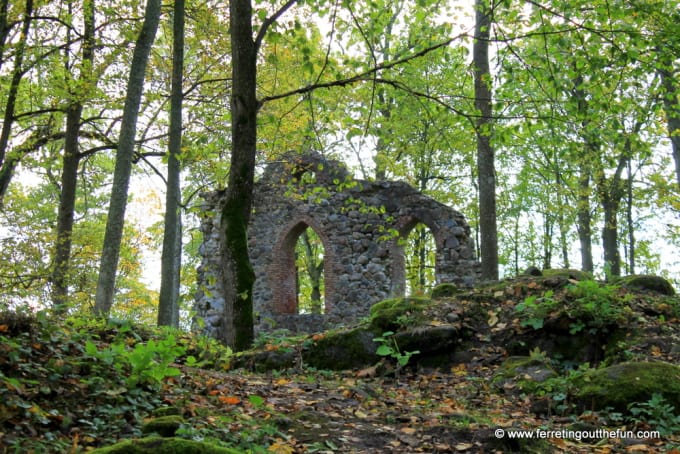 Krimulda Medieval Castle was primarily built for the needs of Riga Archbishop's Senate – Parsons' Council seen in writings as early as 1312. It was noted in 1582 that this castle was good as a fortress as it was surrounded by deep ravines. There was a drawbridge surrounded by two watchtowers and thick walls. Today one can still see a fragment of these walls. 
Krimulda Manor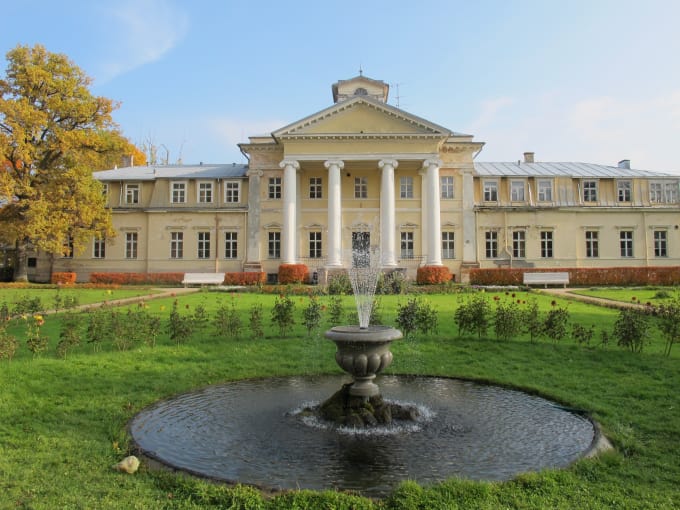 Krimulda Manor is located in a lovely place on the right bank of the Gauja. It was built around 1848 for Prince Livens. The manor itself overlooks the primeval valley of the river. It was after WWI that the manor was used by the Latvian Red Cross and a sanatorium was established here. Today the manor is known as the Rehabilitation Centre "Krimulda".
Birini Castle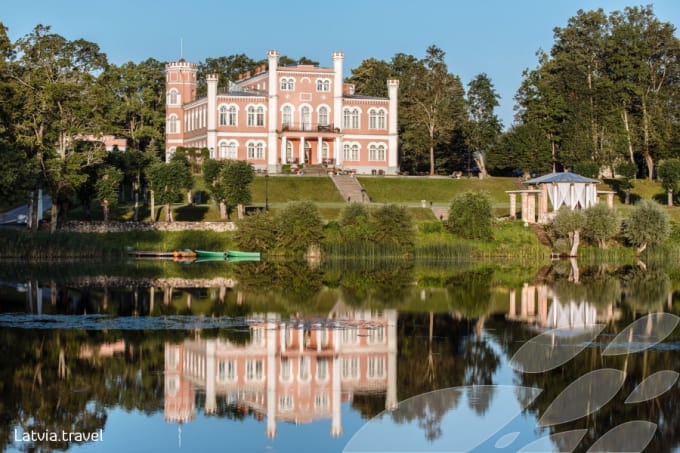 Birini Castle is located in the midst of a spectacularly lovely park which has several lakes. The castle is now a hotel which has a restaurant and the possibility of renting out for weddings and lectures. There is also a sauna, horse, and bike riding available, and one can row on the lakes. This lovely and romantic castle also comes complete with a ghost and a ghostly tale. At one time, Alexander and Eleanor Pistolkorss had a daughter and two sons. Their eldest son, Erik, was very sociable and enjoyed partying while his brother Max participated in things like Army maneuvers. Oddly enough, his family received a tragic message on May 12, 1911, that Max had committed suicide. Erik was so shocked by this turn of events that he fell into depression. It was his family and the peaceful aura of Birini that saved him. At the time that Erik needed help, his sister Renate's maid, who was a very lovely girl, took care of him while he was ill. As time passed, the two young people became very close and eventually Erik made the announcement that he wished to marry the servant girl.
Erik's mother was horrified to think of her son marrying a girl from the lower classes and decided to fight against her using lies and treachery. When Erik traveled from the castle, his mother made up a counterfeit letter supposedly written by Erik before his departure saying that he had decided to marry a girl of his own class. What the mother didn't know was that the servant girl was pregnant. When she had read the letter, she hung herself in one of the rooms within the castle. Returning to the castle and discovering this tragedy drove Erik out of his mind. Thus in the winter of 1912, Erik shot himself in the manor park. Now on full moon nights, it appears that the servant girl's ghost wanders about the castle looking for her lost love. 
The White Grand Piano Art School and Concert Hall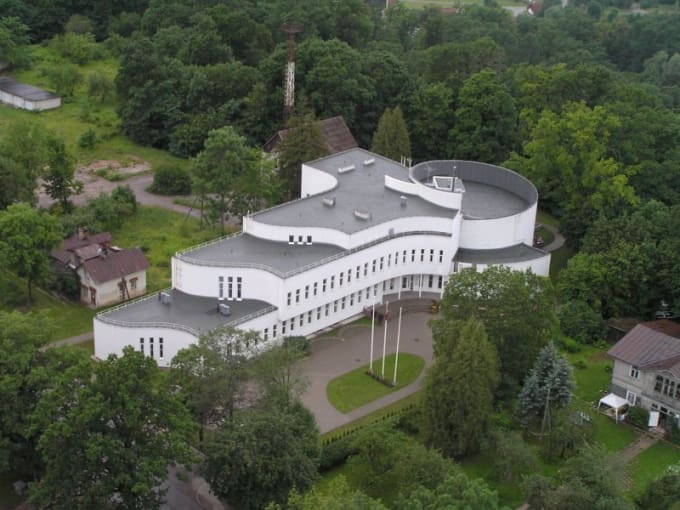 Other Objects of Interest
The White Grand Piano Art School and Concert Hall is located on Sveices or Swiss Street 19 in Sigulda. It was founded in May 2001 and was designed to remind one of a grand piano. It is situated on the Gauja and has both art and music students. There are 7,989 books in the Sigulda Children's Library in this building. The concert hall has 250 seats and many world renowned artists have performed here. Every year at the end of June the international festival Kremerata Baltica takes place here. 
Folksong Hill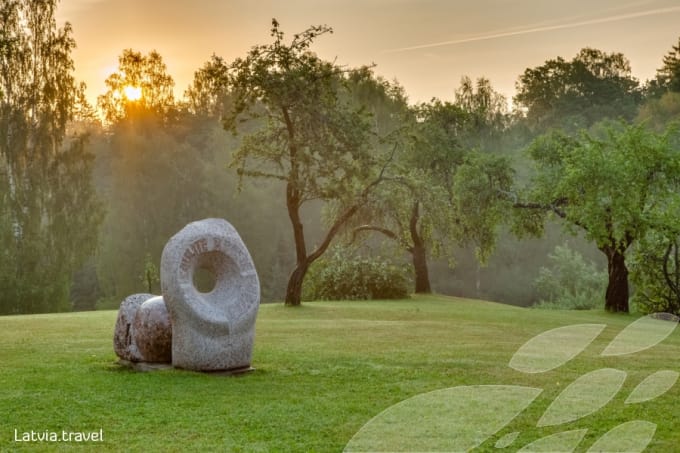 Dainu, or Folksong Hill, is located in Turaida. A Daina is a Latvian folk song. This hill and sculpture garden was dedicated to Latvian folklore and was established in 1985 in honor of Krisjanis Barons who collected and systemized folksongs. He was also known as the "Father of the Dainas." When political changes occurred during the U.S.S.R. occupation, Dainu Hill became the symbol of national independence. Altogether there are 25 sculptures on display and they express poetry of Dainas – symbolizing universally recognized values – love, honor, caring for people, and nature. 
Walking Stick Park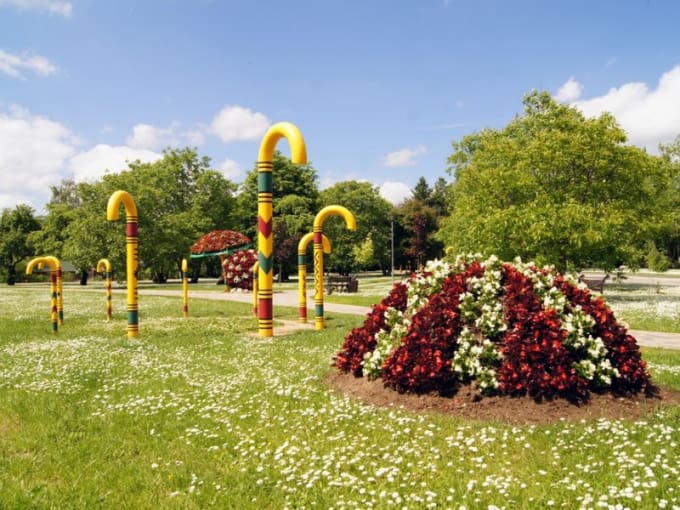 Walking Stick Park is located at the intersection of Cesu and Poruka Streets. This walking stick became popular more than 200 years ago. These sticks are now sold as souvenirs and were made to help tourists walking around the area and taking in all the sights, climbing hills, and so on. There are many different sized Sigulda Walking Sticks available and they are extremely popular.

Panorama Wheel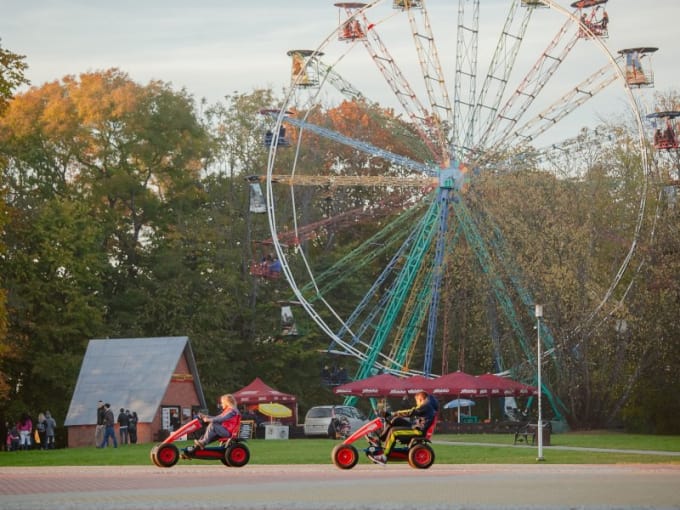 To see the area all around in Sigulda, take the time to ride the Panorama Wheel.