Wander is powered by Vocal creators. You support
Jordan Outside
by reading, sharing and tipping stories...
more
Wander is powered by Vocal.
Vocal is a platform that provides storytelling tools and engaged communities for writers, musicians, filmmakers, podcasters, and other creators to get discovered and fund their creativity.
How does Vocal work?
Creators share their stories on Vocal's communities. In return, creators earn money when they are tipped and when their stories are read.
How do I join Vocal?
Vocal welcomes creators of all shapes and sizes. Join for free and start creating.
To learn more about Vocal, visit our resources.
Show less
The Flying Dutchman Zip Line
Don't miss going on the highest zip line in the world while on the tropical island of St. Maarten!
I finally got to visit the tropical island of St. Maarten. This island has a Dutch side and a French side. Although this island is divided into two, you can travel back and forth without having to go through border crossings. 
The Flying Dutchman Zip Line is located on the Dutch side of the island and is run by Rainforest Adventures and is located at Rockland Estates. 
The Flying Dutchman is the world's steepest zip line. You take a chairlift to the top of Sentry Hill, St. Maarten's highest point on the island, and then you drop 1,050 feet reaching speeds up to 56 miles per hour!
This excursion came with more than just riding the Flying Dutchman Zip Line. We got to go on three rides.
Ride 1 of 3: The Schooner Ride
We were directed to the chair lifts that would take us up part of the mountain to the Schooner ride. This ride has tubes that you ride down a hard plastic/rubberized track. Here's an aerial view I got from the zip line.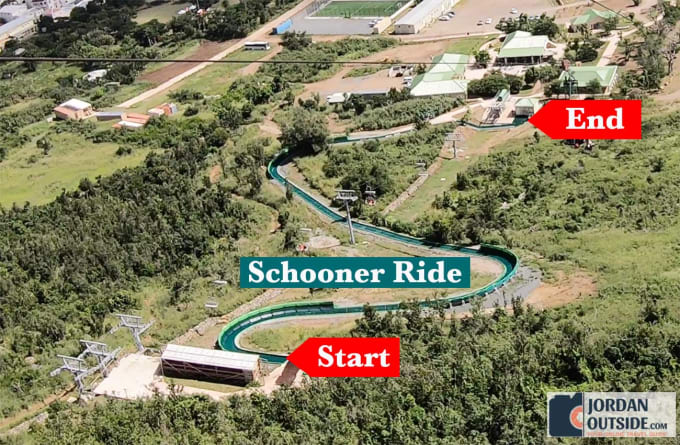 We got to ride the schooner ride twice. It goes a lot faster than you'd think, but it was sooo much fun!
Then we got back on the chair lift and went up higher on the mountain to the next station.
Ride 2 of 3: The Sentry Hill Canopy Zip Line
There are a total of four zip lines. Each zip line takes you across this beautiful ravine. The last zip line had my favorite view of the airport and airport beach. After going on all four zip lines, we got on the last chair lift that takes you to the top of Sentry Hill.

Ride 3 of 3: The Flying Dutchman Zip Line
As you reach the top of Sentry Hill, the views are amazing! Here's a view from the deck at the top.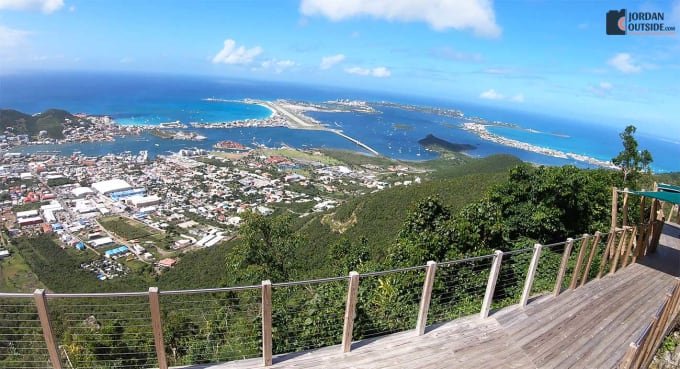 Once we hung out at the top for a bit, we went over to get harnessed in to ride the main attraction, The Flying Dutchman Zip Line!
I have a big fear of heights and so far I was actually having a great time. When I walked over to get strapped in at the top, I have to admit that I was freaking out on the inside. Once they got me strapped in, they opened the gate and asked if we were ready? Of course I said no, but they let us go anyway. The first few seconds you feel the drop, but then it evens out and you are flying down the side of a tropical mountain at amazing speeds!
My fear of heights went away as I took in the amazing views and just enjoyed the ride. They have an awesome braking system at the bottom that allows you to stop without a harsh stop.
Here I am holding on for dear life the first few seconds!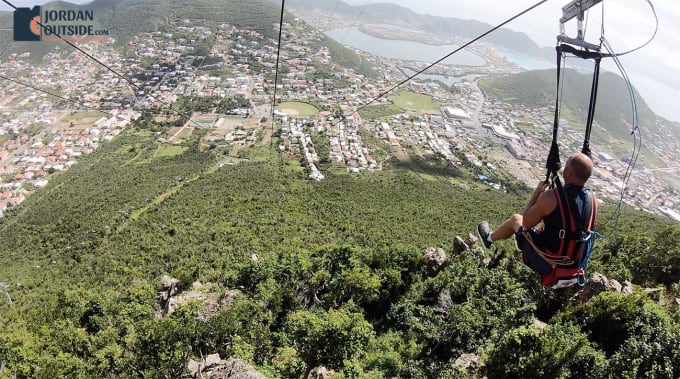 Julie absolutely loved the Flying Dutchman!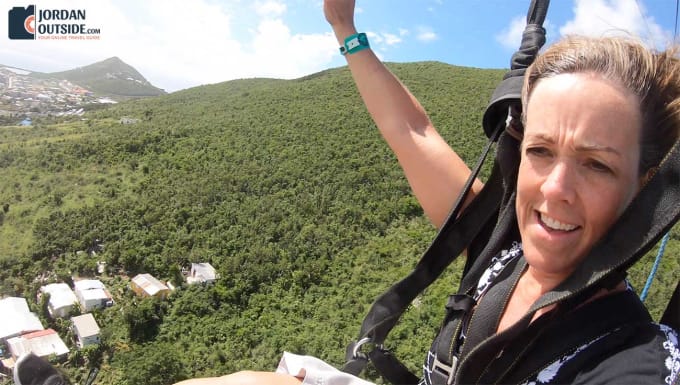 Overall, this was an amazing experience. If you are looking for a fun experience on your next vacation, plan a trip to the island of St. Maarten and experience The Flying Dutchman Zip Line for yourself!