The Joys of Hiking
Hiking Granite Mountain, WA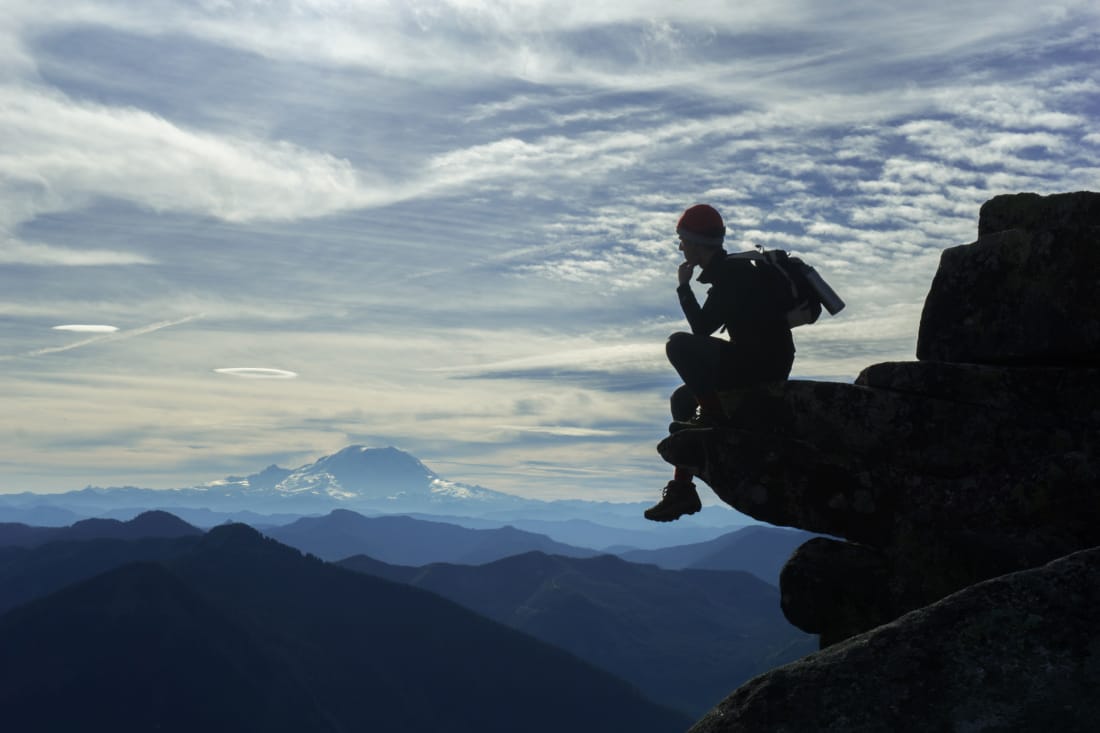 In Washington, it tends to rain a lot. So one weekend in the fall, the forecast said it was going to be sunny, and I had to take advantage of that. I invited some friends and we went to Granite Mountain. Granite Mountain is a relatively difficult hike that ends in a pretty fun scramble. The whole way up, it was basically an unspoken race between me and two of my friends.
As we got out of the trees and into the meadow, we took a pretty long "break." Basically, we found a rock and admired the view for about 30 minutes, and this wasn't even the top. We could see the rolling hills of the cascades south of I-90, Mount Rainier in all its glory, and Little Tahoma Peak just behind. After a good amount of time, we continued up the rocky scramble.
This was my fist scramble I've ever done, and it was amazing. I loved to run up these massive boulders and leap between the gaps using all four limbs to navigate even faster. As we were nearing the top, I saw Tyson sitting on an overhang looking out in the distance. The best part about this picture I took, was that none of it was set up, the photo is 100% real. The best part about it is that he was unsuccessful at climbing Mount Rainier earlier that year. I like to think that he was dreaming of climbing it again and making it to the top.
We got to the top—I ended up not getting there first, but I didn't care since it was all about enjoying the hike. It was still fun though having a little race to the top. It was extremely windy, so I naturally set up hammock under the fire lookout. The views from the top were even better than the meadows. Behind us was the start of Northern Cascades, the jagged snow capped peaks were in the distance and captivated my attention while I was at the top. We didn't stay that long up there due to how cold and windy it was. After a few more pictures we decided to head back down. We ended up staying longer in the meadows just below the fire lookout than we actually did at the lookout.
At this point, the sun was already getting fairly low in the sky, but the view was so incredible that we just kept sitting there and taking it all in. It started as a joke of not leaving, but extended for about an hour until it was getting dark. The view only got better and better. With the sun setting, giving everything that golden hour glow. The small pond had an amazing reflection of the sun, with lush green meadows all around. During that time, I felt great. Justin brought his camera on this hike, and was enjoying taking tons of pictures.
We didn't have service at all during the hike. None of us were sure if our families were worrying about where we were or not. By the time we got back to the car it got really dark, and we finally got service back. Tyson's parents just called to check in.
Granite Mountain is one of my favorite hikes in Washington, it might be because of the view, or the good memories I had from that hike. Either way it's extremely important that you find a hike that you can do multiple times and never get bored of with some great friends. Being in nature on a mountain with my friends and an amazing view during sunset. Nothing can beat that.
Watching the Sunrise at Granite Mountain