The Skydive
Bucket List Adventures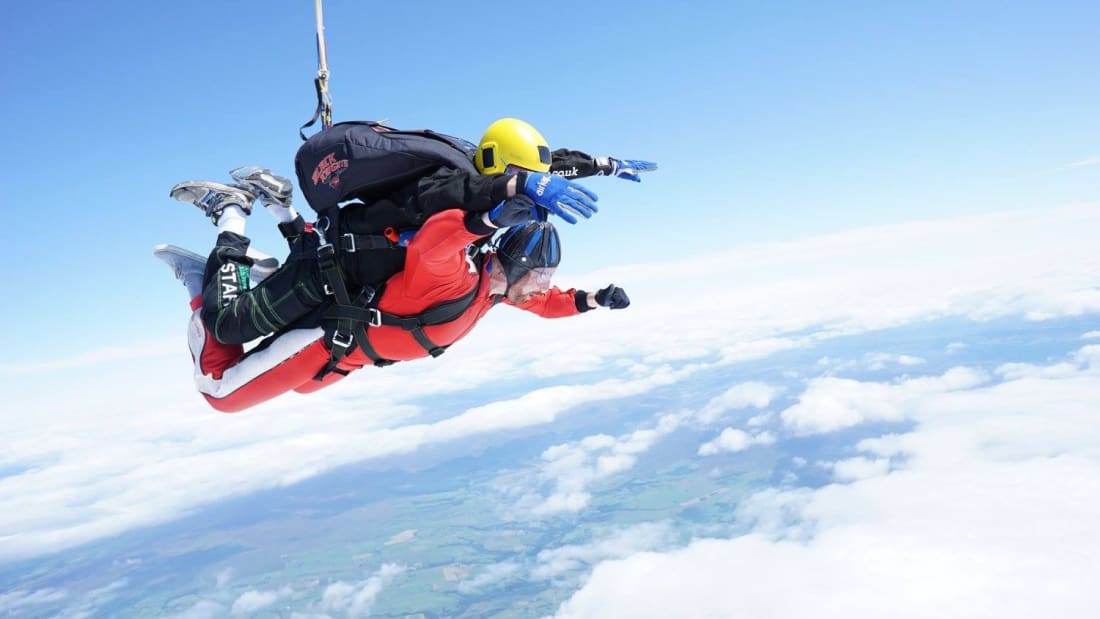 As you know I have a bucket list, this list has been created to help me break out of my comfort zone, to have adventures and to live, rather than just get by.
Each time I tick something off the bucket list, I'll blog about it; in the hopes of reaching out and inspiring people just like you. Inspiring you to chase your dreams, no matter how big or small they may seem, to go out there and show this world what you're made of.
If I was to say to you, think of something that's on your bucket list, that you've never gotten around to doing. Close your eyes and think deeply about it; the experience, your surroundings, and the atmosphere, does the thought of it give you feelings of excitement and fear all at the same time? If so, then do it. Don't think about all the obstacles that can get in the way, plan how you can achieve it and just do it.
As I explained in my previous blog, when my twin brother James passed away from a sudden heart condition, it's awakened something inside of me; to take risks, to have new experiences, to help people and to go out there and do the things that I'm afraid to do, so I blew the dust off the bucket list and started planning.
Today's blog is all about skydiving for charity. I know that skydiving is on many peoples bucket lists, here is my own personal experience, from the planning stage, to the dive. I mean, who wouldn't want to dive out of a small aircraft from 11,000ft in the air, reaching speeds of 125mph?
First, I needed to book the dive, after searching online for a while and reading reviews, I decided to book a tandem skydive with Black Knights Parachute Centre, they're based in Lancashire, England. Black Knights where very professional and answered all of my questions and queries throughout the whole process.
Next, was to choose a charity that I'd like to fundraise for. I searched for different charities on the internet and stumbled upon Make a Wish Foundation, they stood out to me from the beginning and I knew that I wanted to help them. Make A Wish Foundation grants magical wishes to help enrich the lives of children fighting life-threatening conditions. I contacted the charity and they were delighted about the idea, I was even sent supportive emails leading up to the day and a fundraising T-shirt through the post.
Over the next few weeks I set up a charity fundraiser page and shared my story to help with the fundraising. My friends, family, work colleagues, employer and even strangers donated to the cause. The local press then wrote an article about what I was doing in a final aim to gain supporters for the big day.
As the day of the dive was fast approaching, I began to feel all different types of emotions, fear, excitement, nerves and my adrenaline was pumping just at the thought of jumping into complete nothing/everythingness.
After a couple of rearranged dive dates due to bad weather, the day is finally here, the day where I break out of my comfort zone, take part in an extreme sport and tick something awesome off the bucketlist.
It's 5am and my alarm clock goes off, my alarm usually sounds like a loud beeping noise, but today all I can hear is…skydive, skydive, skydive, until I jump out of bed, shower, grab a coffee and some fruit for breakfast, my Sister and her boyfriend Alex pick me up and we head out to the airfield, they start asking many questions… are you nervous? looking forward to it? And stating that they wouldn't be able to do anything like this, which adds to my nerves. In my head there is no way that I'm not going ahead with this, I owe it to the charity to hold up my end of the bargain, this world is going to see that I am living on the wild side, that I am reaching for my dreams and that I have a little extra in front of my ordinary.
A couple of hours travelling and we're nearly there, we exit the motorway and travel down some long winding country roads; surrounded by rolling fields, farmhouses and stunning views, it's beautiful. We then follow signs for Black Knights Parachute Centre. After 10 minutes, we've reached our destination, my heart is pounding by this point, my sister and Alex are nervous for me, I head for reception, fill out some forms and check myself in. Afterwards, I'm asked to sit in the waiting area were there's a small café serving breakfast, snacks and hot drinks. There's about 5 other groups of people who look just as nervous as I do, so I start talking to them individually to see how they're all feeling. All of the chatting seems to bring back the feelings of excitement, I'm ready, let's do it.
As I look out of the window I can see the plane arriving in a nearby field, everybody rushes to the window to look at this small but awesome looking aircraft.
Some of our names are then called over the tannoy, mine included. We head outside and are escorted into the training room. After watching a safety video, the group and I then have the opportunity to ask any questions that we may have, we're given our overalls, safety hat, goggles and gloves and we practice the landing, whilst being strapped into harnesses. I start giggling with the group to hide my nerves. We head outside and are split into two groups, I'm in group number two. I've paid a little bit extra to have the experience recorded and photographed. The cameraman/photographer takes me aside, starts the filming and asks me questions about how I'm feeling and how much I've raised for Make A Wish Foundation.
After this, group one is called to take to the skies. Everybody else waits, watching in awe; they look so high up just like little ants in the sky, we begin to see these little blips of people at different intervals descending towards us, the parachutes open and group one begins to land, one by one. Wow, each one of them look thrilled, in a daze and happy to be alive. Group one now returns to their friends and family and are congratulated with cheers and smiles.
The wind starts to pick up, myself and the rest of group two are asked to go to the waiting room until the weather is a little better. After about an hour, but what seems like forever, we hear over the tannoy "group two can you please make your way outside." Emma and Alex wish me well and we head outside. My instructor is a funny man, full of jokes and sarcasm. He gives a quick recap of the safety briefing and we walk towards the plane, whilst also being photographed and filmed along the way.
It's finally time, we all board the plane. The engine starts and the propellers are rapidly moving, just as my heartbeat is, too. We head down the runway in the rickety aircraft, I begin to speak to the girl next to me to calm the nerves and we have lift off. The cameraman begins filming again, asking how I'm feeling as we reach the different heights, 5,000 feet, 8,000, 10,000, the door opens as we reach 11,000 feet, which fills me with terror and extreme rushes of adrenaline.
I'm the first to jump, the instructor and I are strapped to each other and we begin to shuffle towards the open door, I hang my legs outside of the aircraft, tilt my head back to form an arch shape, my life is literally flashing before my eyes by this point. One, two, three and we dive, wow, I'm travelling so fast, but it also feels like slow motion because of the friction from the wind, gravity really does exist and it's showing its full power.
My instructor taps me on the shoulder to signal that I can put my arms out, like wings soaring through the sky, I then give the cameraman a wave, he's also jumped to film this awesome activity. The views are out of this world, I can see for miles and miles. It feels just like in my dreams, where I'm flying through the sky, but with real sensations.
A little longer and the parachute deploys as we prepare to land, we land safely and I can see all the spectators nearby cheering us on. I'm alive, I survived.
The whole experience is over in minutes, but the memories will last forever. I can almost feel my comfort zone growing, what an amazing experience.
Black Knights then hand over a certificate and we head home.
The grand total raised for Make A Wish Foundation is £555.00. Thank you everybody for your help and support.
Remember, there is never a right time to chase your dreams, plan a little and live a lot.
If you enjoyed reading this, it's inspired you or you can relate to it, please give my page a like and share.
All questions and comments welcomed.
Until the next adventure, peace out.