Up and Coming Camps at Burning Man
Feel at Home on the Playa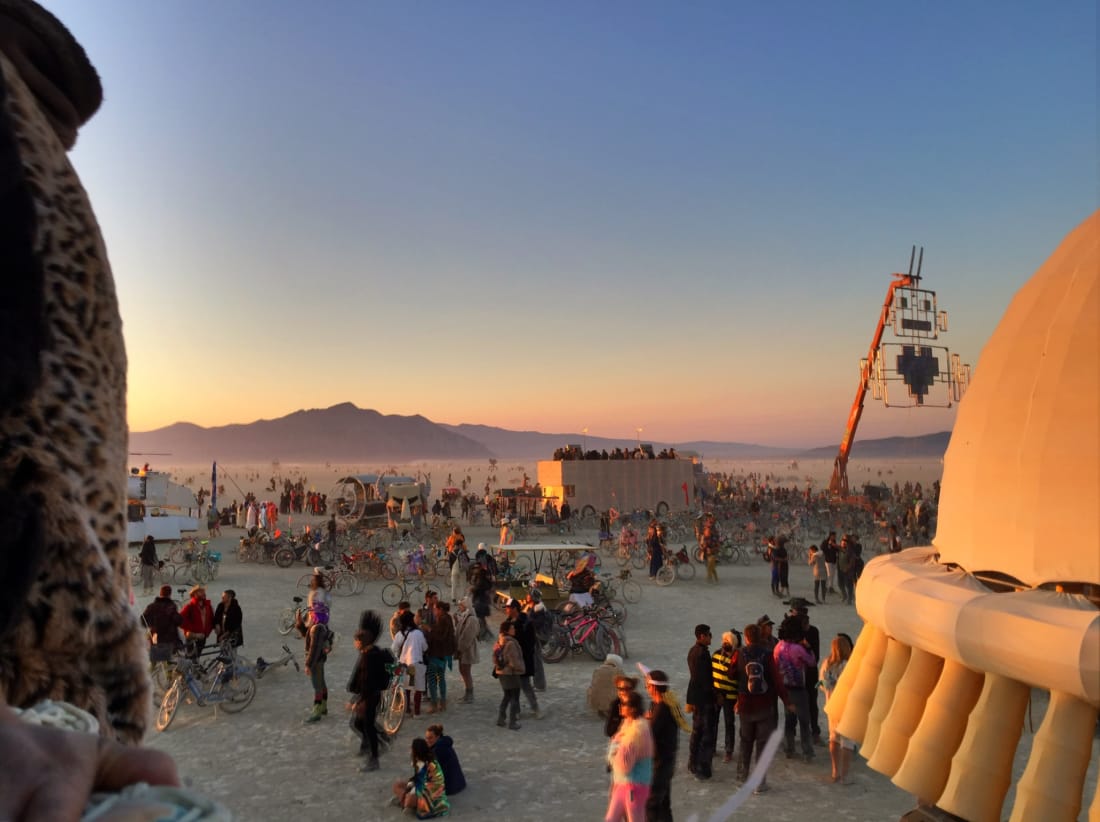 Upon arriving at the gates of Burning Man, if it's your first time or your twentieth you'll always be greeted the same: "Welcome home!" For first timers this will be the moment to get out of your vehicle, finally stretch your legs, and promptly roll around in the dust, baptized in what will be your new home. Freshly dusted, equipped with your map and guide, it's time to slow roll down one of the main streets to where camp will be. After the gravity of where you are sets in, you've unpacked and oriented yourself it's time to venture out. Perhaps on foot, probably on a bike to check out the neighborhood and the playa. Exploring the labyrinth of streets, alleyways, villages, camps and everything in-between can be overwhelming for even the grizzled vets of Burning Man. This year being my sixth year on the playa I found a couple camps who eased that excitement, gave me a place to chill and most of all, knew how to party. These are my two up and coming Burning Man Camps you need to find next year.
NuTz
NuTz has been around for about 10 years an LA Based camp known for their sunrise danceparties where new DJ's rotate every hour to bring the continual intoxicating vibes that will not allow you to leave the dance floor once you've found it. The DJs are primarily comprised of camp mates and seem to share a vision for the vibe of the camp. The dance floor in 2017 was well defined, complete with areas to hang out around the edges and a DJ booth right down eye level with anyone dancing. You could give them hand hugs right over the DJ booth if you felt the need. Believe me, when you've found this place you know it. The music seeps into your brain right through you heart and won't let go of you. Everyone dancing seems to have the same feeling, "Are we getting away with something!?" The smiles are bright and the crew at NuTz keeps you happy by making the rounds through the party with snacks and drinks. Before you know it it's noon the next day and your camp mates might be worried. All you have to say is, "We were at NuTz." Enough said. Located on Esplanade somewhere, they won't be hard to find if you're trolling for a party late night style.

Zen As Fuck
Who are these freaks?! Fresno, CA based ZAF has been around for about seven years. They have two art cars. One is a small version of the other one. They are both tiki themed party cars with respectable flair. These people are, to me, what Burning Man is all about. No sponsorships, no overly rich overlords, just a family of people giving what they can to build a camp with a great vibe. And that vibe is kinda all over the place. They're a little messy, they leave camp at weird times, and your guess is as good as mine as to what they'll be doing at camp when you show up. In 2017 they boasted a full volleyball court in the front of their camp, there was yoga to an amazing playlist under their giant tent, a zen garden, family dinners, fire spinners and champbongs all around. If you show up right before "Big Tiki" is about to leave for the night the vibe is undeniable and the chances you're going to get into something wild and hilarious are almost guaranteed. Spot them by looking for a wild looking glow in the dark tiki mask cruising around deep playa late night ushering playflies to and fro. If you're lucky they'll stop and have an impromptu dance party with DJ Primo and they're in-house fire spinners. Rumor is, there will be waffles.