Wander is powered by Vocal creators. You support
Caitlin Zigler
by reading, sharing and tipping stories...
more
Wander is powered by Vocal.
Vocal is a platform that provides storytelling tools and engaged communities for writers, musicians, filmmakers, podcasters, and other creators to get discovered and fund their creativity.
How does Vocal work?
Creators share their stories on Vocal's communities. In return, creators earn money when they are tipped and when their stories are read.
How do I join Vocal?
Vocal welcomes creators of all shapes and sizes. Join for free and start creating.
To learn more about Vocal, visit our resources.
Show less
Walt Disney World, Orlando, FL
When to Plan What - A Timeline to Make Planning Your Trip Much Easier and More Magical!
Planning a trip to Walt Disney World can be a huge undertaking, especially if you are have never been before or don't even know where to begin! But for many (including yours truly) planning the trip can be half of the fun! But for those of you that are the former, never fear! Here is a condensed and simplified timeline to help you with all of your planning!
7+ Months
Pick Dates - Of course, this one may be the most important this early on. You have to decide when to go on your vacation! WDW is magical every time of the year but your family, group size, preference of weather, or what kind of events you want to see, will help you determine what time of year to go. For instance, if you have a couple of kids in grade school, you may want to do a spring break or summer so they don't miss too much school. But if you are a "penguin in the desert" and can't stand the heat, you may want to go in November or during the winter months. If you love Halloween, you don't want to miss Mickey's Not So Scary Halloween Party. So do your research, and figure out what is most important to you and then plan your vacation during that time. Just for reference, the middle of summer, during breaks (spring and fall), and the weeks right around a holiday are always the busiest. Expert tip: My personal favorite is late September into October.

Estimate Budget - Before you do anything else, figure out your budget. Again, figure out what is most important and work it into your budget. The bulk of your budget will be towards hotel/resort stay and park tickets. And don't forget that special events such as Mickey's Christmas Party and Halloween Party are an extra cost. Don't get caught off guard! Expert tip: Be sure to look into special packages. You can actually save money this way!

Hotel Reservation - Do this as soon as you pick your dates, especially if you are planning on staying on property. They get booked very quickly! There are three different tiers of hotel to choose from; Deluxe, Moderate, and Value. Of course, the Deluxe resorts will be the most expensive. But coming from a WDW connoisseur, they are worth EVERY PENNY. Full of amazing experiences, incredible pools, all the perks, and very nice rooms. You also get all of this with the Moderate and Value Resorts as well. Do whatever fits into your budget and when looking into a resort look at the different themes and see which one best fits your family. There are so many to choose from! Not only that, but staying on property gives you so many perks in the parks including Extra Magic Hours and free transportation. Expert tip: When you book your hotel, be sure to look at the transportation to the parks. Is it by bus? Monorail? Look into this so you are thoroughly prepared!

MyDisneyExperience Account - Before your trip you need to log on to the WDW website and create your My Disney Experience account. This is VERY important because this is where you will view all of your reservations, where you will see your itineraries, where you will sync up your tickets to your Magic Bands, and so much more! Once you have your account set up, you can work through this for all of your planning needs. It makes it so easy to navigate the website and will help you have fun planning! Later you will set up the MyDisneyExperience App on your phone for use while in the parks. 

6 Months (180 days)
Dining Reservations - Exactly 180 days before your trip. you can make dining reservations and it is HIGHLY recommended. Especially for the more popular or higher end restaurants, such as Be Our Guest Restaurant in the Magic Kingdom, The Brown Derby in Hollywood Studios, and pretty much any restaurant in Epcot. You can reserve this through your MyDisneyExperience Account online or call (You will need to do this at most restaurants in Disney Springs). Expert tip: Figure out a loose itinerary for each day and then decide where to eat on what day. That way you aren't running from park to park. 

Attraction List - At this time, you should make a "Must Do," "If there is time," and "Skip" list. Go online and look at all that WDW has to offer as far as attractions, shows, and other events go. Discuss with your family and make your three lists. This way you won't miss your favorites! Expert tip: Let's be honest, you won't be able to see everything on your trip. That's why people keep going back to WDW year after year. These lists will help narrow things down so you don't have to run around trying to see everything. Don't stress trying to see it all because you just can't! Above all, have fun! That is after all, the point.
4-5 Months
Decide Fastpass+ - Aw, Fastpasses... every Disney fanatic's favorite and worst nightmare all rolled into one. Back in the day, they had paper Fastpasses that you had to run around to get all day long. Well, mostly Dad had to run back and forth from attraction to attraction. But let's be real, he enjoyed it. Who doesn't want a hot, sweaty dad snuggling next to them on Splash Mountain? But I digress...WDW has made the Fastpass system both better and worse all at the same time. It is great because you get to pick your Fastpasses really early in advance (60 days for on site tourists, and 30 days for off site tourists). This way you know exactly what your day is going to look like and how you will get around the park. Also, it's ideal for large groups because you have a schedule but you don't have to stress and try to get everyone a Fastpass at the same time. However, technology has a long way to go on this one. The MyDisneyExperience App is what you will use when you are in the park to look up and book more Fastpasses. Do your research, read how it all works, and decide now what your Fastpass+ choices will be. (You can't book them yet but at least have them in mind). Expert tip: Take your time when using your MyDisneyExperience App. Try not to stress out if the Wi-Fi is slow or you can't figure it out right away. Grab a Dole Whip, sit down, and take your time. When all else fails, grab a Millennial. They will help you out. 

Create Daily Plans - This is when you will work on your itinerary or "daily plan." Of course, this is just a first draft because things will change and you won't know your exact schedule until you reserve your Fastpass+. Be sure to research what days are the most busy during the week at which park. TouringPlans.com is the best for predicting crowds. Expert tip #1: Look at a map of each park when creating your plan. This can help you figure out how to get from point A to point B easily. Expert tip #2: Be sure to plan in "down time" especially if you have little kids. 
Purchase tickets - The best place to buy these is on the WDW website. Another good place is Undercover Tourist for discounted tickets. The more days you buy, the cheaper the tickets are each day. Do this soon because the prices will go up! Also at this time, purchase special event tickets such as the Christmas and Halloween Party. Expert tip: Purchase the special event tickets on the WDW website. They are always the same price now matter what site you buy them from so may as well get it from the source. 
Book flights - Expert tip: Download an app like Hopper to keep you up to speed on cheap flights. 
2-3 Months
Book Magical Express - If you are staying on site at WDW, you will want to take advantage of the Magical Express. They take you straight to your resort, they take extra good care of your luggage (they take it all the way from baggage check straight to your room!), and it starts the trip on a magical start. Expert tip $1: Don't make reservations right when you get into Orlando and reserve your Magical Express trip back to airport WAY before your flight. The bus ride is fun but it can take a while since it has to hit multiple resorts. Expert tip #2: Keep your Magic Bands in your carry on. You will need them to get on and off the bus! 

Fastpass+ Reservations - If you are staying on site, exactly 60 days you can make your reservations! Take your time, sit with a snack, and be patient! It can take a while! Expert tip: Stay up until midnight and be one of the first ones to get those Fastpasses! 
Order and Customize Magic Bands - If you are staying on site, a MagicBand will be sent to your mailing address free of charge. They are linked to your park tickets, and serve as your room key. They also have all of your Fastpass+ info on them and you can even link your credit card to them to make things even easier. If you are staying off site, you will need to purchase your own online. They aren't too bad on sites like Amazon. Be sure to customize them online. You will receive them a few weeks before your trip. Expert tip: Some people will opt out of them all together. But speaking personally, they make your Disney experience so much easier and stress free. Constantly rummaging through your backpack for your tickets, credit card, etc. can make you run the risk of losing them. Spend this bit of money and make your trip convenient and hassle free. 
Online Check in Hotel - This can save you a ton of time especially if you want to head straight from the airport to the parks. 
1 Month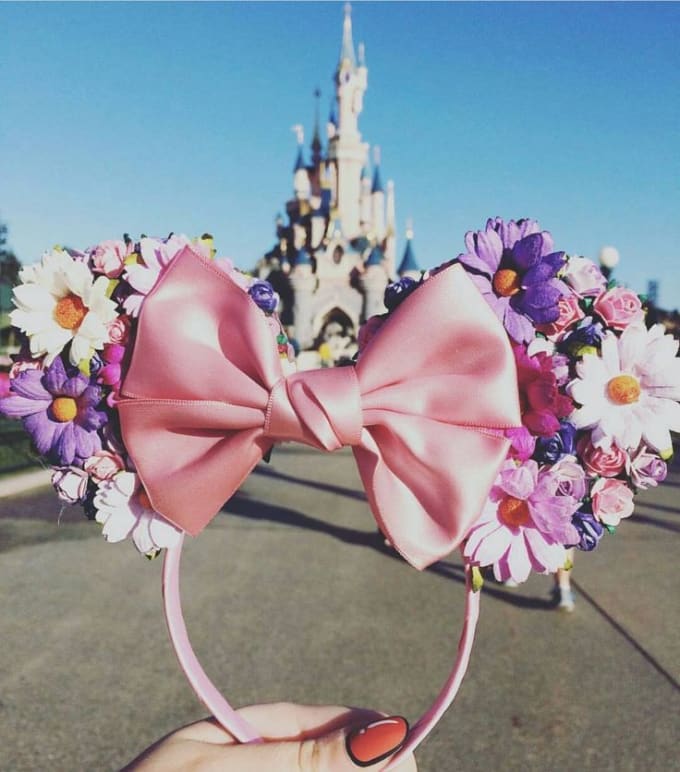 Make/purchase ears and t-shirts - Even if you know nothing about Disney, you do know that souvenirs in the park can be expensive! So why get a little creative and excited before your trip. There are many of these DIY ears for purchase on Etsy, or you can make your own! There are multiple tutorials out there to choose from. Also you can make your own t-shirts, especially if you are traveling with a big group. Just make sure anything you make is "Disney appropriate." Remember this is a family place. 

Order Memory Maker - The best souvenirs are of course all of the pictures that you will gather from your trip. Of course, you will probably bring your own camera or use your phone. But wouldn't it be nice to have those memories shot by a professional photographer? Wouldn't be a treasured memory to have the picture of Mom screaming on Expedition Everest framed and hung over the dining room table forever? The Memory Maker is a fairly new thing that Disney has implemented. Throughout the parks and on most attractions, there will be professional photographers or opportunities to catch a photo of a very special moment. Using your Magic Band or Photopass, you can reserve these photos to look at and download when you get home. With the Memory Maker, you have unlimited downloads of all of the photos for one price instead of each individually. In the end, it can save you a lot of money on those cherished memories. 
Finish Touring plans - If you are staying off site, exactly 30 days you can make your Fastpass+ reservations. Now that you have your exact Fastpass+ times, now you can finalize your daily plans for each day. Expert tip #1: Remember, you can still reserve Fastpasses in the parks, so don't worry if you didn't get every one you wanted. You can still get them that same day! Expert tip #2: Don't plan every waking moment of your trip. It is still a vacation. Certain things need to be planned in order for you to see everything on this trip but you can still stop and smell the roses (they are gorgeous in the spring!).
Make arrangements for pets and home - Don't forget the ones that sadly come with you! Now is the time to figure out a kennel situation or a petsitter. Also time to figure out who will watch your house while you're gone. 
1 Week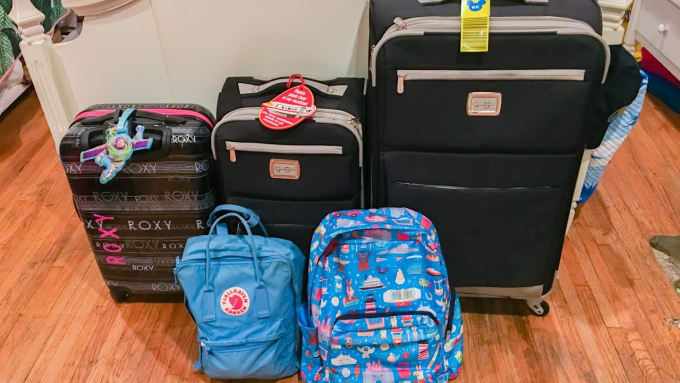 Pack - Be sure you know what time of year you are going and what to pack. In the winter, it can get pretty chilly so bring a jacket, but in the summer, don't even bother. Check the forecast before you pack so you can be sure you know what to pack on your way to the airport and when you get to Orlando. Don't forget your carry on, sunscreen, Hidden Mickey Book, phone charger, pennies for Pressed Pennies in the park, and your cute DIY ears! Expert #1: Pack your poncho in your carry on. There is nothing worse then getting to Orlando and having to rummage through your suitcase while it is pouring rain outside. (It's Florida, it tends to do that a lot). Expert tip #2: Be sure to pack a good pair of shoes like tennis shoes. Leave the cute sandals and flats at home. 

Clean House - I always like to clean the house before I leave on vacation. Then I have a nice clean home when I get back! 
1 Day
Finish packing - Don't forget all the little things! Phone chargers, camera, jackets, kids, husbands... Set everything by the front door so you just have to get up and go! 

Check into airline online - This will save you a lot of time and energy before your flight. 
Finish resort check in - If you haven't already done so. 
Try to get some sleep! - I know, I know, this is the hardest part. But try your best! You want to be fresh for Mickey right?
Day of
It's here! It's finally here! The day you have been planning for over a year or maybe longer. Just a few more things to remember. 
Have fun and laugh - This is MANDATORY. When Walt created this "happy place," he wanted you to have fun. Don't let him down. 

Be a kid again - Even Walt said, "That's the real trouble with the world, too many people grow up." This is the place to be a kid again. Skip, be goofy, wear mickey ears, eat all the ice cream you want, and above all remember what it was like to be a child. 
Smell the Roses - Take your time. There is so much to see, and most of it is stuff you will miss if you are moving too fast! 

Rest - WDW can be busy and tiring. Take breaks and rest as often as possible. If you see a bench, sit on it. Take a long lunch. Sit and really enjoy a show. Take care of yourself. 

Cherish - Ask anyone who has taken a WDW trip. They will tell you it was crazy and amazing. But more than anything, they will tell you how much they can't wait to go back. Some will say they had more fun than their kids. Others will say they have never seen their children so happy before. There is a reason that this is the most magical place on earth. When you go on your trip, forget all the worries and problems at home. Be in the moment and cherish every second. Watch your kids' faces as they watch the fireworks or when they hug Mickey for the first time. Hold your family close and giggle with them all day. And above all, be happy. Have a magical trip!