Wander is powered by Vocal creators. You support
SIR FRANCIS IV
by reading, sharing and tipping stories...
more
Wander is powered by Vocal.
Vocal is a platform that provides storytelling tools and engaged communities for writers, musicians, filmmakers, podcasters, and other creators to get discovered and fund their creativity.
How does Vocal work?
Creators share their stories on Vocal's communities. In return, creators earn money when they are tipped and when their stories are read.
How do I join Vocal?
Vocal welcomes creators of all shapes and sizes. Join for free and start creating.
To learn more about Vocal, visit our resources.
Show less
"Wanna Get Away?"
Live like a movie star for 48 hours at Santa Monica!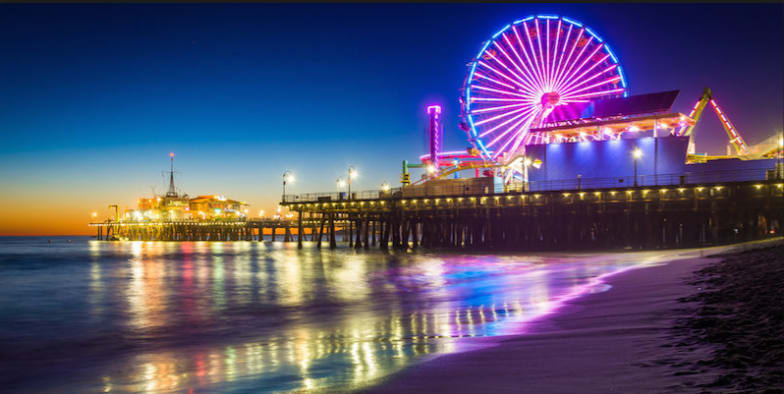 It's Thursday. It's 3 PM. You're about two comments away from telling your supervisor or employee where to shove that patronizing smile that they shine on you as they ask you another stupid question, or hand you another, boring, useless task. It's April and you're already "over" all the B.S. your career has to offer and you've got to get away.
All of a sudden, a Southwest commercial runs through your mind and the next thing you know, you're surfing the web for planes, trains or automobiles. But where should you go?
You don't want to use up too much of your vacation time, or sick days, on a whim; you've got plans for those days, but you need a change of scenery and a change of personality, or else you're gonna slap someone, silly. And getting sued or fired just ain't on the menu.
I know a place. A place where you can lose yourself and find yourself in 2.5 days, and be able to re-insert yourself back into the Matrix by 9 AM, Monday morning. Give me ten minutes, and allow me to enlighten you.
First of all, it doesn't matter how you get here, just get here. If the homeless can make their way to the crystalline sands, blue seas and palm trees of Santa Monica, California, then there is no reason why you can't either. I don't expect you to sleep on the beaches unless this is your "thing." Which isn't a bad "thing", it's just that the sun can get mighty hot at 8 AM, and clean sheets and breakfast at the hotel restaurant is a lot more attractive than sand in your crack.
You've rented a car, you flew on a private jet, or rode the Amtrak. Now you need to find a place to stay. Well, depending on what time of year it is (expect a 10% to 20% increase on all fees during peak seasons i.e. spring, summer) and how much money you make, is going to affect how much you can reasonably spend on your accommodations. Good thing for you, I've got you covered baby.
Option One: The Best Bang For Your Buck
Airbnb is where you want to start if you don't want to break your pockets on a hotel. You want to save those dollars and cents for beer, booze, food, and fun. I get it. You're only gonna be there to sleep, shit and shower, so amenities aren't that important to you, but safety and cleanliness is. You're in luck.
Cozy little places like this are going to run you anywhere from $80 (U.S.D) a night to around $155 (U.S.D.), depending on the size, the proximity to the beach, and how cool the owner is. This is going to be on the low end for Santa Monica, and it's a steal. The owners are usually really helpful and want you to truly experience our beautiful city like a local. They will know where to go, where to find transportation hubs, how to avoid tourist traps, and where the local hangouts are.
This swanky gem will cost you only $80 to $110 a night!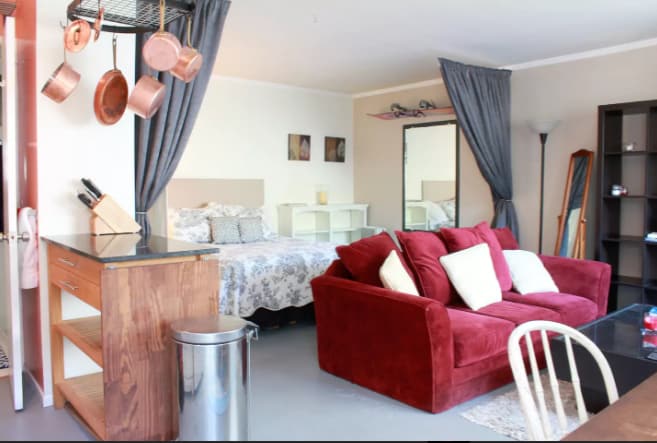 Second Option: You're balling on a budget.
Maybe you make a little "ching" and you want the service and fun of a hotel by the beach, but you don't want to sap your bank account trying to "high-style" in a town full of "ballers." Trust me, unless you're seven figures deep, it's not in your best interest to pretend that you've got stacks and stacks of chips when you really don't. You'll hurt yourself, and nobody really cares over here.
We do care if you're a "poser" though, and I only stress this because as a local, for 20 years, that has tended bar in some of the most expensive restaurants, I see this happen all the time. The ones that make an above average amount of money, are usually the loudest, biggest jerks.
People with wealth, are usually quiet and appreciative. People that are poor, are humble and meek, for the most part. But it's the "almost will-be's that act out the most, and they usually wind up embarrassing themselves. Please, don't be that guy or girl.
Here's what else I will say. When you go out, be outgoing. Talk to your servers and barkeeps. "Act like you don't need 'it', and they give you the 'it' for free." A little overstatement, but not by much. Be the charismatic person you were born to be when you are here. Be the beautiful you. Be that girl, or guy. Knock us off our feet, so that we remember you as much as we hope you remember us!
Okay, now that we've gotten that disclaimer out of the way, let's get you situated. I must say that the Double Tree Hilton on Fourth Street is going to rock your world, but it's also gonna cost you a little bit more than an Air Bnb. But it's well worth your dollar and this hotel and its staff give great service and some nice amenities, with a touch of class and sophistication. A king bed suite is going to cost you anywhere from $330 (U.S.D.) to $390 (U.S.D) depending on the time of year. A couple more dollars per night will get you an outstanding view.
"Whether you're looking for fine Santa Monica dining, a quick meal, or a place to relax with a beverage, you'll find the perfect spot at our restaurant or lounge. The Fourth Street Grill serves breakfast, lunch and dinner, while the Jazz Loft offers drink and lite menu items daily from 5PM – 11PM."
"Overlooking the hotel atrium, the Jazz Loft is a great place to mix and mingle with associates after a meeting or to unwind after a long day of travel...The Fourth Street Grill is a full-service restaurant serving breakfast, lunch and dinner. A daily breakfast buffet is offered which includes made to order omelets." — Hilton Double Tree Inn
I love this spot for what it is and what it offers. Is it the best? No, but it's fantastic, which gives you an indication of the competitiveness that resides in this beachside city. All rooms are suites and are no less than 420 sq. feet. You can live like a prince or a princess in these suites and can even bring a friend along to carry your bags and to take selfies with!
If no one is there to witness it, does it really happen? Besides, you are always safer using the buddy method!
King Suite at the Double Tree Inn Hilton, Santa Monica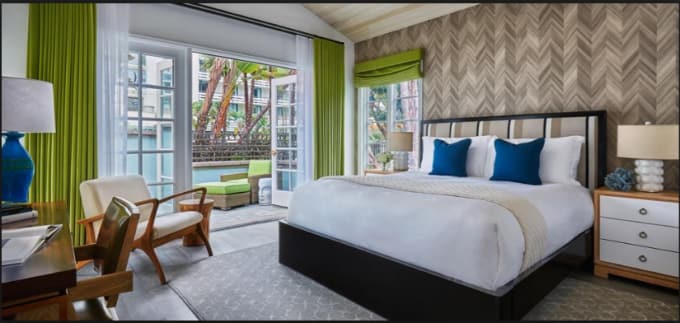 Third Option: Sky is the Limit!
Good for you, you've made it, and you can afford the best of what the world has to offer because you have earned it. People depend on you, the company is only great because of your contributions, and your bank account is living proof, that hard work and dedication pays off.
The only place you can go is the Fairmont Miramar on Wilshire Boulevard. You've got the Hotel Del Mar and Shutters on the Beach for sure, which are outstanding and are just about parallel with the Fairmont but I am going to put the Miramar just ahead of them because of the location, the amenities, and beauty. (Actually, you should research each three and get your own opinion, but for time and space sake, I am going to focus on the Fairmont.)
I'm not going to bring up price because if this is your option, then cost isn't an issue. What is an issue, is quality, service, and a true experience, which this Hotel delivers on, exceedingly, and consistently.
Let's start with the rooms. Holy crap! These are quaint, yet spacious abodes that almost make you want to just stay on the premises for your entire trip. Which wouldn't be a horrible idea, when you stay here.
All you need in your life is within a few steps, leaving you with the option to stay isolated for two days utilizing such services like Fig Restaurant, The Bungalow, Exhale Spa, a Health Club, and Floyd's Barbershop. Not to mention the various rooms used for banquets and gatherings, the jewelry shop, Atelier By Edward Avedis, and every other amenity you can ask for, which are par none.
The Lobby Lounge is the perfect place for lunch, dinner or an expertly mixed cocktail that is set against the soothing Koi fishpond and waterfalls. It's an ideal place to gather with friends or colleagues, while The Bungalow, a Baja inspired casita is one of LA's best places to relax, enjoy a cocktail and watch the sun drip into the sea. Not to be left out, FIG, a Mediterranean inspired bistro, features dishes from the wood burning oven and wood burning grill. By working with local farmers and purveyors, FIG sources the freshest local and organically grown ingredients.
A Bungalow Suite at the Fairmont Miramar, Santa Monica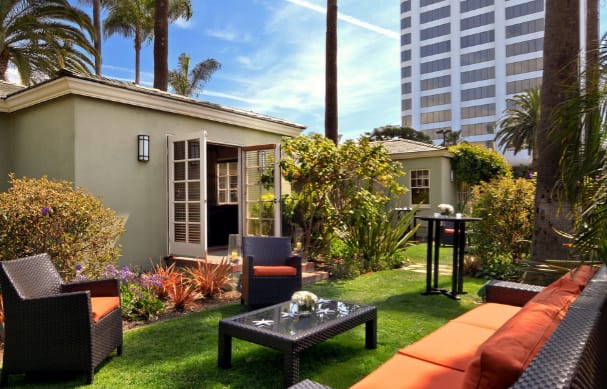 The Bungalow, Fairmont Miramar, Santa Monica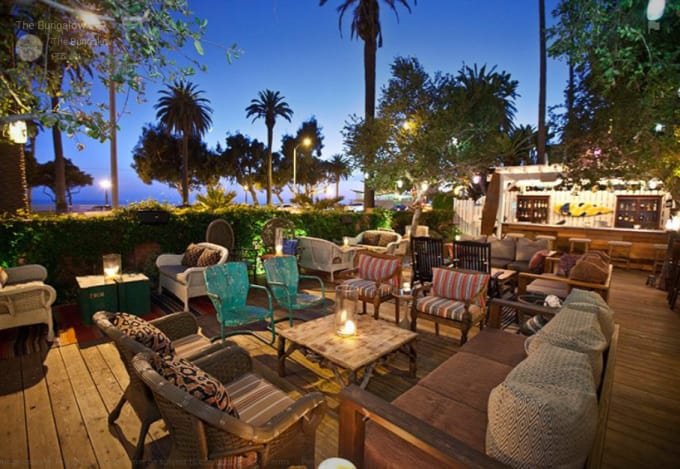 FIG at The Fairmont Miramar, Santa Monica
Okay, so we've gotten our accommodations out of the way, now, it's time to get our party on. Where should we go? I love day drinking on my day's off. It just feels great to be having a margarita while some other poor bastard in the world is filing and collating.
So this is what I'm thinking we should do on a Friday afternoon. First, you might ask, how are we supposed to get around? That's easy. Lyft, Uber, Taxi Taxi (ask for Rocky!), the Big Blue Bus, or any of the community bicycle stations that let you rent by the hour, or the day, will get us wherever we want!
No reason for rental cars here. Locals don't drive if they don't have to. We are A.W.O.L. (Always West of Lincoln) If you move too fast, you might miss something. You're here to take it easy. To stop and smell the roses, and you can't do that if you're jockeying for position in traffic, against half a million angry S.O.B.'s, in a rent a car that you have to rush to get back to the Enterprise before you take off into the great blue sky.
If I'm on a budget, and I want to people watch, I head to the outdoor patio at Big Dean's Oceanfront Cafe on the Boardwalk, just adjacent to the Santa Monica Pier. Best place for people watching, mixing it up with locals, and catching some rays of sunshine. The beer selection is formidable, and the food is bar fare, but delicious. You can't go wrong with their wings, or nachos, or shrimp boat, but what hits a home run every day of the year is the Big Dean's Burger.
Double patty and cheese, lettuce, pickle, tomato, onions (grilled if you want them) and Thousand Island dressing? Yes, Please! It's like a flavor firework exploded in your mouth! Once you've had it, you will be addicted. You might even order one more, if you didn't have that plate of golden french fries, and crispy onion rings to work through!
Big Dean's Ocean Front Cafe, Santa Monica
Dean's Burger not for you? Want something a little more sophisticated? Then The Bungalow at the Fairmont is where we want to be. You'll feel like a movie star in this outdoor patio that is adorned with colorful candle lights, plenty of trees, and seating that make this the go to spot for that MTV Beach Party vibe. Tons of beautiful people chatting it up, clinking glasses and giving each other "high fives", because they know that they are #winning. It's not going to open till 3 PM on Friday, but that's fine, it's worth the wait. We can be there at noon on Saturday or Sunday.
Wait, you are adamant about starting your drinking around noon because you are person with principles? No problem, me too. Let's head to 1212 Santa Monica on the 3rd Street Promenade. The layout is spectacular and has plenty of outdoor seating for us to people watch and chill like a movie star.
Once 3 PM hits, the sunlight somewhat vanishes from the Promenade and it can get windy, so it's only a natural step to move over to The Bungalow after.
As we hit any of these aforementioned "hot spots" we will have stumbled onto most everything else that Santa Monica has to offer. Shopping, day spas, restaurants and plenty of views and sunshine. We will fill in the spaces of time with these as we run into them.
But let's talk about nightlife. Let's talk about happy hours. Let's talk about dining, dancing, and perhaps making a couple of bad decisions with some perfect strangers. Nothing better than hotel sex, and there's only one way to accomplish that mission. We need a little "liquid courage."
The thing you need to know is that there are two spots that we need to frequent in order to get our party on in Santa Monica. That is either Main Street Santa Monica, or the Third Street Promenade and it's surrounding streets, i.e.; 2nd Street and 4th Street.
Let's start with Main Street. Once we've taken a Lyft over there, the world is our oyster. Speaking of oysters, I love the Happy Hour at Enterprise Fish Company. Nothing better. The fish is always fresh, the aesthetics are just right, and it's filled with a bunch of jovial people, sipping on Sauvignon Blancs, Cabernets, and cocktails whilst working through King Crab legs, fresh oysters, or anything else your seafood loving stomach can imagine. I love the scene here and the prices to quality ratio cannot be beaten. 
Enterprise Fish Company, Santa Monica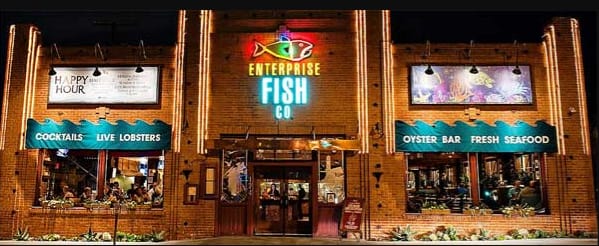 Seafood not your cup of tea? Then let's wander over to Brick + Mortar, or Manchego. Each has something noteworthy to speak about.
Brick + Mortar has great food, an outstanding beer selection and a full bar, complete with competent bartenders and staff on duty. If I'm not eating one of their homemade pizzas, then I'm scarfing down some meatball sliders, or their fried chicken and waffles. You just can't go wrong here, and if you do, ask for Frankie. He will take good care of you and make it right. I am always happy when I find my way here. No matter if it's happy hour or not. (Happy hour begins at noon and goes till 7PM!)
Brick + Mortar, Santa Monica
Manchego is the spot for a nice romantic evening with a glass of wine and some tapas. Happy hour is brief (5 PM to 6:30 PM) but their food is phenomenal. Truly an experience.
How about we put together a cheese and charcuterie plate made to our order, or nosh on their savory Hangar Steak (also known as the Butcher's Cut, for its flavor and tenderness). Grilled lamb chops with Tzatziki? Hell yes. Braised short ribs with crispy polenta? Baby hit me one more time! The food, again, is exquisite and it's something you aren't going to get just anywhere. The cuisine is accessible without being pretentious or too fancy. And the wine selection? Forget about it.
If we're going to go dance, then there is no other place we rather be than the Circle Bar. I love the size and the style of the bar. Great DJ's abound every night and there is plenty of space to shake your money maker. Ladies are scantily clad while handsome men are dressed to the nines. It's one of the few places on Main Street where you want to bring your "A" game if you're into "fishing."
Circle Bar, Santa Monica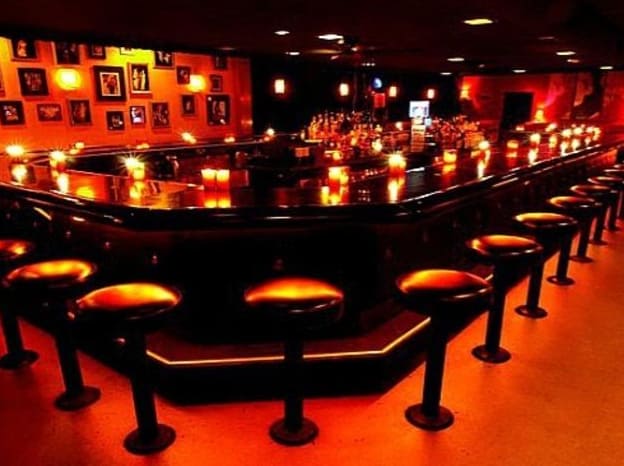 Although, there is Harvelle's on Fourth Street, a storied music club presenting Blues, Jazz, R&B, Hip-Hop, Funk, Burlesque & more, a community staple since 1931. Harvelle's is sexy and definitely worth the visit. Its small, dimly lit and you feel like you're in a vignette from Pulp Fiction as you sit there and sip on your martini. Something has to happen here and if you hang out long enough, or get your ass on the dance floor, it will. Live music is in abundance and this establishment is unparalleled in Santa Monica as far as nightlife goes.
Harvelle's Night Club Santa Monica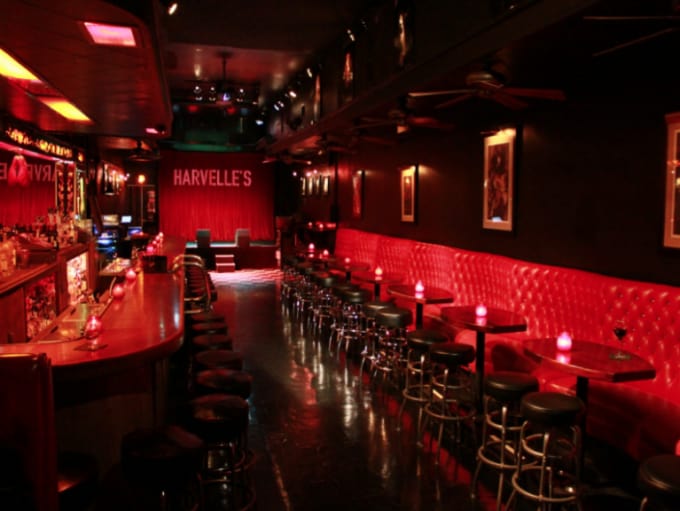 As far as entertainment is concerned around the Promenade, it's a little bit shallow. Mostly bars, meant for posturing and mingling. But the dining on Ocean Avenue can't be beat.
The Lobster is our best bet for continental food and a panoramic view of our storied coastline. You won't want to leave. I have never experienced a "bad time" at The Lobster. It's not cheap, but nothing worth a damn ever is. What do you order here? Lobster, of course! Be prepared to wait a little bit, but not long, and not without drink. The staff is very accommodating and will do everything they can to get you seated as soon as possible.
The Lobster, Santa Monica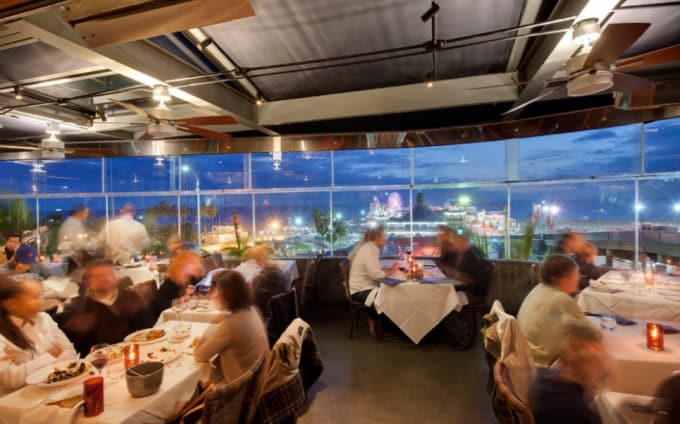 But, we have options. You have Del Frisco's Grille, The Water Grill, The Herring Bone or the lovely 41 Ocean Avenue. There are many more, but these are always ranked the best spots, time in and time out. Service, food, and an experience is always on the menu on Ocean Avenue, Santa Monica.
41 Ocean Avenue is by far my favorite for feeling like a rock star, or a movie starlet. It's a "clubby" bistro that serves upscale American dishes in an old-world Spanish setting with live music. A little slice of heaven tucked neatly behind a couple of well know establishments on the strip. It's unforgettable, like Nat King Cole. You feel like you are in old world Hollywood movie while you are sipping on an Old Fashioned, or a Cosmopolitan, in a sundress, or in your white linen pants with a Guayabera shirt, either in the outdoor patio or in their picturesque restaurant.
41 Ocean Restaurant And Lounge, Santa Monica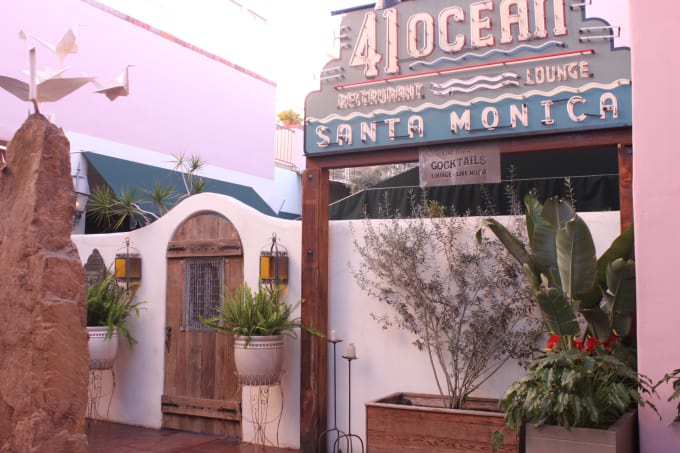 Of course you might want to fill your days with something other than drinking, and Santa Monica has plenty to offer you in outdoor recreation. You can be an acrobat, or a deep sea fisherman (sails out of the Marina del Rey). You can get a mani-pedi, or you can do some quality shopping. Want to golf? There is Penmar, a perfect nine hole, par three, just a hop, skip and a jump away. You can find boutiques, craft shops, and art galleries. If you just want to take a walk, well there is no better scenery than a stroll on the boardwalk to neighboring Venice Beach, or along the bluffs of Palisades Park.
Have more questions on what to do? Santa Monica's Tourist Bureau is one of the most helpful on Planet Earth. They entertain people from out of town, all day, everyday, 365 days a year. And they do it well, and with a smile on their face.
We are proud of our community and welcome those that want to experience what we get to eat, drink and breathe, every day of our lives.
I want you to come and walk a mile in my shoes. I want that you are able to forget the humdrum of your daily life. I want that after you visit our beautiful city, that you go back to your life, and the skies are just a bit brighter.
Maybe, you'll fall in love, with more than Santa Monica.
Or maybe, you might stumble upon some memories that will either get you to move here, or that will bring a smile to your face, even as your Supervisor comes by your cubicle towards the end of your shift and asks if you can work this Saturday morning, or when an employee comes by and tells you that they just broke the laser printer, again, and introduced a virus to the network while they were surfing the internet, on your dime.
I want so that when people ask, "Why do you have that grin on your face?" you can respond back, honestly, that you were just thinking about something that made you happy. Because now, you have something more pleasant to daydream about, other than slapping the next silly shit who pushes your buttons, senseless.
Can't wait to see you here!