Wander is powered by Vocal creators. You support
Sapphire Ravenclaw
by reading, sharing and tipping stories...
more
Wander is powered by Vocal.
Vocal is a platform that provides storytelling tools and engaged communities for writers, musicians, filmmakers, podcasters, and other creators to get discovered and fund their creativity.
How does Vocal work?
Creators share their stories on Vocal's communities. In return, creators earn money when they are tipped and when their stories are read.
How do I join Vocal?
Vocal welcomes creators of all shapes and sizes. Join for free and start creating.
To learn more about Vocal, visit our resources.
Show less
Weston-super-Mare: a Quiet Break
Simplicity in Somerset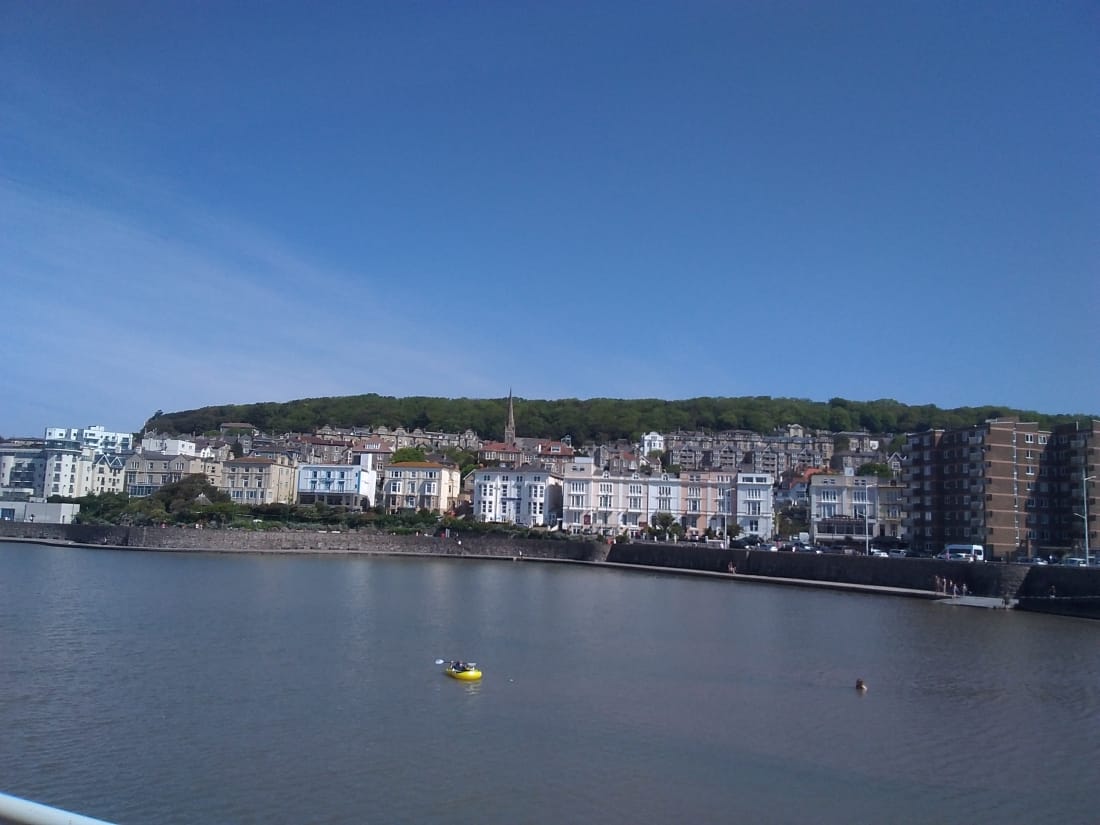 You may be forgiven for thinking that the North Somerset Town of Weston-super-Mare is a sleepy old retirement village. It certainly has its quiet places but it has a lot to offer if you are looking for a relaxing short break. Somerset, as a whole, is a beautiful county.

Places to stay
Weston, as the locals call it, has plenty of hotels and guest houses, many of them on the promenade overlooking the Bristol Channel and offering spectacular views across to the coast of Wales.
When I stayed with my partner, we chose Welbeck Hotel. This is a very basic, budget hotel but it is clean and comfortable. It is also in a great location a short walk from the town centre, across the road from the beach, and within walking distance of the Grand Pier, SeaQuarium, various pubs, and other amenities.
View from the Balcony
The views we had from our room on our last visit were lovely. I spent quite a lot of time simply sitting out on the balcony, sipping tea, and enjoying the panorama.
Our previous visit did not, sadly, offer the same views. In fact, the view from our window that time was of a fire escape. It did not matter, though, as the room was cosy and comfortable, and we spent very little time in it.
I think we will definitely be asking for a balcony room from now on. There is a lift to the upper floors but it is very small.
Sakura Japanese Restaurant
I looked for a Japanese restaurant as it is one cuisine I hadn't really tried properly.
Although I love Japanese food, I had never ventured beyond supermarket sushi and a short-lived local restaurant that didn't do much more than hosomaki rolls.
After looking up Japanese restaurants in the area, we discovered Sakura. It is right in the town centre of Weston, and we decided to give it a try. We were not disappointed.
We popped in on our way to sample the nightlife, and asked if we needed to book. We were able to book there and then for a reservation only an hour later. This gave us the chance to explore some of the town centre bars before our meal.
Sea Bass Sashimi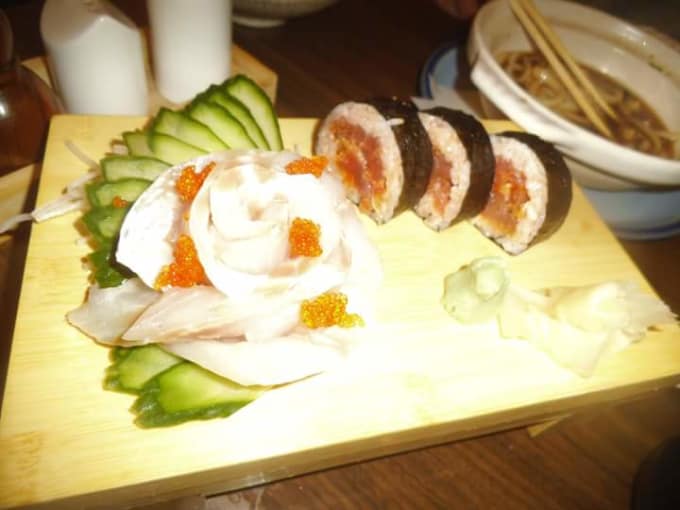 The service was excellent, and the restaurant was very clean and cosy.
I ordered sea bass sashimi. That's not easy to say at the best of times, let alone after a few beers!
It was delicious, though, and my partner enjoyed his udon noodle soup. We also decided to have a bottle of saki between us. 
Saki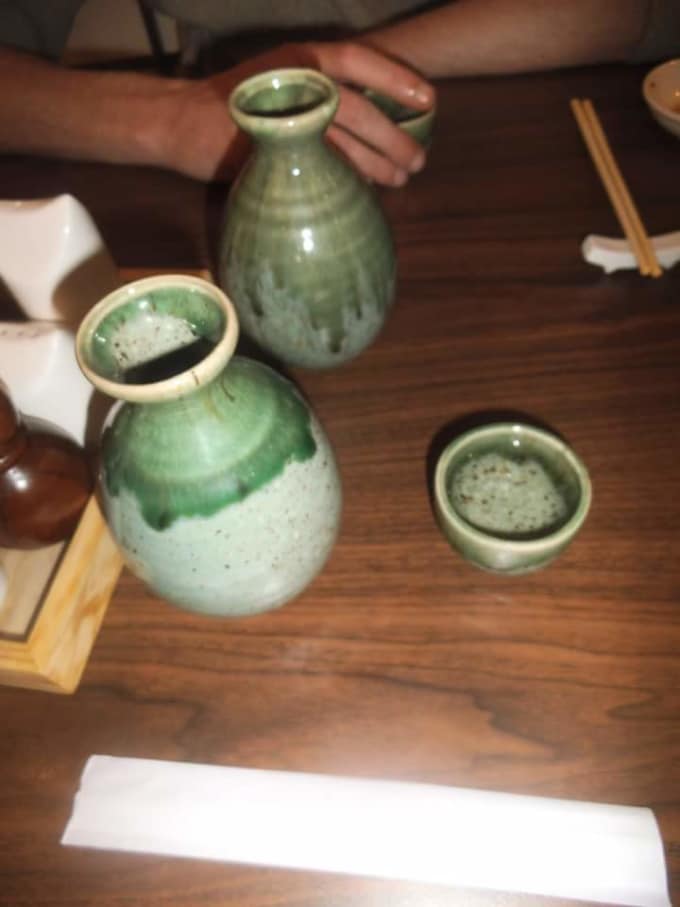 I had not tried saki before. My partner had but he had forgotten how it tasted. I admit that it does not taste as I had expected. Warm and with a similar taste to whisky, I admit that I did not like it.
It is, however, something which I can tick off my list of things to try. I did love the bottle and cups in which it was presented.
At around £50 for a meal and drink for two, it is one of the more expensive places we visited. Considering the service, the quality, and the scarcity of this type of cuisine, it was good value. Perhaps not something we will do often but we will certainly be happy to book a table on our annual visit to Weston-super-Mare.
Plenty of Pubs and Bars
There are plenty of pubs and bars in Weston. Many of them along the sea front. Most of these bars offer both food and drink, and there is plenty of outdoor seating.
There is a mix of bars, some quiet and a good place to chat while others cater to those who enjoy loud music. During our last trip to Weston, we went to Cabot Court, Scally's, Orange Corner, and Captain's Cabin
Cabot Court Hotel
Cabot Court Hotel is not the kind of place one might expect for a JD Wetherspoon pub. Being a Wetherspoon's, it offers the same low price food and drink as any other.
Cabot Court is set in a Grade II listed building, and has 21 bedrooms. Patrons who come in for a drink or a meal can sit inside or out on one of the balconies.
Cabot Court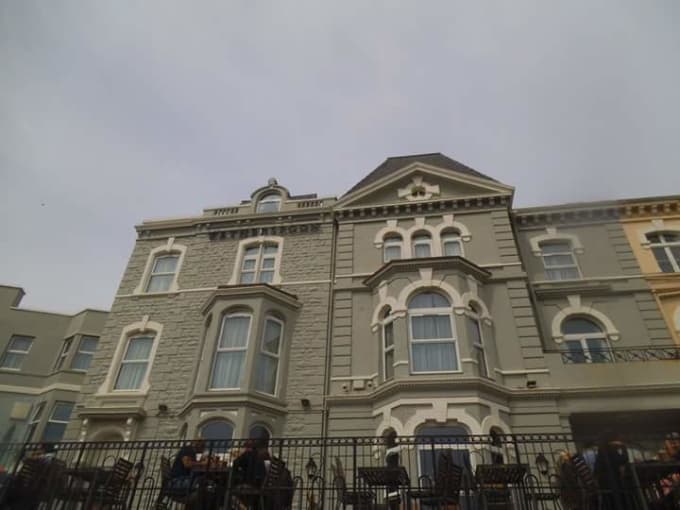 Cabot Court is quite large. As well as its bar and balconies, which give great views out to sea, there is also a large beer garden to enjoy a pint when the sun is shining.
There is always a good choice of beers and ciders, including local brews. As Cabot Court is one of the nearer and quieter bars to Welbeck Hotel, it is one which we will gladly frequent whether for an afternoon drink or to pop in as a first stop as we head into town.
Scally's
Before our visit to Weston, we had tried to look up alternative bars. It does not appear that Weston has much of an alternative scene. Bristol, although more expensive, has more choice if that is what you are after. However, we did find Scally's bar.
Scally's reminded us of one of our favourite place nearer to home, The Crew, where my partner and I first met.
My review on their Facebook page was:
"We were looking for an alternative/goth/rock pub and this seemed to be the closest to what we wanted. A nice little biker pub. Beer, pool table, quiz machine. Just perfect. We went in on a Friday which is free pool and free jukebox night. We were in quite early so it was fairly quiet. Definitely recommend it."

Orange Corner
While other places we visited had been planned, Orange Corner was one where we were just passing and decided to go in. When we went in, it was practically empty. In fact, I think it was only myself, my partner, and the barman who were inside.
I enjoyed a jug of cocktail, which the barman, whose name was Sam, helped me to choose. We chatted with him for a while before his colleague came in and we chatted to her.
Orange Corner is not really our scene in terms of music and style but it is nice enough. We said that we would pop in again some time.
Captain's Cabin Bar and Restaurant
As I went for a wander, I happened upon the Captain's Cabin. It looked nice but I had gone wandering on my own and did not want to go into a pub on my own.
My partner had been resting at the hotel. When I got back to him, I suggested that we try this pub. We had a small problem in that I had found it by accident and was not sure if I would find it again on purpose!
Weston is quite small, and I knew which direction I'd been so we did find it. As we discovered on our return, it was actually much closer to the hotel than we had realised.
Captain's Cabin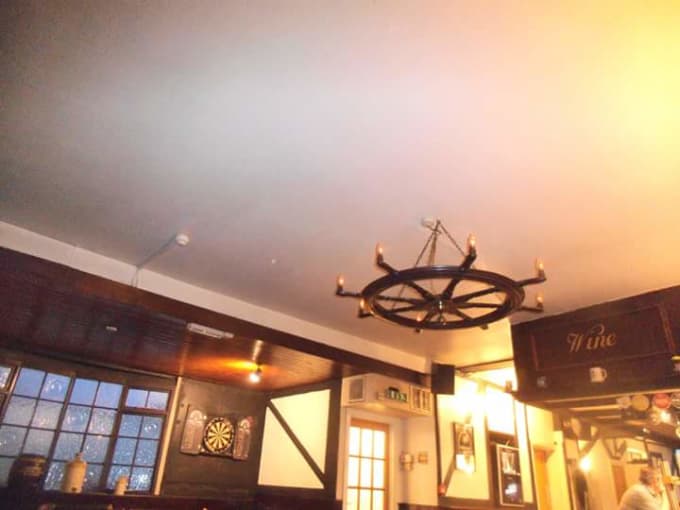 We only went in for a drink. It was a nice, ordinary, old fashioned pub with a cosy feel and interesting decor. There was a jukebox and a dart board. We sat at a table in a corner.
It wasn't busy when we went in. The music that was playing was just right - we could hear it in the background but could have a conversation over it. We will most likely visit again and, perhaps, try the food next time. 
Beautiful Countryside and Walks
While Weston is known for its beach, there is diversity in its landscape. I spent some time walking in the opposite direction of the town just to explore. There are so many stunning views that I couldn't help but stop to admire them every few steps!
It's Not All Seaside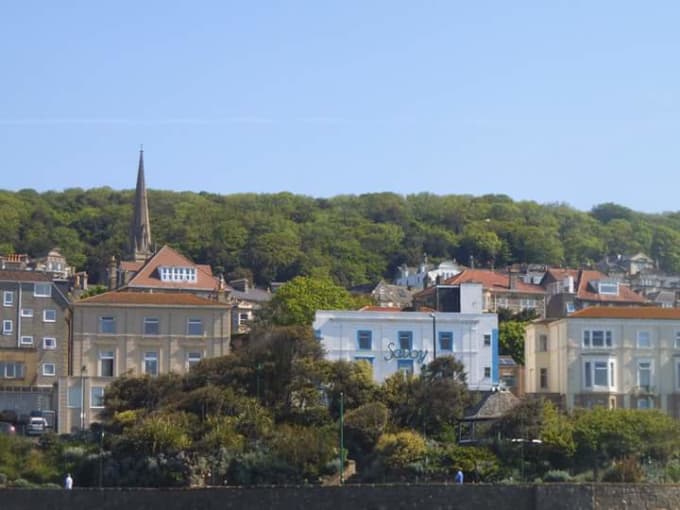 You can see the forest from the beach. Although the seafront, promenade, and town are relatively flat, pictures like that above show layers of scenery up the steep hills behind the seafront hotels.
The Tide Is In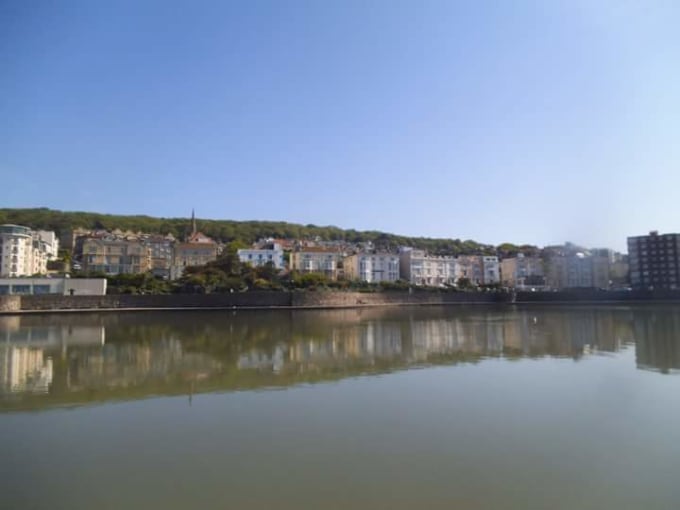 Weston is well-known, certainly to those in England, as having a beach where the tide is so far out that it is impossible to walk to the sea.
The tide can come in quickly, though, and covers the sand completely. There is a small bay which is kept level where visitors can paddle.
Birnbeck Pier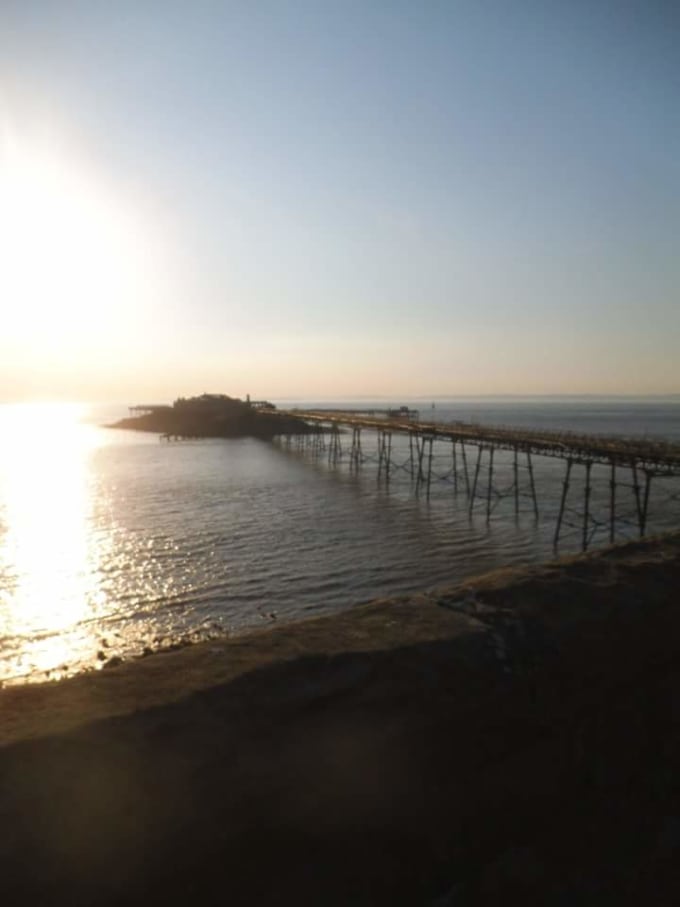 Beautifully haunting to see, Birnbeck is an abandoned pier. Residents have tried to start a regeneration project. So far, this has not been possible as Birnbeck is privately owned by debtors to North Somerset Council.
Things to do
Helicopter Museum, Weston Museum, Grand Pier, SeaQuarium, Knightstone Island, Woodborough Inn. Dr. Fox's Tea Room 
Helicopters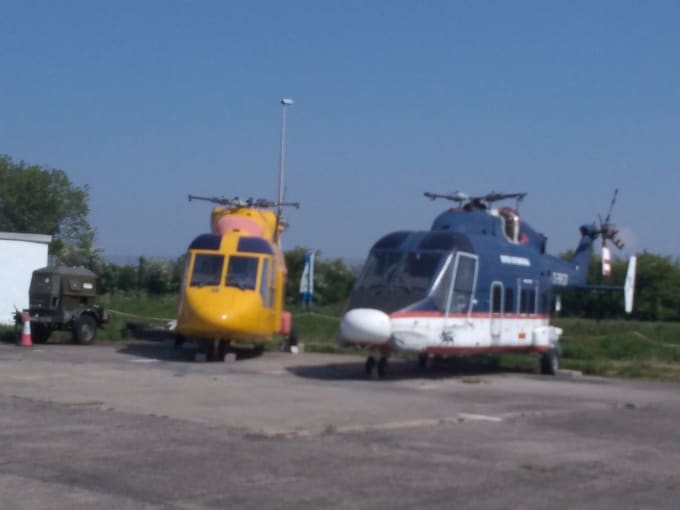 At £22 for a family of five, the Helicopter Museum is a low cost activity compared to some others. There is plenty to see from gyrocopters to RAF machines.
Bristol Bloodhound Missile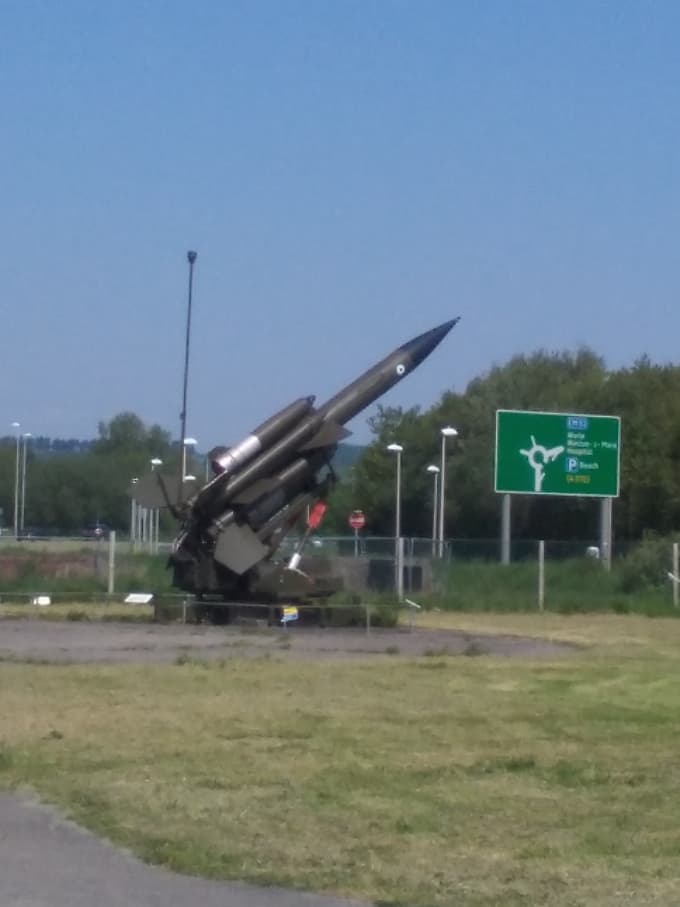 The Helicopter Museum also offers flight experiences and holds occasional events.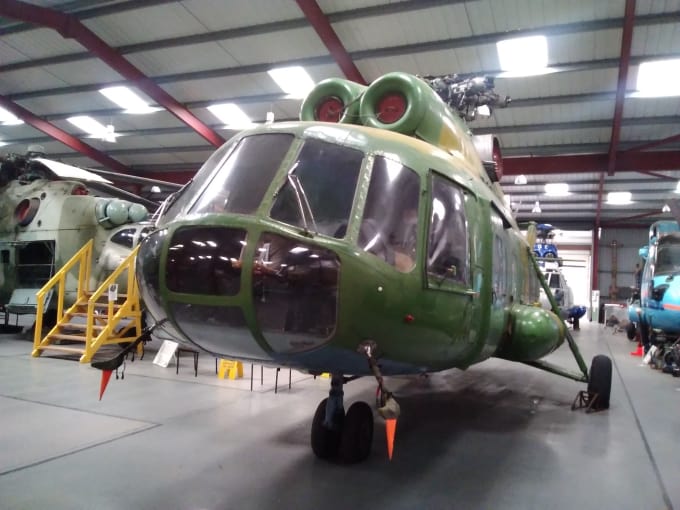 The Museum is situated in a former RAF training base. The restored control tower and pilots block house the Weston Aviation Exhibition, and visitors can try some flight simulator computer games.
Woodborough Inn
After our visit to the Helicopter Museum, we took a drive and decided to get some lunch at wherever we found first. That place happened to be Woodborough Inn.
There were a few people sitting outside but we had the inside to ourselves. The menu was interesting, offering standard pub foods as well as some more unusual dishes.
Vegetable Curry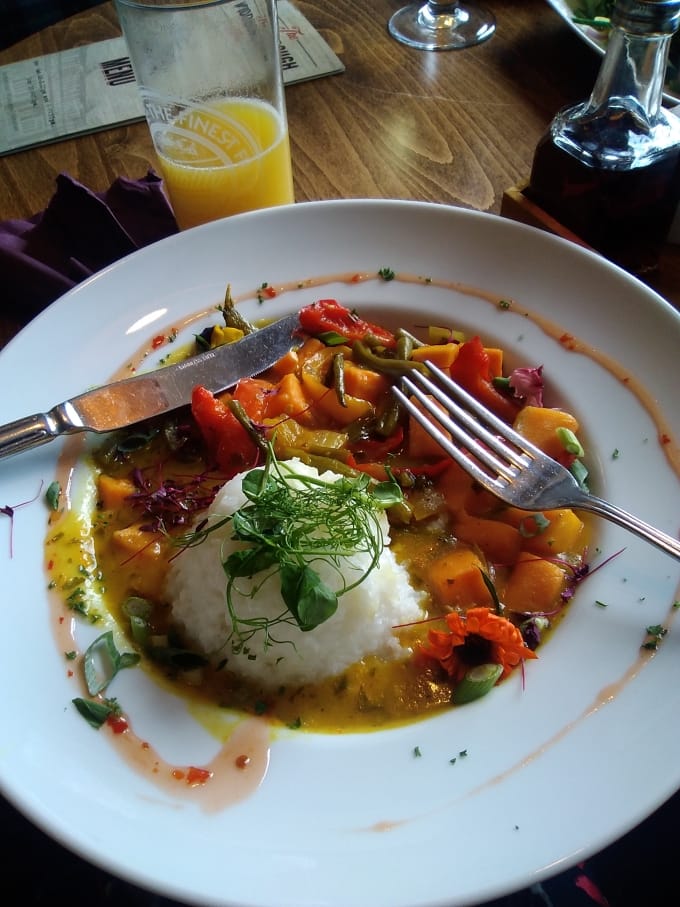 We were served by a very friendly and efficient barman. Our food was brought out in a timely manner, and was very nice.
They were good portions. Where many places bulk up the meal with the sides (e.g. as for chicken and chips, you get mostly chips and a little bit of chicken), Woodborough Inn did not skimp on the main part of the dishes.
Woodborough Inn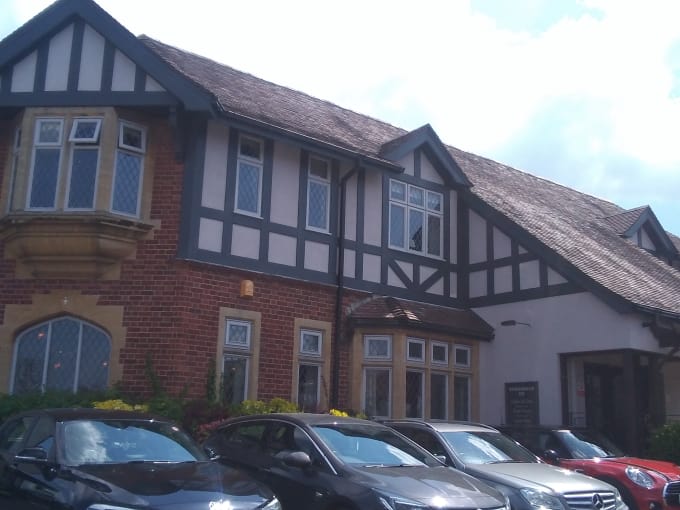 Woodborough Inn is a beautiful building, inside and out. It is not in Weston but in Winscome & Sandford, a village about 20 minutes drive from Weston.
Weston Museum
Weston Museum houses various collections, both permanent and temporary.
The Museum is on two floors and covers history and prehistory as well as present day. It shows changes that have happened from prehistoric creatures to Stone Age to Medieval times.
A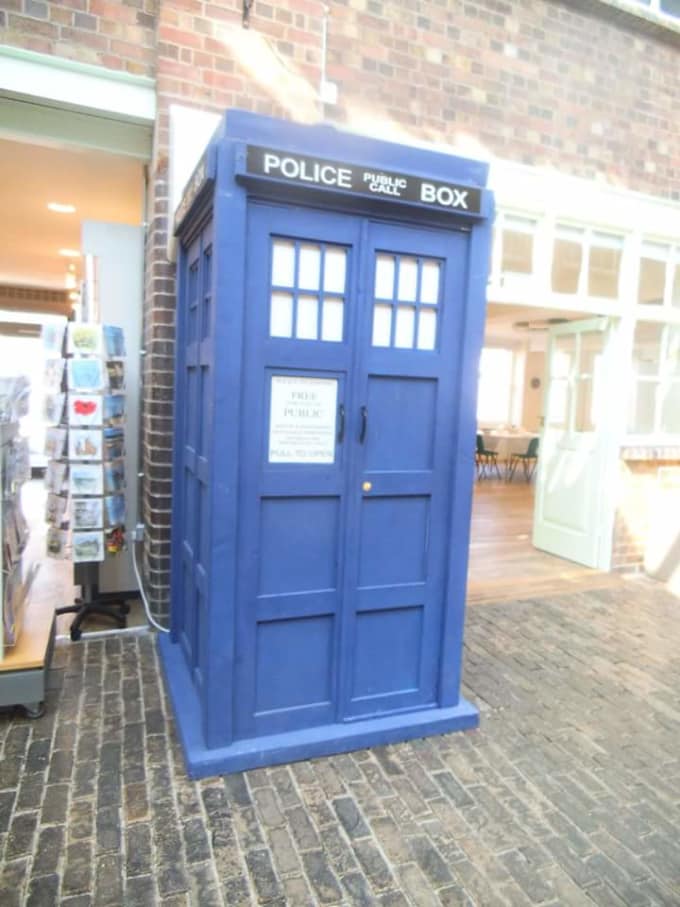 When my partner and I walked in, we noticed the police box (pictured above). My partner questioned why there would be a TARDIS. Of course, my answer was 'why not?' but then I did remind him that this was a museum of history and that police boxes were from real life, not just Doctor Who!
Fossils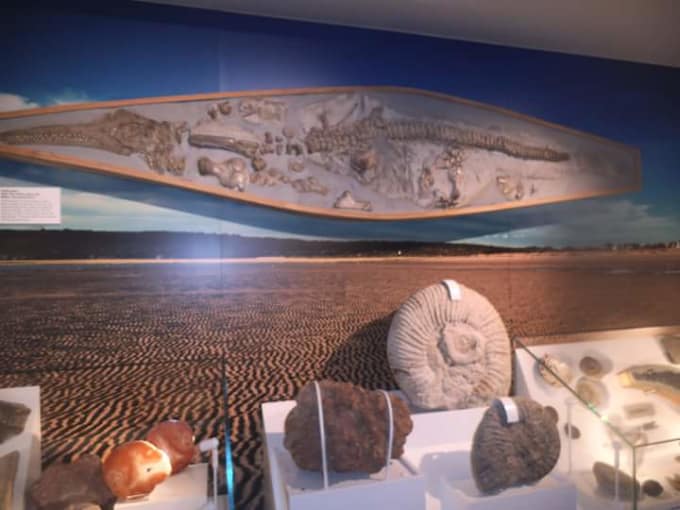 There is no entry fee to the museum. It is located in the town centre but can be a little tricky to find as it is tucked away.
It is, of course, worth making the effort to find.
Grand Pier and SeaQuarium
We visited the SeaQuarium during our first stay in Weston. It is a tradition of mine. I know that sea life places are often not much different from one to another but I do like to visit each one.
The SeaQuarium is one of the smaller of its kind. There is, nevertheless, a great deal of information and a lot of creatures to see.
S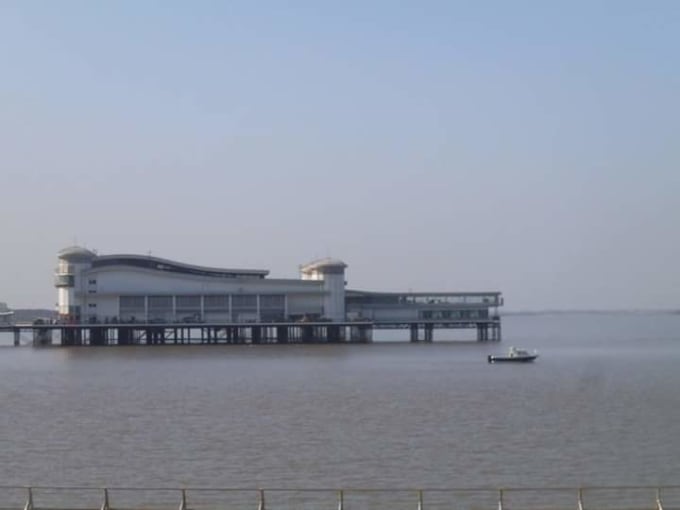 We did not go on to the pier ourselves. It offers a few rides and arcades similarly to other piers.
There is a charge to go on the pier (which is why we didn't go on). I am sure it is lovely but not worth it for us when all we wanted was a nice view over the water.
Knightstone Island
Knightstone Island is home to a variety of properties. Redevelopment saw the addition of new buildings to the island's Georgian, Victorian, and Edwardian listed buildings.
Sunset Over Knightstone Island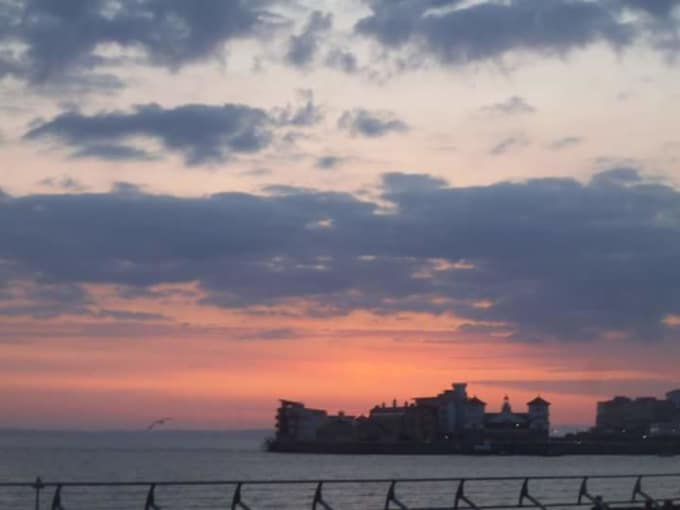 Prince Consort Gardens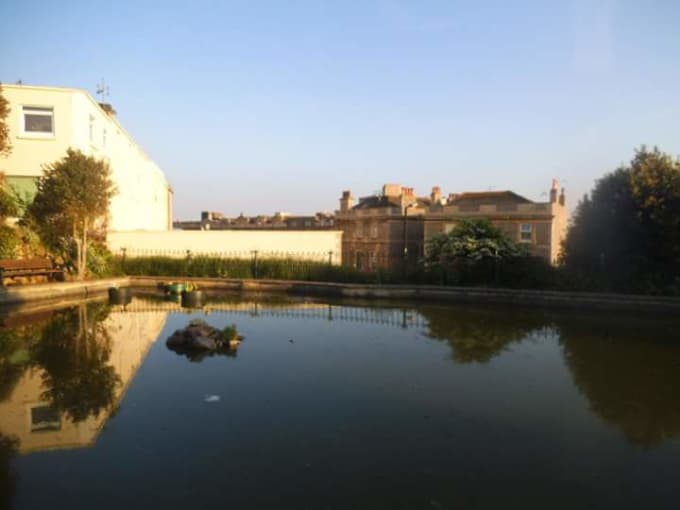 I have included the picture above because it was one of my favourites. Prince Consort Gardens was one of the places I discovered while wandering. It was getting late when I took this otherwise I would have stayed longer and taken more pictures.
Dr Fox's Tea Room
Knightstone Island is also home to Dr Fox's Tea Room.
On our first visit to Weston, we had intended to visit Dr Fox's Tea Room for breakfast. We had to leave before the tea room opened so we made a plan to go next time.
We kept the promise to ourselves and we had a Sunday breakfast at Dr Fox's Tea Room. They are happy to cater, where possible, to dietary requirements.
Breakfast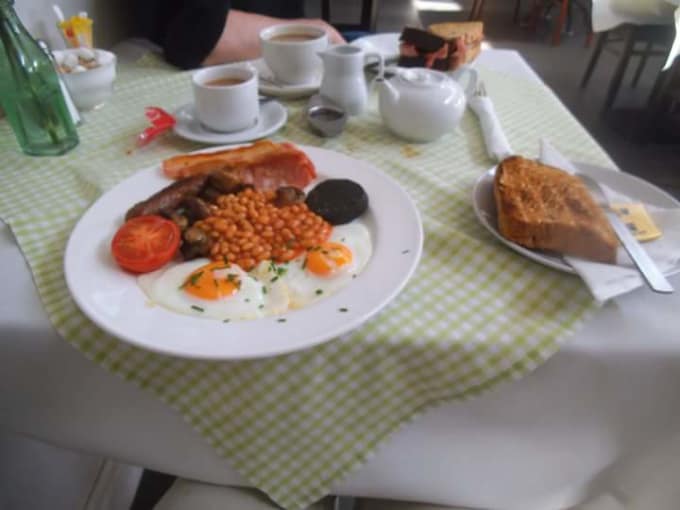 The tea room was quite busy but there was room inside. We were welcomed with a warm greeting. The menu was good for breakfasts. I chose a full English while my partner enjoyed a bacon sandwich.
The full English was very nice, not greasy, and was certainly good value.
As well as a lovely breakfast, the tea room offers lunches, afternoon tea, and a variety of blends of tea to drink.
Some of the history of Knightstone Island is detailed on Dr Fox's website.