Wander is powered by Vocal creators. You support
Kristen Barenthaler
by reading, sharing and tipping stories...
more
Wander is powered by Vocal.
Vocal is a platform that provides storytelling tools and engaged communities for writers, musicians, filmmakers, podcasters, and other creators to get discovered and fund their creativity.
How does Vocal work?
Creators share their stories on Vocal's communities. In return, creators earn money when they are tipped and when their stories are read.
How do I join Vocal?
Vocal welcomes creators of all shapes and sizes. Join for free and start creating.
To learn more about Vocal, visit our resources.
Show less
Where in the World to Find a Fairy Tale?
Do you love green, lush landscapes? Do you imagine visiting a beautiful, idyllic, fairytale land? Do you want to find a fairy tale and still have touristy vacation stops?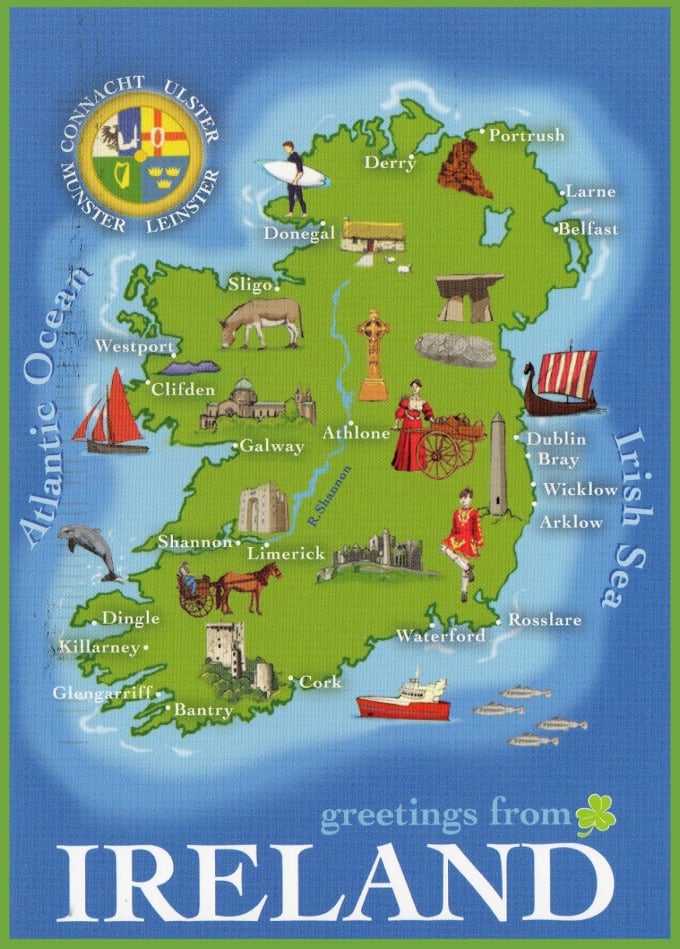 If you are looking for the most beautiful landscapes to browse through and dream of your far away fantasy, or if you are planning your next trip and want somewhere truly fascinating, look no farther than Ireland.
Irish Landscapes
I dare you, go on Google right now, type Ireland into the search box, and try to find a picture that is not beautiful. I bet you won't find one. The country itself is a majestic, lush landscape that will make viewers imagine fairy tales of dragons, princesses, and castles. This is not too far from the truth. Driving through Ireland's countryside, visitors will sporadically find abandoned castles along the side of the road to explore and enjoy.
But aside from its obvious beauty, Ireland is also a country full of rich history, charming towns, and lots of good food and drink. So, what are the top ten things to do when you are visiting Ireland? Well, it all depends on how long you are planning to be there. If you are going for a long period of time, then you will have more freedom to travel all over the country and experience different aspects of its beauty. So, for a week-long (or more) visit to Ireland, here are the top ten things to try.

Guinness Storehouse - Dublin, Ireland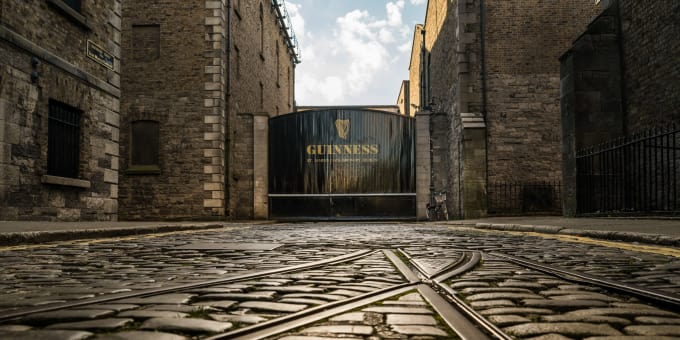 Ireland's most popular attraction is the Guinness Storehouse, where Guinness beer has been being made since 1759. Even if you don't appreciate beer, learning about the process of how it is made can still be interesting, as well as getting to see the city-wide view from the top of the storehouse's tower. There are even events rooms for children to explore, while their parents enjoy the more grown up aspects of the tour.
Cliffs of Moher - County Clare, Ireland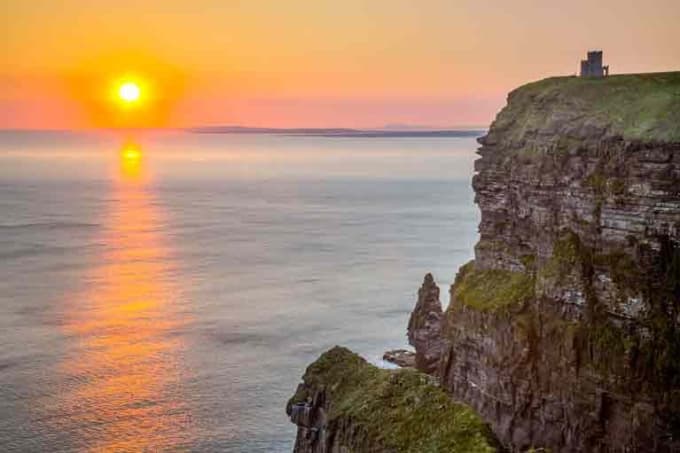 Ireland's most visited natural attraction is at the heart of the Wild Atlantic Way. The Cliffs of Moher are stunning no matter what season or what time of day visitors go. Just don't look straight down if you have a problem with heights. But look out over the majestic ocean and enjoy knowing that you are witnessing something absolutely magical.

Kylemore Abbey - Connemara, County Galway, Ireland

For those that see Ireland as a fantasy getaway, Kylemore Abbey will become your new obsession. Not only can visitors tour the abbey, but also the walled gardens surrounding. The abbey has had many uses throughout its life, including at one point a girls' finishing school. Can you imagine growing up in this castle?! Some parts of the abbey are closed off to visitors for safety reasons, but the enough is available, that the trip is worthwhile. Once you've finished inside, the gardens surrounding the abbey can keep visitors entertained for hours, which is why there are small cafes throughout to stop in and take a short break from your adventures.

Dingle, Ireland
The town itself is an old-fashioned time machine to the beautiful past of Ireland, so if you have a chance to stop by, be sure to walk the streets and take it all in. The brightly colored buildings and old, worn-down, brick sidewalks are an adventurer's dream come true. The local shops and restaurants will also give visitors a taste of true Ireland.

Titanic - Belfast, United Kingdom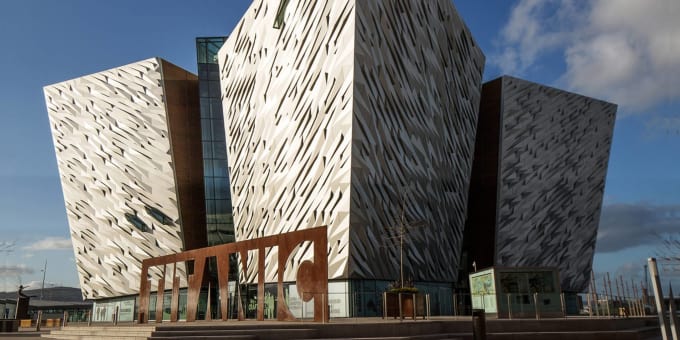 If you are going to venture into Northern Ireland (the portion of Ireland controlled by the United Kingdom), the Titanic museum in Belfast is a spectacular find. Visitors can see where the Titanic was built and learn the history behind the ship's fateful journey.

Giant's Causeway - United Kingdom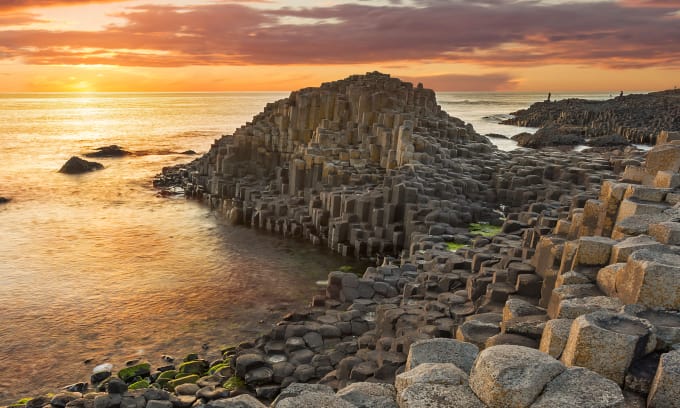 The Giant's Causeway is another mythical stop for those who want Ireland to be their fairytale escape. Legend has it that giants created the causeway long ago by walking along the ocean. The steep steps are dangerous, so be sure to listen to employees and signs, but enjoy exploring the open areas. Be sure to stop into the visitor's center and watch the video explaining the creation myth as well.

Derry/Londonderry - Derry, Ireland (Londonderry, United Kingdom)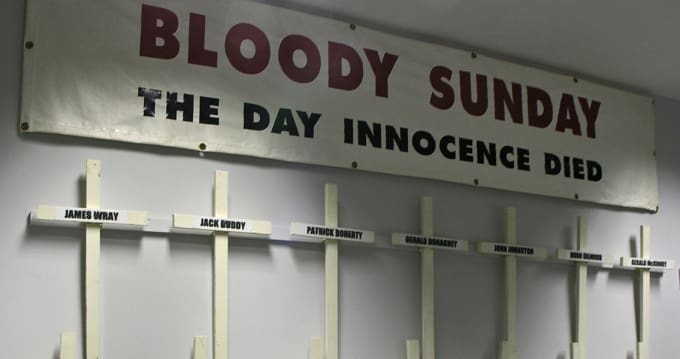 Derry is an important stop for anyone who cares to learn about the history of Ireland. On January 30, 1972, the Bloody Sunday Massacre (sometimes called the Bogside Massacre) took place. The U2 song, "Sunday Bloody Sunday" was written about the massacre. For information on the history of this fateful day, click here.

Strokestown Park & Irish National Famine Museum - County Roscommon, Ireland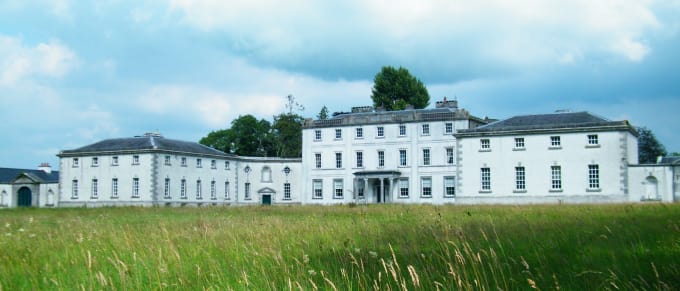 Another stop for history-buffs is the Irish Famine Museum, which showcases much of Ireland's history with a focus on the famine years. There are multiple rooms which each house historical pieces from Ireland's history. As visitors walk through, they will learn about the vast and rich history of Ireland. Outside in the surrounding parks are original houses for the Irish as well as farming equipment and other household objects.

National Botanic Gardens - Dublin, Ireland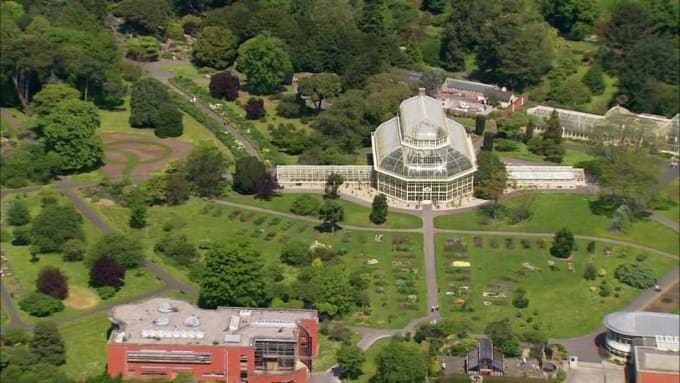 The Gardens contain many varieties of plants from all over Ireland, including some crossbreeds that were specifically engineered at the Gardens. There are blooming flowers any time of year, so visiting whenever the mood strikes is completely alright. There are multiple buildings to showcase different regions of plants, as well as multiple outdoor gardens to explore at leisure.

Thoor Ballylee - Dublin, Ireland
If you are a reading or writing nerd, chances are you have heard of W.B. Yeats. If so, a visit to his home in Ireland will help you to understand his ability to write such fine poetry. While the house may seem small, the vast lands surrounding the home are where Yeats spent most of his summer months. The house sits on a river, but also goes back into a small forest and in front are some fields. Seeing the beauty of the home, it is easy to see how someone could write some of the world's best known works.

Visiting Ireland
If you have the time to watch this video, you'll find even more ideas of where to visit in Ireland or maybe just learn something new about the country's rich history. Either way, enjoy the beauty of Ireland.
What do you suggest people visit (or search) next time they feel like escaping to the beautiful fairy tale of Ireland?